Balance Failures (Not What You Think) Part-1
This is the first in a four-part series about balance, I'll be discussing a not so common reason for lack of core balance. In the following post, we'll go over:
Jimmy's case study,
Why your balance fails,
The Balanced Solution, and
So what does this have to do with baseball…
Jimmy's Case Study
Jimmy (not his real name) came in with his dad to be evaluated for toeing in when he walks. Jimmy is 12 years old and 6 foot tall and weighs close to 200 pounds! Here's how my conversation went with his dad…
Dr. Stanley: "Does he play football?"
Dad: "Yes he does".
Dr. Stanley: "What position?"
Dad: "Offensive tackle".
Dr. Stanley: "How does he do?"
Dad: "He's great in run blocking, but the Defensive end gets around him easily in pass protection".
I examined Jimmy and found that both of his thigh bones rotated inwards close to 90 degrees, but they only rotated outwards about 20 degrees instead of the same in both directions. I also noted that his feet flattened. This uneven rotation is called internal femoral position.
There are several reasons why people toe in (pigeon toes). It can be due to a "C" shaped foot (Metatarsus Adductus), a twisted shin bone (internal tibial torsion), or a twist in the thigh bone or hip joint (internal femoral position). Children that toe in tend to be clumsy and "trip over their feet".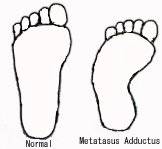 Why Your Balance Fails
Internal femoral position was noted by Margaret Fitzhugh in the early 1900's to be associated with a "W" sitting position (a kneeling position where the legs spread out and the butt touches the ground), and she felt internal femoral position was caused by it.

About 30 years ago, I noticed that the children with internal femoral position had a history of falling forwards or backwards when they started to walk, whereas normal children would stick out their butt and land on their soft diaper.
This inability to land on their butt led me to ask a simple question-"How long did your child sit before he/she crawled?". I found out that the vast majority did not sit at all. (The sitting occurs at about six months and should last for 2 weeks before the child starts to crawl).
Children that crawl and miss the sitting position, kneel instead of sitting. In kneeling, the balance is developed around the knee. In sitting, balance is developed around the core.
As a result, when a child that kneels, starts to walk and gets imbalanced, the reflex is to bend the knees. This results in the falling forward or backwards. Children that sit, develop balance around the hips and can either flex or extend their hips and when they start to walk and become imbalanced, this hip balance point allows them to land on their diaper.
The Balanced Solution
It turns out that the treatment for this balance issue is easily resolved in a short time. Jimmy was instructed to "Chair dance" for 10 minutes a day and his football playing improved remarkably.
His toe in was treated with a combination of gait plates, exercises, and roller skating. This took longer, but he was eventually able to walk with his feet straight ahead.
So what does this have to do with baseball?
It turns out that the "W" sitting position in children is associated with less postural control and stability. Internal femoral position is associated with running like Daffy Duck, with the feet going out to the side. In baseball a hitter needs to be able to stand in a good stable hitting position. If a hitter wobbles, then the ball appears to move, making it more difficult to hit.
Joey Myers Comments: CLICK HERE to check out this article by Physical Therapist and co-founder of the Functional Muscle Screen (FMS) Gray Cook, on this article titled "Early Perspectives on Functional Movement".
CLICK HERE for Part-2, where I'll be discussing Ankle balance (frontal plane) and how to improve it…
https://hittingperformancelab.com/wp-content/uploads/2014/11/MAV.jpg
149
162
Joey Myers
https://hittingperformancelab.com/wp-content/uploads/2021/10/hitting-performance-labs_c90c0362088ef1d3d528f3078f4f8ac1-300x75.png
Joey Myers
2014-11-25 05:34:06
2017-02-22 17:20:24
Balance Failures (Not What You Think) Part-1