Are Instructors Confusing What "Casting" Is AND Is Not? (Perry Husband & HPL Hitting Jam Session #5)
Here's the Hitting Jam Session Interview Collection with Perry Husband:
[YOU ARE HERE] 5,000 Swing Experiments Validate Locked Lead Arm Is Superior To Bent
Here's what we discuss in this episode: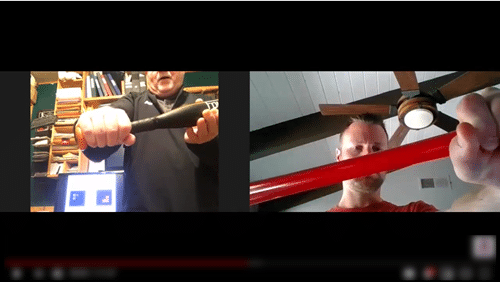 Instructors confusing what "casting" is and is not,
What if only fastball Mike Trout gets is what produces the 80.8-mph avg. BES, would that change his offensive stats?
Hitter using bent lead arm comes at a cost,
"Deep barrel dump" – great barrel path for down/away pitches, but TERRIBLE for up/inside pitches,
And much more!
Hitting Jam Session 5 above jumps right into the conversation already started…
Show Notes
At about the 2-minute mark, disclaimers…I was a skeptic on the locked lead arm since about 2 years ago, some out there cannot subscribe to a locked lead arm BECAUSE of what they teach – the "deep barrel dump" on every pitch depth, instructors are confusing what "casting" is and is not, it's not a locked lead arm, it is a deep barrel dump regardless of pitch depth, nobody is 100% right or wrong, if stay in Science, then most will come to the same conclusions (on macros – maybe not micros),
At about 5-minute mark, what is and is not working for Mike Trout – bent lead up arm v. locked lead arm, fastballs up and in 80.8-mph avg. BES in 2018 (bent lead arm), and down and away 101.8-mph avg. BES (locked lead arm), what if the only fastball he gets is what produces the 80.8-mph avg. BES would that change Mike Trout's offensive stats?  Trout is hitting in a target rich environment where pitchers are throwing fastballs DOWN and off speed and breaking stuff UP, which puts timing that sequence VERY similar – easier to hit, pitchers are STUPID to keep fastballs down to him, Perry's categories for pitches: #1's – fastest version of the fastball – 96+ mph, #2's – slowest version of the FB and fastest version of off speed (splitter/cutter/slider up in the zone), #3's – slower versions of splitter/cutter/slider down in the zone, and #4's – curveballs, Trout killed 2's, 3's, and 4's, Perry referenced the SBNation article about Trout on Effective Velocity, article had wide reach and pitchers started pounding Trout up – and he adjusted to an up/in approach, changed his attention of where he focused and hunted, can only cover so much as a hitter when it comes to hitting 1, 2, 3, and 4's,
At about 14-minute, 30-secs mark, hitter using bent lead arm comes at a cost, in Trout's case 80-mph avg. BES v. 101-mph BES, split A/B testing metaphor on Facebook ad changing only 1 thing – see what ad wins out over being shown randomly to an audience, split A/B test locked lead arm versus keeping it bent, what if all FB's down/away disappear to Trout?  What would happen to his numbers?  What happens when an EV minded pitcher like DeGrom, Scherzer, Verlander, Bauer face Trout or Miggy? What about bettering reaction time? What happens to policeman when you take away time?  Ugly stuff – they have less time to make a decision (Perry referenced the book Blink), give extra time, see pitches easier, slow down fast stuff and speed up slow stuff…allows Trout to cover A LOT of pitches with same timing, as a pitcher you're more likely to get away with hanging off speed or breaking stuff up in the zone than a fastball down and/or away,
At about 27-minute, 30-secs mark, Perry talks about how Jacob DeGrom ONLY mixed in a higher percentage of fastballs up in the zone (61% of the time – avg. postseason team was 44%) one year and cut his ERA in half!  Debunking the "deep barrel dump" – great for pitches on the outer 1/3 of plate or lower in the strike zone, but is TERRIBLE barrel path for inner 1/3 to inner half part of plate, some confuse "long swing" with locked lead arm, but it's because of casting or deep barrel dump, Perry talks about the ball bungee attached with surgical tubing experiment: found bigger the stretch, the faster and less time it takes ball to hit wall, connection to hitting is taking slack out of the system (more elastic energy built up!),  fence drill – can do drill with locked lead arm if hold angle of bat close to following shoulder, keep 90-degree wrist angle tension w/ locked lead arm versus bent,
At about 36-minute, 30-sec mark, Stanton, Donaldson – when they hit 114-mph BES they're in a closer to lead arm lock out position, why not find out how to figure out how to get hitters doing it versus explaining it away, multiple 100-mph BES younger hitters hitting balls off the tee, how many 100-mph BES players are being cheated by inferior mechanics, locked lead arm doesn't just increase power but it also improves consistency of sweet spot to ball, Perry's done 5,000 swing experiments on locked out front arm (Jay Bell was most known), in golf if golfers could hit it farther with a bent lead arm, then driving ranges across the world would be using bent lead arm, goal is still the same in baseball as in golf – hit it at max
At about 42-minute, 30-sec mark, locked lead arm being longer…it's not a question of locked lead arm causes long or casting swing – it's about when the hitter "releases" the barrel from the rear shoulder that causes the long or casting swing, the stubborn "deep barrel dump" barrel path being taught will become extinct when pitchers get more EV efficient and begin using hard stuff up in the zone, even if pitchers miss their mark by a foot they'll still be effective – execute one in three pitches, you'll be a super star just as long as you understand what your misses are doing, hitters must apply 100/100 all the time – 100% on-time, 100% effective, pitchers like Scherzer will be the norm and not the exception, dumping barrels on all pitches WILL NOT work, can lock at load or at start of the turn – objective is to take slack out before the turn,
At about 56-minute mark, pitcher and hitter adjustments over the decades: Bob Gibson days attacking up, hitters adjust and get good at driving up, then in 70's and 80's pitchers attacked down in the zone, now pitchers are beginning to adjust back up again, Perry says we'll see one more drop with hitting, which will force hitters to rock bottom, buy a little more time swinging with bent front arm but at what costs, going to be really hard when hitter sees 100-mph up, then followed up with curveball that looks the same in the tunnel and drops, how longer arms effects contact points, all data right now is based on control of bent front arm, JUST TEST IT!  CLICK HERE for testing protocol Perry and I have talked about in these Jam Sessions, any change you make MUST positively affect ball exit speed AND frequency of line drives, message to those who are anti-tee, bent lead arm ball exit will be close to the same off tee and LIVE
You can find Perry Husband at HittingIsAGuess.com, use EV25 coupon code for any of the online courses.  @EVPerryHusband on Twitter, and @PerryHusband on Facebook
My offer…FREE Catapult Loading System 2nd edition print book – just pay $8.95 shipping and handling (retails on Amazon for $19.97) – in addition you'll get our essential consistent power online video mini-course Power Hitter 2.0: Engineering The Alpha: https://www.truthaboutexplosiverotationalpower.com/pl/60039
https://hittingperformancelab.com/wp-content/uploads/2019/03/perry-husband-joey-myers-hitting-jam-session-5-blog.png
282
500
Joey Myers
https://hittingperformancelab.com/wp-content/uploads/2021/10/hitting-performance-labs_c90c0362088ef1d3d528f3078f4f8ac1-300x75.png
Joey Myers
2019-03-19 17:54:48
2020-03-24 19:34:24
5,000 Swing Experiments Validate Locked Out Lead Arm Is Superior To Bent