I've been doing research on an upcoming project called The Science Of Sticky Coaching.  I did an interview with legendary Coach Bob Bennett (my coach at Fresno State from 2000-2002), and Thomari-Story Harden (founder of Team Avenue Travel Baseball, and an 8-year Los Angeles Dodger Pro), and just thought I'd share it with you.
Sorry, the interview audio may not be the best because we did it in a semi-noisy restaurant over lunch…
Here's a rundown of the questions I asked Thomari and Coach Bennett: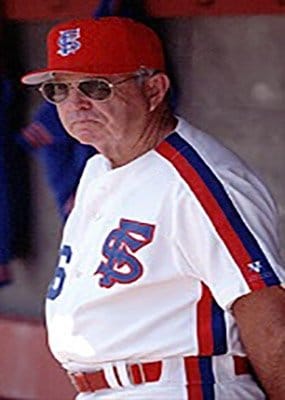 What makes Team Avenue different?  Who influenced you?
Have you trained others in your coaching system?  Have they replicated your results?
What are the biggest mistakes and myths you see in training (coaching) youth athletes?  What are the biggest wastes of time?
What are your favorite instruction books or resources on the subject of training (coaching) your youth athletes?  If people had to teach themselves, what would you suggest they use?
If you were to train me for four weeks for the Little League World Series and had a million dollars on the line, what would the training look like?  What if I trained for eight weeks?
This interview really cuts to the core of what baseball and softball coaches should be focusing their time on in practice.  Taking notes is a MUST!
Here are Coach Bob Bennett's credentials (from Wikipedia):
"Bennett took a break from Bullard in 1967 to coach Fresno State when Pete Beiden took a sabbatical; the team went 38-10. When Beiden retired after 1969, Bennett became head coach, a job he held until his retirement in 2002. He would go 1,302-759-4 to finish 7th in NCAA Division history in career victories; he only had two losing seasons in his career. He won 14 Conference Coach of the Year honors and was named NCAA Coach of the Year in 1988 by The Sporting News.

Bob coached for Team USA in 1977 and 1979 and managed the team in the 1983 Intercontinental Cup (when they won a Silver Medal) and 1986 Amateur World Series.

Bennett took Fresno State to the 1988 College World Series and 1991 College World Series.

He helped develop Dick Ruthven, Ron Johnson, Terry Pendleton, Eric Fox, Mark Gardner, Tom Goodwin, Steve Hosey, Bobby Jones, Todd Johnson, Jeff Weaver, Dan Gladden, Adam Pettyjohn and Dennis Springer among other major leaguers.

Bennett retired with a 1,302-759-4 win-loss record. #26 was the first number ever retired by Fresno State. He was once president of the American Baseball Coaches Association as well. He was inducted into the ABCA Hall of Fame and College Baseball Hall of Fame (2010)."
I'm a member of the American Baseball Coaches Association (ABCA), the International Youth and Conditioning Association (IYCA), and the Society for American Baseball Research (SABR).I'm also a HUGE supporter of the Positive Coaching Alliance (PCA).

I've spent 11+ years in the corrective fitness industry, and have too many alphabet-soup certifications to bore you with.I also played four years of Division One baseball at Fresno State from 2000-2003.

It's NOT how you study, but what you study that counts.I apply human movement principles (or rules), validated by science, to hitting a baseball and softball.
Latest posts by Joey Myers (see all)
https://hittingperformancelab.com/wp-content/uploads/2015/09/coach-bob-bennett.jpg
400
285
Joey Myers
https://hittingperformancelab.com/wp-content/uploads/2018/05/hitting-performance-labs_c90c0362088ef1d3d528f3078f4f8ac1.png
Joey Myers
2015-09-04 21:04:19
2018-01-18 18:33:32
How To Become Top 5% Of Coaches In 6-Months