You Don't Have To Gather 30+ Years Of Coaching To Be An Effective Teacher
In the above video, I mentioned the book Make It Stick: The Science of Successful Learning
, by Peter C. Brown.  If you're serious about helping get young athletes better, then you'll read or listen to that book.  The information in it is supported by empirical research, NOT "because I said so 'bro-science'".
Here's what is discussed in the above video: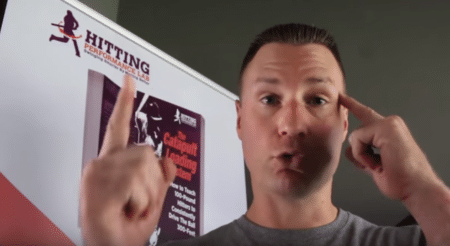 Addressing reader question about lunging,
Talk about "Bean Bag" study from Make It Stick book,
WHY we separate PROCESS from PERFORMANCE with hitters learning something new,
Takes time to change ineffective movement momentum into effective, and…
Training 4-5 days per week, for AT LEAST 5-mins each day.
Original reader's question I summarized in the above video:
"Joey, First off thank you for gathering and sharing the knowledge you have. I have become intrigued by the science of the swing and delivering it in a message that my 14u softball team related to.

One specific issue I see in a lot of my players is timing and getting over the front knee too far at contact. What are some good tee drills for staying back and any idea how I can get them to feel it when done correctly. I'm sure it will click once they figure it out.

Too much thinking in the box right now. Good thing it's winter!  Thank you"

– Eric McConnell, Coach Linden Warriors 14u. Black
My email reply…
"Eric, Thank you for reaching out! I know what you're saying. Here's what I want you to try with those young ladies:

Have them experiment with shifting their weight forward in different ways…
Reference their belly button because this is the body's center of mass…
Have them stride while keeping their belly button inside their back foot… (this will feel like they aren't moving forward at all, while front foot goes forward)
Have them stride while keeping their belly button behind their front knee at landing… (this will be closer to where you want them in games)
Have them stride while keeping their belly button behind their front foot at landing…
And have them stride while keeping their belly button over their front foot at landing… (this will look like old Ty Cobb still shots of his swing finish).

Do you see what we're doing? Give them many reference points to pull from. The learning principle here is variance. I use this all the time when teaching hitters to show their numbers to the pitcher. Please keep me updated with this Coach. And thank you for your continued support of HPL…Joey"
I hope this helps coaches!
I'm a member of the American Baseball Coaches Association (ABCA), the International Youth and Conditioning Association (IYCA), and the Society for American Baseball Research (SABR).I'm also a HUGE supporter of the Positive Coaching Alliance (PCA).

I've spent 11+ years in the corrective fitness industry, and have too many alphabet-soup certifications to bore you with.I also played four years of Division One baseball at Fresno State from 2000-2003.

It's NOT how you study, but what you study that counts.I apply human movement principles (or rules), validated by science, to hitting a baseball and softball.
Latest posts by Joey Myers (see all)
https://hittingperformancelab.com/wp-content/uploads/2018/02/sticky-coaching-blog-post-e1517598516168.png
246
450
Joey Myers
https://hittingperformancelab.com/wp-content/uploads/2018/05/hitting-performance-labs_c90c0362088ef1d3d528f3078f4f8ac1.png
Joey Myers
2018-02-02 19:20:07
2018-02-02 19:36:55
Discover Science Of Successful Learning Secret To Fix Lunging (or any swing flaw for that matter!)