Effective Ways To Strengthen The Swing & Fixing Top-2 Hitting Mechanical Issues
ASK THE EXPERTS: Jeremy Frisch, Taylor Gardner, & Matt Nokes Cover The Shocking Mistakes Killing Your Swing 
Let's start this party off with Mr.,
Jeremy Frisch – Owner of Achieve Performance
Jeremy Frisch is owner of Achieve Performance training in Clinton Massachusetts and former assistant strength and conditioning coach at the College of the Holy Cross in Worcester Massachusetts. Jeremy's focus is on long-term athlete development where he works with children as young a 5 years of age up through college level athletes.
He'll answer the following question I often get from my readers…
"What is an effective way to strengthen a swing, say mechanics are good but need more body strength for speed?"
Believe it or not, improving strength in the young athlete is easier than one might think. Young athletes need nothing more than their own body-weight or medicine ball to get stronger. When I train an young athlete's I am looking at doing 4 exercises.
Total body exercise

Upper Body exercise

Torso exercise

Lower body exercise
Total body Exercise
In my opinion the bear crawl is one of the best all around total body exercises a young athlete can do. The bear crawl improves coordination, trains stability of the core and shoulder girdle and strengthens the lower body all at the same time. The bear crawl can be done in multiple directions, distances and speeds. Because of the difficulty of the exercise young athletes often fatigue quickly therefore very short distances should be used like 10-15 yards at a slow pace.
Upper body exercise
My go to exercise for training the upper body is so simple that many coaches don't believe me. The exercise is simple: the bar hang. Hang from a chin-up bar or monkey bars with the arms straight for as long as possible. Develops unbelievable strength from the grip through the shoulder and core, not to mention develops mental toughness because the kids can always dig a little deeper and hold on for a few more seconds. Climbing and hanging is a long lost art in children's lives. Maybe if kids were a bit stronger and more agile in the upper bodies these days we would see less elbow and shoulder injuries.
Torso Exercise
The medicine ball is a fantastic tool for developing rotation power needed to throw and swing a bat. A medicine ball and a brick wall makes a perfect combination to develop a powerful swing. The athlete stands sideways in a stance similar to their batting stance rotate the ball back and using a motion similar to a swing, throw the ball off the wall as hard as possible. Aim for both sides 3-5 sets of 6-8 repetitions
Lower Body Exercise
One of the best and most affordable ways to develop great leg strength and as a bonus speed , running form and all around conditioning are hill sprints. Look to find a steep hill 15-25 yards long and sprint up full speed. The key with hill sprints is to make sure the athlete has the appropriate rest between sets. Too many coaches use hill sprints as a torture device to punish their athletes. All that does is make them tired slow and miserable. Baseball is a game of speed and power and hill sprints can develop that speed and power in the lower body. Each sprint should be followed with a slow walk down the hill followed by at least a minute to 1:30 rest. Look to get 10-15 full speed reps with good rest per workout 2 x per week.
You can see more of what Jeremy is doing at the following places:
Taylor Gardner – Co-Founder of The Backspin Batting Tee
Taylor Gardner is an Edison Award Winning Inventor of the Back-Spin Tee, who currently has the biggest social media following of any batting product in the world. With the help of his brother, former professional player and coach, he was able to break into the Major League Hitting World by bringing simple physics to the minds of many players and coaches. Now working across the world, Taylor is expanding his product line and instruction to bust the game's biggest myths.
He'll answer the following question I often get from my readers…
"Of all the issues you cover on hitting mechanics, what 2 do you consider to be the most compelling for most hitters?"
Of all the hitting mechanics that I have had the privilege of learning and teaching, there are two that stand out the most.
The element of the stride in relation to getting on time and its importance into the weight shift, and
The mechanism of lining the shoulders on path with the incoming pitch.
The Stride
The stride portion of the swing has seen many variations and is a highly talked about subject. I see a lot of hitters performing their style of a stride, but few seem to understand how to simplify the stride mechanism without destroying other vital parts of the swing. The stride itself is a combination of a step, and a weight shift…That's what makes it a stride. If you simply reach your front foot forward with no regard for weight shift, it is a step, and practically adding another movement to the swing making your swing take longer than necessary.
I see a lot of young hitters believe that they are late on a ball because they reach their foot out, then weight shift, then attempt to align to the ball, and then swing. Yes, after doing all those movements, they are late…BUT…it's because they started too soon!
During the stride a hitter can weight shift, and align their bodies to the pitch (yes, even getting into an advantageous position of lag) all in sync. Once the hitter lands all they must do is swing from there. It cuts the timeline down tremendously. Hitters can track the ball deeper than they ever had before and still take a powerful swing without sacrificing their rhythm or connected movements.
Think of how a quarterback throws a pass, or for the matter- a pitcher throwing a ball. They do a lot of great movements during their stride phase, so that when they land, they can simply "throw". We like to call it "Land-throw timing" or "Land-swing timing" for the hitters.
Lining the Shoulders
Lining the shoulders on the ball is the second mechanism I see that a lot of hitters could benefit from learning more about. Yes, you can begin to get your shoulders lined up to the pitch during your stride phase, but to be more in depth, even if your stride doesn't put you on perfect timing with the pitch (and most hitters are slightly early even on their best hits), you still must get your shoulders lined up to the pitch to stay on path for contact.
The barrel of the bat will be parallel to the shoulder plane at contact when done correctly. HOWEVER, this is where I see players and coaches trying to get on plane TOO SOON! If you drop your barrel on what seems to be on path early in the swing (Sounds like a good thing right?), but are unable to complete your weight shift/stride, or even track the ball long enough to decide where to swing, you will leave a huge hole in your swing that pitchers can pitch around.
I take some blame for this whole "Launch Angle" Revolution. My product was the first to talk about the importance of launch angles, and since, we have seen many people take our Trademark – "On Path, Bottom Half" to the extremes. You want to be on path with the pitch coming in, hitting the bottom half of the ball ON TIME. On time isn't just hitting ball to center field, it also stands for
Shifting your weight on time,
Lining your shoulders on time, and
Releasing the energy into the bat on time.
Not early, and certainly not late. I understand hitting a baseball or softball is the single hardest thing to do in sports, however if you do not continue to understand the simple timing elements that lead to an appropriate swing, we will accidentally continue to make hitting a ball even harder than it already is.
You can stay up to date on what Taylor and the Backspin Tee are doing at the following places:
Matt Nokes – Founder of One Hitting Solution
Matt Nokes is a 10-year MLB Veteran, playing for the New York Yankees and Detroit Tigers.  In that time he was a Silver Slugger Award Winner and All-Star Catcher.  Since then he's been working hard helping hitters as the founder of his company ONE HITTING SOLUTION.  
For over 20 years as a hitting coach he's been researching and finding out what transforms hitters 99 out of 100 times, he's developed 12 simple natural hitting Rules, Action Steps, Do's NOT Don'ts, that he calls the 12 Touchstones because they're the rehearsals that bring to the surface only the relevant "In The Zone Feelings".
No more random adjustments 50 times a day fiddling with your mechanics. This program is a 6-week transformational reset suppressing all the clutter, myths and half truths you've learned over the years from coaches, parents and now YouTube.
The bottom line is these 12 Touchstones solve 99 out of 100 problems before they ever come up.  You become intentional and take action in the form of rehearsals that weave a triple braided chord of:
Brutally efficient.
Laser focused hitting mindset with the true MLB Plan as the proper context and perspective.
Timing – the 3rd and final chord wrapped tight around the other 2 skill sets.
The glue holding all 3 together to execute your only mandate: Never Miss Your Pitch.  Click Here:   But first watch this short powerful video to give you an idea for what's in store for you and you'll be given the opportunity to schedule a FREE Strategy Call with Matt Nokes.
In this post, Matt Nokes answers the following question I often get from my readers…
"Of all the issues you cover on hitting mechanics what 2 do you consider to be the most compelling for most hitters?"
On the most primitive level, if you're going to express timing with one physical mechanical expression it would be transferring into the ball on time. You can't separate your weight shift from your swing [that's called quitting], so it's critical if you want to develop properly you need to learn to coordinate your stride and transfer.
The 1st way I'd practice getting your weight into the ball is by learning the basic movement of the "step to swing". You can use a tee without a ball for a point to aim at but it's good to begin rehearsing the movement without the distraction of whether you hit the ball hard or not.  Hitting the ball at this point is irrelevant.
You want to learn the movement first and then begin adding variables.  If you decide to NOT use a tee, make sure you visualize where the ball would be and don't let your eyes wander.  You body follows your head but your head follows your eyes and if your eyes are wandering then you're in trouble, and will most likely wobble in your rotation.
The 2nd way is adding the performance variable using a tee with the "Tall and Fall" drill:
The 3rd way would be to add a measure of timing. Once you've coordinated your stride and transfer then any soft toss drill will add a some more variables for timing but it'll be easy enough for your automatic mind to handle without much trouble:
Swinging across your face. Crossing your face is a swing rehearsal cue that ensures you don't pull your head.  The alternative is to chase your face, and if you do that you'll be pulling off the ball without much success. Swinging across your face may be the most powerful way to stay on the ball, direct your energy into a fine point and keep the ball fair on the inside pitch.
What are your favorite drills to hit off speed pitches?
My best advice on hitting the curve-ball…Don't miss the fastball
That sounds like a joke, but it's not. The best hitters are always ready for the fastball don't miss it.  Frank Robinson [Hall of Fame] changed the course of my career by teaching me the MLB Plan and a big part of it was never missing the fastball. Frank went on to say "you show me a good curve-ball hitter and I'll show you a guy with a slow bat.
Ok now that we have that mindset on the books, let's talk about hitting the off speed pitch.  First you need to practice good timing but without going too deep into timing philosophy there's a few good ideas and rules to follow along with some solid methods for practicing…
Slow pitch in the batting cages.
A great place to start for hitting off speed pitches is also one of the most convenient places to start and that's in an automatic batting cage [in the slowest cage].
Most young hitters have trouble hitting in the slow cages because they've never been taught to deal with all the timing variables and they're often discouraged when they have trouble, but they give up before they learn how to let the ball travel.  It's a mindset and a good way to think of a slow pitch is how you'd hit in slow pitch soft ball.
Trust me…Timing is a skillset that is easily taught but it's counterintuitive because it's not a popular topic in the mainstream hitting community.  It's more popular to say timing can NOT be taught…but that's a myth.
Seeing the ball up is another cue for hitting the off speed and helps you visualize the trajectory of a potential off speed pitch, so you can still look fastball but won't freeze on the strike curve-ball. One of the first obstacles to overcome is understanding what causes hitters to vapor lock or freeze on the curve ball.
The higher release point of a "strike curveball" often freezes hitters  because it appears to look like a fastball thrown so high that the hitter immediately quits on it right as it's released from the pitcher.
Now when a hitter is looking for a normal fastball between the waste and knees and gets a curveball in the dirt, they don't automatically freeze on a ball in the dirt because it initially looks like a fastball. By the time you recognize it's a curveball its usually too late and you're feeling "I can still hit this".
If you see the ball up you're able to look for your fastball [you can always adjust down on a fastball] but by looking up the only curveball that'll look good is the hanging strike curve-ball that usually makes you freeze early in the count.
Finally, there's the technique I call one of the "

Touchstones

" called "Buying time"
Buying time involves going out and getting the ball by getting deeper into your legs, which gives the ball more time to travel into your hitting bubble within your reach.
Every 7/1000th of a second the ball travels a foot, so if you're off 21/1000th of a second the ball is traveling 3 feet.  So buying time by falling deeper into your legs before you hit, gives the ball a little time to get closer, and your lower center of gravity allows you to access your farthest reach without leaking if you execute the "Touchstone" correctly.
Either way, you often have to go out and get the ball farther out front without interrupting the flow of your land swing timing.
You can see more of what Matt Nokes is doing at the following places:
But before I let you go…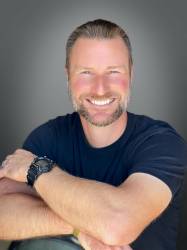 Latest posts by Joey Myers
(see all)
https://hittingperformancelab.com/wp-content/uploads/2018/06/ask-the-experts-nokes-gardner-frisch-e1528867239594.png
247
500
Joey Myers
https://hittingperformancelab.com/wp-content/uploads/2021/10/hitting-performance-labs_c90c0362088ef1d3d528f3078f4f8ac1-300x75.png
Joey Myers
2018-06-14 22:20:33
2018-07-23 20:24:04
Effective Ways To Strengthen The Swing & Fixing Top-2 Hitting Mechanical Issues