How To Turn Garbage Teaching Into Predictable Power
Jaime Cevallos Part-1 Interview: Imagine Hitting Strategy That Is Safe For Hitters
In case you missed any of the 3-part series…
Part 1 – [You Are Here] How To Turn Garbage Teaching Into Predictable Power
Here's what we're going to discuss in Part-1 of the Jaime Cevallos interview: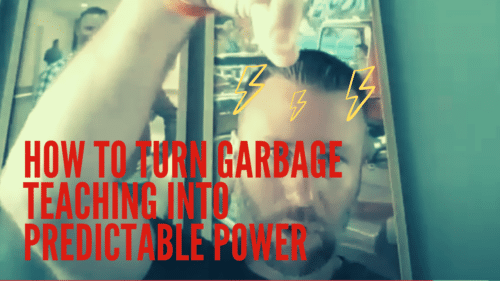 How is your understanding of the swing different?
Where do you get the principles and where do you get the science information from?
How your understanding is different than how people are teaching now?
"And the whole, the swing starts from the ground up suddenly wasn't correct to me."
The following is the transcription of the above video.  You can find Jaime Cevallos at the following places:
Enjoy!
Jaime Cevallos  00:07
Okay, ladies and gentlemen, I'm here with Joey Myers. And Joey, just to tell you a little bit about Joey Myers. He played four years of D-1 ball at Fresno State, the member of the American Baseball Coaches Association, International Youth and Conditioning Association, and the Society for American Baseball Research.
Jaime Cevallos  00:31
He's a certified Youth Fitness Specialist, a Corrective Exercise Specialist and a vinyasa yoga instructor and certified in Functional Muscle Screen. Joey was frustrated with his own hitting in college and wanted to figure out a better way and now he's the author of the Amazon bestseller the "Catapult Loading System How To Teach 100-pound Hitters To Consistently Drive The Ball 300-feet
".
Jaime Cevallos  00:55
Joey and I have known each other for a few years now. Joey and I were both fans of Tim Ferriss work. And I was in the Four-Hour Body
and Joey heard of me there. And that's one of Tim Ferriss books and reached out to me and we started chatting. This was maybe five or so years ago. And so, we've had a relationship talking about business and baseball and what our strategies are as far as what we teach and all, and just get an understanding of his ideas of the movement. And so, Joey, thank you for coming on.
Joey Myers  01:52
Yeah, thanks, Jamie. Thanks for having me. And I got just in case we need any examples or need a demonstration, I got my bat here.
Jaime Cevallos  02:00
Nice Yep, I got mine too. You know, we're all set. Um, so, the first thing is what are your thoughts as far as the way the swing is taught out there? How is your understanding of the swing different? And I guess another way I could phrase this is, how is it different from how you understood it in college? And then maybe also how is it different from what you see being taught out there?
How is your understanding of the swing different?
Joey Myers  02:39
Yeah, good question. So being taught in college it was the whole down through, swing down, swing through type thing that we often see and hear the Albert Pujols, Alex Rodriguez is saying that they swing down or Mike trout says he gets on top of the ball. And those were after I got enlightened a little bit. Those are very frustrating cues to hear because "swing down!" That's what I was taught and I didn't make it to the big leagues like these guys, I was taught the same dang things and it didn't work.
Joey Myers  03:07
So fast forward to 2013, I we had our first kid a boy, Noah, who is now seven, so seven years ago, and in the sleepless nights the getting up six times a night, the wife was feeding Noah, and the wife made me feel guilty to go back to sleep, which I go to back to sleep really quickly. So she, she felt like, "Hey, you need to be up to if I'm up!"
Joey Myers  03:35
So in those nights, I picked up a book I think I was trying to fix something in my own body because of the swinging and things I was in fitness at the time. And so, I picked up Thomas Myers, his book Anatomy Trains
.  And Thomas Myers, we aren't related directly, but I'm sure somewhere in the family tree were somewhere directly related. And I read through that book. It took me shoot, I had to read over pages for three or four times…
Joey Myers  04:12
Curious, you know that was something that you and I have in common. We have this passionate curiosity for the swing. And that just started a big, long deep rabbit hole that I went through. So, Thomas Myers Anatomy Trains, then it went to there was a book called Dynamic Body
and it was a collaboration of different authors that were in that springy fascia Rolfing type of genre in the fitness industry.
Joey Myers  04:36
And in that book that steered me over to Dr. Serge Gracovetsky's, The Spinal Engine
. So, what I was finding before I started going down that rabbit hole was a lot of the probably in the journey that you've been in recently in researching other people and what they teach. It was a lot of things being taught, retaught things that I was trying to reteach myself and it wasn't working.
Joey Myers  05:01
And so I figured oh well, it's probably user error. And then finally getting through a lot of that information I started, the lightbulb went on, I was like, you know what, maybe there's something to the human movement principles or rules to human movement. And when you look at it through the lens, you look at hitting through the lens of human movement science, say, physics, or biomechanics, or engineering or anything like that. It changes the game.
Joey Myers  05:30
So I always tell the, my coaches that follow me, I say, hey, you need a better standard for your hitters. It can't just be the same, what I call garbage over and over, that doesn't work doesn't really have much experimentation behind it. So that got me into what my thing is now is applying human movement principles that are validated by science to hitting a ball. So that's where I've fast forwarded to where I'm at now.
Jaime Cevallos  06:02
And when you say that applying human movement principles, where do you get the principles and where do you get the science information from?
Where do you get the principles and where do you get the science information from?
Joey Myers  06:13
Good question. Jamie, turn your camera a little bit. You got a little bit of a glare from the sun. Oh, better. There you go. There you go. That's better. Good just for the readers out there when they're listening to you talk.
Joey Myers  06:29
So the principles, the big, big ones that really opened my eyes were from Dr. Serge Gracovetsky's The Spinal Engine. So Dr. Serge is a physicist and electrical engineer. He took one of the biggest I think, case studies for me that sold me on the whole thing was he had a, I don't know if he's a patient client, but whatever, but he was a quadriplegic. He was born that way. So yeah, I think he had nubs for arms. He walked on the bottom of his pelvis. I think they call it the ischium.
Joey Myers  07:00
And he had hooked this gentleman up to… put pads on his spine along his spine to measure muscle output to measure the connective tissue output. And if you watch this guy walk and if you just go on YouTube and you put "Serge Gracovetsky Spinal Engine", it'll come up (video above). It's an old video. It's like in the 80s, I think mid-80s, late 80s. And if you watch this, it's about the four-minute mark. So, he's got video footage of this gentleman walking and if you cover up his lower half like his pelvis basically and just watch him move. You would swear the guy wasn't a quadriplegic.  You'd swear yet legs.
Joey Myers  07:43
So he was born without legs and arms, and he was moving like normal people move, but without legs and arms. And so that was to me. I was trying to look for the foundational the foundation of the foundation and locomotion is what Dr. Serge talks about.  So, without locomotion, we aren't human. And he talks about three different and these are the principles, he talks about three different spinal movements, movements that the spine can do…
Joey Myers  08:11
There's flexing, so just imagine yourself arching your back, right, but your lower back is already in a has a slight curve to it anyway, so it's already started off, if you just stand there and don't do anything, it's already started off in an extended extension, sorry, extended position, they call it lordosis. The second one, why they put extension and flexion together. So, flexion would be like you doing a crunch where you're crunching up and you're bending your back that way. So those two he puts together, those are number one.
Joey Myers  08:44
Number two is side bend. So it's just going side to side. And then the third one, the last one is called axial rotation, which just means that your shoulders can move independent or not independent but your shoulders move one way and your pelvis moves. That's why our right arm and left leg comes forward at the same time.  We don't walk with the right arm and the left leg coming forward the same time. So that is basic locomotion and all three, or four, all three of those movements happen when we walk.
Joey Myers  09:15
And from the minute we start walking… The reason in the beginning, it's so hard for the baby to get into the toddler stage is because that lower back doesn't have the curve in it yet. It's actually straighter if not more flexed, because they're in that that crunch position. And then it's them trying to create that musculature to create that curve in the lower back. And so, once they get that they get more steady.
Jaime Cevallos  09:43
That's I'm sorry to interrupt. Yeah, that's really interesting. I didn't know that that that the curve at the bottom of your spine, takes a little while to develop. That must be an ontology recapitulates phylogeny type of thing where we were crawling, in the beginning, and then we needed that curve for upright walking.
Joey Myers  10:05
Yep, yep. Yeah, because think about it in in the wild where you have a good example of side bending are sharks. So, sharks when they swim, it's this this movement, right? And if you look at whales our fellow kin, mammals, right? They're extension flexion so their tails this way dolphins same thing, right? Dr Serge talks about a lot of this.  And then if you watch dogs it's similar it's like you see this move that goes like this it's up and down side to side, butt goes one way head the other.
Joey Myers  10:40
And what's interesting is there are three sections of the spine. You have the C the cervical, you have the T the thoracic, which is the middle the biggest part 12 full vertebra in the middle, and then you have… so there's seven in the top part and the cervical, two of them we can't see because it inserts into the skull. Then you have the 12 of the thoracic, which is the biggest part of the spine. And then you have the lumbar which is five, five vertebrae.
Joey Myers  11:05
And what was interesting to me is if you look at the curve so the neck so imagine the neck is curving this way, the thoracic part curves the opposite can't see it here we go through this way. So the, the thoracic curves the opposite way. And then the L the lumbar lower back curves the same way as the cervical so it's like C, C and then you have backwards C in the middle. Interesting how everything was designed.
Jaime Cevallos  11:36
Wow.  So keep going about how it's different from your understanding is different from how you understood in college or how people understand it right now.
How your understanding is different than how people are teaching now?
Joey Myers  11:54
Yeah, that's a good one. So connecting the dots of today and I know you've been doing your research and stuff.  There are swing people out there and I won't mention any names. Most of you out there listening to this will probably know who I'm talking about. But they talk about that the barrel moves the body. The body doesn't move the barrel.  Which if you have a human movement foundation, you hear that and it's automatically ignorant automatically.
Joey Myers  12:27
So the people that are saying that have no clue how the human body moves, and if they claim that they've read and understand Dr. Serge Gracovetsky's Spinal Engine, that's a lie. It's a con job because and you can go and look up David Weck, who, WeckMethod.com. He was the inventor of the bosu ball, most of you out there have been to a gym you see that ball that's got the big bubble on the bottom and the surface on the top and it's makes exercises really hard to do.
Joey Myers  12:58
So he was the inventor of that and then over the last probably four or five years, he's really gotten into the spinal engine stuff. And the guy's a sharp guy, you go on Instagram. He's really, really active on Instagram. Very, very sharp guy. And he's all about spinal engine. And you have so many others like what's his name Dr. Joe LaCaze, he's RotexMotion. There's a another one. I can't think of his name right off the bat. But he he's got a system. It's all based on body, there's a lot of spirals in the body.
Joey Myers  13:31
For those parents out there, those coaches out there that want to get involved in this, but have no clue how to start. If you just understand those three types of spinal movement, from there you can pretty much figure out how everything else is supposed to move. So when you have somebody that says that barrel moves the body, that doesn't make sense, because human movement we're fighting gravitational forces, but movement starts from the middle out is what we call it, not from the ground up. It's from the middle out from the spine out basically.
Joey Myers  13:31
If you read Thomas Myers Anatomy Trains
, he talks about the spiral line that comes across the chest, and it comes back down around the butt and then you see one that comes under as a stirrup under the foot. And so when you understand any…you don't have to be, like again, I was self-taught. I just was curious passionate curiosity about everything. You don't need to know the language per se, but if you can understand the concept of just locomotion.
Jaime Cevallos  14:40
Wow. I came to that realization a couple years ago myself. And the whole, the swing starts from the ground up suddenly wasn't correct to me. It's more that it starts in the center of your body and shoots in two directions, almost like they're working against each other.
"And the whole, the swing starts from the ground up suddenly wasn't correct to me."
Joey Myers  15:07
Yep.  That's a great observation man. And I know you're smart Dude, you like to think outside the box philosophically. And that's exactly what's happening. So if we take this idea of springy fascia. So fascia is, if you foam roll, that's what you're trying to do. If you foam roll your IT band and it hurts like the dickens. If you haven't done it in a while. It feels like somebody's stabbing a knife in the side of your leg, right?
Joey Myers  15:37
So fascia is a cotton candy or spider webby like material that your bones and muscles float in. It also gives muscles their shape. It's almost like if you think about it, the grocery store if you buy a bag of potatoes, the potatoes are the muscles. The bag itself that the potatoes are wrapped in is the fascia. It's connected. There's a sheet, or one line anatomy train that attaches the top of your eyebrow goes all, it's called the backline. Goes over the head and go straight down the back butt, hamstrings, back of the calves and attaches to the bottom of your or the back of the ball of your foot. It goes through your arch in there.
Joey Myers  16:15
So that's one whole sheet and there's nine different ones, I think is what Thomas Myers talks about, that are all intermingled interweaved. You have this idea of compression tension forces. This fascia is comprised of compression tension. Compression force is just a, say a piece of granite on or a brick on a brick, right brick on a brick, they exert forces against each other. That's a compression force.
Joey Myers  16:42
A tension force would be like a boom crane, you know a wrecking ball. You have the structure of the boom crane, you have the cable that, and it comes over and it holds the wrecking ball down here. So that cable that's connected to the wrecking ball that's a tension force, so you have force from the structure that's pulling up and you have the Wrecking Ball and gravity that's pulling down and you have this tensional force between the two.
Joey Myers  17:07
So with fascia you have both compression tension. What's interesting is this is all Thomas Myers stuff is he says that granite has a very high, granite the rock, like if you had a countertop, granite countertops, that granite has a very, very high tolerance for compression. You can put a ton of weight on top of granite and it's not going to break it's not going to; it's not going to snap break whatever.
Joey Myers  17:32
But it has a very low tensional force. So if you hooked up, you drilled holes in two sides of the granite so you had a countertop, a long countertop, drilled big holes in both sides of the granite hooked in like a big fat strong carabiner, you got the chain hooked up to a horse on both sides and you have the horses walk away or run away from each other. That granite's going to pull apart because its tensional force isn't very strong. But fascia in the human body is both strong compression and tension.
Joey Myers  18:03
So whether you're in a good posture, good position or you have some bad juju, your body's just not in that, right, you're going to have those compression tension forces but they might be off a little bit and it's going to create, it's going to wear out like mileage on your…say your car, you got a front end that's misaligned, you get the tires out like this. Well, you know, they're guaranteed 80,000 miles if your tires were aligned, but since they're misaligned, you might get about half the mileage on those tires…same thing with fascia, it's going to over time if it's off, then you're going to wear out joints, you're going to wear out shoulders, you're going to wear out necks, you're going to wear out lower backs, whatever.
Joey Myers  18:43
So it's amazing when you dig into the fascia side and spinal engine, they're both pretty related because without the fascia, it's like they both are dependent on each other. The fascia is a connective tissue, the spine is what they're saying bones are actually connective tissue as well their fascia, but fascia wound really, really, really dense. Bone does bend, but there's a threshold till finally it breaks but it does bend.
Jaime Cevallos  19:14
Okay.  What would you say?  Is your understanding of the swing back then? We keep going off on?
What would you say?  Is your understanding of the swing back then?
Joey Myers  19:25
Yeah, yeah, yeah. So how this relates to the swing is loading and unloading. This is the Catapult Loading System
. This was the book you mentioned, that was the 2017 Amazon bestseller. This took power to a whole other level. And I ran the experiments when I was going through this, I was seeing what others were doing like Trout, and at the time Andrew McCutchen was doing well, and Bautista, Donaldson and all these guys.
Joey Myers  19:52
So I took that information, looked at the players to see how this was being translated how they were translated… (to be continued into Part-2)…
https://hittingperformancelab.com/wp-content/uploads/2020/07/jaime-cevallos-joey-myers-interview1-e1593582844942.png
281
500
Joey Myers
https://hittingperformancelab.com/wp-content/uploads/2021/10/hitting-performance-labs_c90c0362088ef1d3d528f3078f4f8ac1-300x75.png
Joey Myers
2020-07-01 06:05:29
2020-07-14 04:36:12
How To Turn Garbage Teaching Into Predictable Power