Pinching Lower Back Pain Stress Fracture From Youth Players Swinging Baseball Or Softball Bat At 14 Years Old
Learn about how to fix pinching lower back pain stress fracture (pars fracture) from youth players swinging a baseball or softball bat at 14 years old. This also includes pitchers!
The Low Back Ticking Time 💣 Risk Hiding In Your Swing
We have a lot to cover in this post, so this is what we'll be discussing:
Here's the problem…
Short anatomy lesson of the low back, and
What's the answer?
Most "bad" coaching cues I see out there can work in the right circumstances, for example:
"Swing down" – can work for hitters who have an extreme uppercut…
"Sit back" – can work for hitters who are too far out front…
"Swing up" – can work for hitters who have an extreme down swing…
SCIENCE-BASED TRAINING:
Improve your hitting strategy dramatically by applying human movement principles.
Learn not only how and what to train but also the science behind the methods.
But Here's the Problem…
I've been tracking the above swings cues for some time now, and I've found in a majority of cases, they seem to churn out one low back ticking time 💣 swing after another. When I see one of these swings on Twitter, it's like listening to grinding teeth, someone's fat lips smacking while eating, or nails on a chalkboard.
Let me show you what I'm seeing…
How do I know the above hitters were instructed with the coaching cues in question?
These were the hitters on proud display via the Twitter page of the above instructor's name I blurred out! Now, he's not alone in this. Many others like him are following the same blind mouse.
Btw, it wasn't hard to find ANY of these swings…I found them in a matter of minutes. And to be fair, not ALL this instructor's hitters were doing this, but close to a majority.
Here's one more clear swing example, one of my readers Shawn Bell shared after seeing the video above…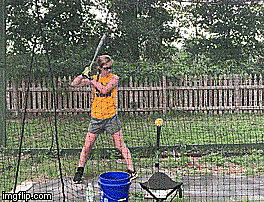 Focus on nothing else but her lower back…OUCH!
Fact: hitting cues have consequences. When we teach a hitter to take focus away from basic locomotion and gait principles, and put it squarely on manipulating the "forearms" or the "barrel", young hitters will have a higher probability of wearing a hole in their low back than not.
"Unload your barrel not your body"…
AND,
"The forearms swing the bat. The body helps"…
…are misleading at best, and not having a clue as to what drives ALL human movement. And these instructors routinely call this a High Level Pattern (HLP). Sad. All I see are low backs grinding. To me, this is a Low Level Pattern (LLP), disastrous to young moving bodies, built on a stale straw man argument, losing sight of the forest for the trees, and chasing a sunset running east.
And most importantly, this low back ticking time 💣 IS NOT found in the REAL High Level Pattern. I challenge you to find me at least one who does this…and if you find one, I'd love to dig into his or her history of injury.
Short Anatomy Lesson of the Low Back
Normal lordosis of spine (natural low back curve – "neutral" spine), left hand side image. And hyperextended lordosis (or arching) of spine, right hand side image.
Arching causes the vertebrae in the spine to push together. This isn't damaging by itself especially when done in global extension (think gymnast swinging forward under the bar), but adding in a little rotation over and over and over, and we have a low back ticking time 💣.
The REAL High Level Pattern (RHLP) is driven by the spinal engine. Basic principles of locomotion and walking gait. I would feel MUCH better reversing the two quoted coaching cues above to read…
"Unload your body not your barrel"…
AND,
"The body swings the bat. The forearm helps"…
This is a RHLP. As Dr. Serge Gracovetsky (Physicist and Electrical Engineer), author of The Spinal Engine
book says:
"The arms and legs aren't necessary for locomotion. They're an enhancement."
Do you want proof to validate this statement? Watch this… (Thanks again Shawn Bell for the giphy)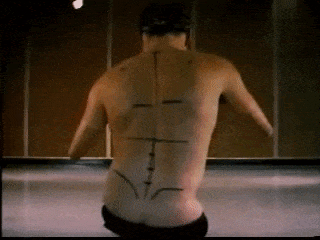 …The gentleman in the above video is from one of Dr. Serge Gracovetsky's movement experiments. He was born WITHOUT arms and legs. The crazy part is, if you block out his black shorts with your hand, and look at the way he moves and locomotes, you'd swear this man has legs.
The low back ticking time 💣 risk hiding in your swing can be found in using "forearm" and "barrel" focused cues. The proof is in the almost dozen swings I found in the matter of minutes on Hitting Twitter.
And if you still don't agree, then here's one of my other favorite quotes from the author of Atlas Shrugged
, Ayn Rand…
"You can avoid reality, but you can't avoid the consequences of avoiding reality".
So, What's the Answer?
A safe AND effective swing. If we're ruining lower backs, then how effective is effective? Here's a clue, instead of arching the low back, what happens if we do the opposite (flexing v. extending)?
I'm glad you asked! Think about flexing the lower back as putting space between the 5 vertebrae located there. This keeps the body from putting a death squeeze on the squishy and lubricating material between the vertebrae (cartilage and synovial fluid). It makes the spine SAFE for rotation. You got it, NO MORE LOW BACK TICKING TIME 💣's!!!
So how do we protect our hitters and build a SAFE and Effective Swing?
Think of your pelvis like a bowl of water. Now, imagine a "Donald Duck" butt, where you're sticking your butt back (arching low back – Dr. Kelly Starrett in his book Becoming A Supple Leopard
refers to this as "Nasty Stripper Pose"). For the kinesiology nerds out there, this is an anterior pelvic tilt – spilling water on your toes. This IS NOT a good pelvic position when swinging a bat or throwing a ball.
Now, doing the opposite, imagine that same bowl of pelvis water in a posterior pelvic tilt, or Pink Panther butt, think about spilling water on your heels.
I have some cues you can use with your hitters, and a couple Hitting Performance Lab resource posts to reference…
The Hollow Hold…
If you're one of those LLP instructors, and still aren't convinced…PLEASE, PLEASE, PLEASE for the love of God…at least strengthen your hitter's in the Hollow Hold. I'm tired of seeing all the low back ticking time 💣's waiting to go off. You've been WARNED.
In Memoriam
This post is dedicated to a great friend of mine and fellow baseball coach that we lost to a brain aneurysm on Monday… (my Facebook post):
"Words cannot express my deep sadness today upon hearing of my good friend and fantastic coach Sam Flores's passing yesterday. He had no idea he was in a fight for his life – and would lose it – driving to the hospital with his family. So young. So tragic. My family and I ran into him at Costco 4 short weeks ago where we had a brief catch up on life and a big hug…you just don't know when someone's time is up. Hug your loved ones today, keep them close, and realize God is in control, not us. We love you Sam, and send my BIGGEST thoughts and prayers to your family as they go through the tragic mourning of your passing. The valley lost a wonderful Father, Husband, Friend, and ultimately a brilliant Coach. RIP my good buddy you will be missed (breaks my heart to see that little kiddo of yours) 😢😢😢"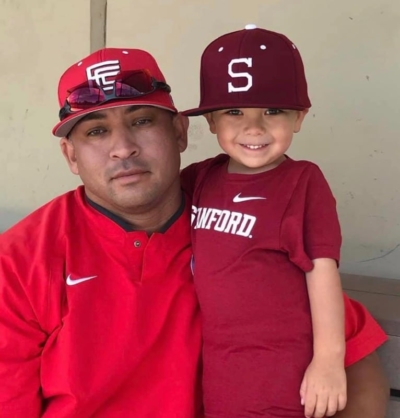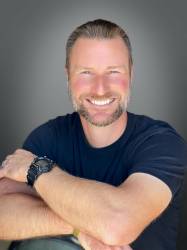 Latest posts by Joey Myers
(see all)
https://hittingperformancelab.com/wp-content/uploads/2019/09/lordosis-of-spine.jpg
320
400
Joey Myers
https://hittingperformancelab.com/wp-content/uploads/2021/10/hitting-performance-labs_c90c0362088ef1d3d528f3078f4f8ac1-300x75.png
Joey Myers
2022-10-20 09:30:16
2022-10-25 05:04:22
Pinching Lower Back Pain Stress Fracture From Youth Players Swinging Baseball Or Softball Bat At 14 Years Old