Now Your Hitters Can Have Power Without Starting The Kinetic Chain At The Feet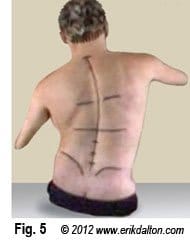 I briefly viewed a hitting instructional video on YouTube the other day that one of my readers sent me (Thanks Joe),
…I won't share who did the video, so as not to cause any embarrassment.
Like what was being illustrated in the video, I would say a majority of hitting instructors both online and off swear that the swing starts from the ground up.
This IS NOT what the current research shows as validated by human movement science.
Yes, Gravitational and Gravitational Reaction Forces do have their place (and we'll get to that)…my point is, ALL human movement DOES NOT start from the ground, and work it's way up the Kinetic Chain.
Consider this Tweet from one of my readers…
How fast before "squashing bug with the knee" is a thing? @hitperformlab https://t.co/IOso6gZ4yV

— Itim Na Panter (@Eaglzphan22) August 22, 2018
And I added the following comment…
Buahaha! I love that. Slipping front foot, no extension at front knee, and "hammering bug" with back knee. Result? A dinger! A lot of unhappy gravitational force peeps out there 😂 @backspintee

— Joey Myers (@hitperformlab) August 22, 2018
What I have for you above, is a snippet of video about 5-minutes long, explaining where the swing starts as explained by Dr. Serge Gracovetsky, Physicist, Electrical Engineer, and founder of The Spinal Engine
.
Here are some talking points that Dr. Gracovetsky mentions in the video (please WATCH video at the 2:00 minute mark to about the 7:00 minute mark):
There's a lack of agreement in literature at what the function of the spine is.
Spine is generally believed to be a supporting column linking shoulders to pelvis…as we walk the trunk is thought to be carried passively by the legs. Problem with this: WHY is shape of spine in form of an "S" instead of being straight? – straight column would support compressive loads better than a curved one right?
Consider 20-year-old male subject who has reduced arms and no legs…moves on his Ischium.
If it was true that legs are necessary for human locomotion, then a person with such an anatomy would not be able to walk.
With the bottom of the screen hidden [while the subject "walks" across the floor], it is impossible to tell that this man has no legs.
Locomotion was first achieved by movement of the spine, and the legs came after as an improvement, not a substitute.
When providing a lateral bend to a curved spine (lordosis), an axial torque is induced. The rotation of the pelvis and shoulders is driven by the spine.
And this is the basis for my The Catapult Loading System book on sale at Amazon.
So does the swing, or any human movement for that matter, start from the ground up? In other words, are Gravitational Forces a necessity to move the Spinal Engine or merely an enhancement?
In an email conversation I had with Dr. Serge Gracovetsky a few years back, he said this about the relationship between gravity and spine engine mechanics:
"The coupled motion has nothing to do with gravity. It works in space as well. It is a property of the spine or any flexible rod for that matter. But the interaction with gravity makes interesting results which are exploited by every sport."
Okay, since we've determined human movement DOES NOT start from the ground and go up the Kinetic Chain, I want to share a couple snippets from Dr. Gracovetsky about what role Gravitational Forces do play in dynamic movement…
Here's a note about the importance of the heel strike in locomotion from Dr. Serge Gracovetsky in his book, The Spinal Engine
(p. 168):
"…the compressive pulse generated at heel-strike is essential to the locomotion process. The shape of this pulse must be very specific if maximum energy is to be transferred from the earth's gravitational field to the rotating pelvis."
According to Dr. Gracovetsky, while running, our heel hits the ground creating a compressive force that is equaled to NINE-times our body weight. Gravity pulls our body down, and at heel strike, the ground pushes back in a compressive force.
This is why it has been demonstrated by Speed Coach Barry Ross that runners who dead-lift heavy weights with a low time under tension, get faster! They're able to push into the ground with more force, which in turn, the ground pushes back with equal and opposite force.
It's also worth noting about the Spinal Engine while walking on sand versus solid ground…
Dr. Serge Gracovetsky offers this example in his book (pgs. 168-169),
"Running or walking on soft sand is not easy and is very tiring, In this particular case, the energy leaks into the sand, the impact force is reduced, and the compressive pulse through the spine is attenuated [disabled] as the total energy recovered is reduced."
The compressive force is softened by the sand, which doesn't allow the pelvis to turn using efficient spine engine mechanics. To maneuver, the brain has to recruit big muscles to do the work. This is why you get a workout walking on sand…it's powerless effort, rather than effortless power.
Does current research, that's validated by science, say human movement starts from the ground, and travel up the Kinetic Chain?
No.
The trunk isn't just a passive structure that is carried by the legs. Legs are not a necessity to human movement – evidenced by the legless subject in the video – they're an enhancement. The Spinal Engine can work in space! I say the legs and arms amplify the movement of the Spinal Engine.
Do Gravitational Forces play a role in human movement?
Yes!
Like Dr. Gracovetsky says, "…the interaction with gravity makes interesting results which are exploited by every sport."
That my friends is a human movement principle that is validated by science. Not philosophy or theory. This is why my new book The Catapult Loading System is so powerful to hundreds of coaches and tens of thousands of hitters across the US… (just check the reviews 😉
https://hittingperformancelab.com/wp-content/uploads/2017/02/erik-dalton-spinal-engine.jpg
241
190
Joey Myers
https://hittingperformancelab.com/wp-content/uploads/2018/05/hitting-performance-labs_c90c0362088ef1d3d528f3078f4f8ac1.png
Joey Myers
2017-02-24 03:29:59
2019-07-08 03:26:57
The Swing Does NOT Start From The Ground & Move Up?