How To Wind Up The Body To Deliver More Force
Jaime Cevallos Part-2 Interview: What are the 3 most Important Things to Consistent Power?
In case you missed any of the 3-part series…
Part 2 – [You Are Here] How To Wind Up The Body To Deliver More Force
Here's what we're going to discuss in Part-2 of the Jaime Cevallos interview:
What are the BIG-3 for consistent power?
How do you wind up the body to deliver more force?
What is the Main Thing that Separates the Great Hitters from Average?
What are the 3 most Important Things to Consistent Power?
The following is the transcription of the above video.  You can find Jaime Cevallos at the following places:
Enjoy!
What are the BIG-3 for Consistent Power?
Joey Myers  00:06
…the application of it basically. And in the beginning, there was the big three is what I call it. So that was showing the numbers, so hitters showing their numbers to the pitcher, there was the downhill shoulder angle. So that's the side bend side of it. And then there was the hiding of the hands.
Joey Myers  00:20
And I know you came to kind of a conclusion about that front arm shape being barred out or even slight bend, but pretty close to being barred out. So, the hands don't necessarily they used to teach walk away from the hands, right? So that to me is translated as the hands going back towards the catcher, but it's actually should go back at an angle back where we say hiding the hands from the pitcher. So, the hands should end up at landing somewhere above or behind the back heel.
Joey Myers  00:49
So if the pitcher is watching this hitter, and again, go look at Mike Trout, go look at JD Martinez. Go look at Mookie Betts. Look at all these guys and you'll see them number one, showing their numbers. Number two, not all of them have a downward shoulder angle but many of them do; Miggy Cabrera, Ted Williams if you want to go back in the day, a lot of hitters in the Stan Musial, they used to say that it looked like he was a little kid peeking around the corner. Right.
Joey Myers  01:16
And it was that the showing numbers part of it. And you see them all hiding their hands. So, from the minute they start to at landing, you see their hands disappear. So those are the big three and what's happening fascia wise is we're taking the front shoulder, we're taking the front shoulder and we're bringing it down and in towards the back hip.
Joey Myers  01:37
So that gives you that slight down angle and it gets you… we've evolved showing numbers to more creating neck pressure. Because every hitter is different, you and me being a little bit older, although we do a lot of movement work on our own body so we probably move better than people our age. But a lot of hitters are different in how far they can get their head here because one of the biggest…. one of the biggest things that people hated was showing the numbers was that, well, it pulls the hitters eyes off the ball.
Joey Myers  02:04
And yeah, if you do it too much, but the head's got to anchor down in a position, so if I go sideways, so the head's got an anchor in a tracking position, not necessarily square off to the pitcher, but intercept where the balls coming in.  All Dr. Peter Fadde's stuff and head anchors and then we just pull that shoulder underneath as far as you can. And that's going to create some tension in the neck.
Joey Myers  02:28
So it's like a wringing towel, like we're wringing a towel out. So, where your head is on top, the top hand and that your shoulders are the bottom hand, and we're just wringing as far as we can. We're taking that spine, that section of the spine, and we're just bringing it as hard as we can until landing and then we just let it go.
Joey Myers  02:44
So it's kind of like, I call it more of a spring than some people call it rubber bands like get the rubber bands really tight and then let them go like a rubber band system. Kind of but it's more it's more spring, springy. So those are the big three if you connect the dots between what fascia is what the spinal engine is, it's easy way to think about it is a wringing towel, like you're wringing the towel, it's loading that system up and then letting it go.
Joey Myers  03:10
And like I said, I ran quite a few swing experiments that proved that showing numbers versus not showing numbers, you add between four to six miles an hour bat speed, and I can't remember if I did a ball exit speed one, but bat speed and ball exit speed are very similar. They're like first or second cousins. So it's very translatable. The down shoulders added four miles an hour of speed. And the showing numbers I think was three miles an hour, or one to two wasn't quite as much. The big one was showing the numbers or creating that neck pressure.
Jaime Cevallos  03:41
So what this does is it winds up the body so that you can then deliver more force…
How do you Wind up the Body to Deliver more Force?
Joey Myers  03:48
Yes, yeah, it takes the slack out of the system. So slack being a little different than what how the human body because we talked about it's more compression tension forces that's taking slack out, but it's almost like If you think about a car that goes into a ravine and then you have a Jeep with a winch on the front that you can take the cable, hook it up to the bumper of the car that's been dropped in the ravine and to pull that car out, right, so you turn the winch on…
Joey Myers  04:15
And if you have slack in the cable that's connected to the bumper, and you turn that winch on right away, because there's slack in the cable, it's going to just pull the bumper off, it's not going to pull the car out of the ravine.
Joey Myers  04:25
So what you have to do first is after you hook it, hook the bumper, is you got to slowly take that slack out of the cable of the winch line and then turn it on and it'll pull the whole car out. So that's slack versus no slack. Some people out there have been on a what a toboggan on the lake, and you've been on a boat pulling you along, and you're holding on to the ski line or whatever you hold on to the ski bar, right and they're pulling you along.
Joey Myers  04:52
And we had a buddy who did this with us. And at the time, I was super strong. I was lifting a lot and he goes I'm going to do it as hard as I can to you, alright do it, bring it, bring it, man. So, he got it to where he's pulling me at first. So, there was no slack in the line; line was nice and tight. And then he got me to where I started coming up to the side of the boat. So, he kind of slowed it down a little bit. And then I started kind of floating up and started putting slack in the line and then he floored it! And boom, and that I held on and there was one time I think I ended let go, but that amount of force all at once. It was a slack in the line.
Joey Myers  05:30
Oh my gosh. So what happens is…
Jaime Cevallos  05:34
You're lucky you didn't hurt yourself.
Joey Myers  05:36
Right? Yeah, dude, we were like 25 years old, right? ever get hurt. But that's the thing. So when youth hitters, a lot of times what I see is these coaches say, keep your shoulders square. Don't show your numbers to the pitcher for all these different reasons we can go into some other time, but they want the shoulders square. They don't want you tilting them. They don't want you turning them in. They want them square and then they want the hips to do everything.
Joey Myers  06:04
And so what's happening is it's putting slack in the system. Because to take slack out we just talked about is like that wringing towel, we have to wring the towel and then let it go. And that's where you get a nice powerful move, consistently powerful move, and it's safe on the spine versus the opposite where the coach wants this shoulder square doesn't want any turn it in or down or anything like that. And they want the swing powered by the pelvis or the hips, they say explode the hips, load and explode the hips.
Joey Myers  06:34
And what happens there is you're taking the equipment of the lower back, the set of five vertebrae is in the lower lower back, who actually are not made to rotate. They're not made to, they're not built to rotate the bones. Okay. All they can do is flex and extend. The rotation that you see is about seven to 12 degrees and this is via Tom Myers, and a pretty prominent, I can't remember his name right now, physical therapists been around forever in the strength conditioning world [Charlie Weingroff, DPT, CSCS, a physical therapist, a trainer in New York City, and is pretty high up on the human performance food chain], seven to 12 degrees of rotation is all it's allowed because of the muscles surrounding those bones.
Joey Myers  07:13
So that's the rotation you see is that set that seven to 12 degrees rotation, you see, is because of the muscles surrounding the bones.  The thoracic spine, so shoulders and then the rest of it that attaches up to the top of the lumbar, the lower back is made to rotate is actually made to rotate 40 degrees, four-zero in both directions.
Joey Myers  07:34
So I should be able to do a good moving human body can move 40 degrees to the left and rotate 40 degrees to the right. So when you employ a part of the body that isn't allowed to rotate, to rotate and to not only rotate but explode, like absolutely explode. Now what happens is we start wearing holes in the lower back, we see back spasms. We see herniated discs. 
Joey Myers  07:35
We see all kinds of stuff in the swings we were referring to earlier about the barrel moves the body, not the body moves barrel. So those ones that are teaching barrel moving the body, what I see in those swings is I see these hitters on Twitter where their back is arching their arching and you can almost draw for righties, you can draw a reverse C shape. And for lefties, you can draw a C shape like from their head, down their back and out their leg because they're arching so much you can see this kind of C shape going on.
Joey Myers  08:32
And the problem with that is extension is okay, so if you arch your back in just a normal, a normal sagittal plane like a front to back plane, like you do a lunge or squat in a normal extension is fine. An arching of the back is fine. You see a gymnast when they swing the bar when they're swinging under the bar, right? You'll see them go into a globally flexed position where their spine kind of looks like this and then as they swing through, they go into a globally arched and global just means the whole body is arch. There's not one little point that's arched, say like in my head if I went and I just dropped my head back and I went into an extended position with my neck and not using my body as well, that's that would be a local extension.
Joey Myers  09:17
Those aren't usually good when they're coupled with their rotation. So, when the hitter is going into an arched position, that by itself isn't troublesome. But the minute you add a rotation in with that, now, when you arch you're pushing the vertebrae together in your back when you arch. Okay, now that again isn't a big deal, but the minute you start rotating, now you're grinding and that is a problem and that's what I see when you teach hitters the barrel moves the body and to snap the barrel back way back here.
Joey Myers  09:51
When I see those swings, I see those hitters arching their back and turning and it just makes me want to throw up because these coaches either, they're, it's like a cat, right? Cats are either really, really smart or they're really, really stupid. And to me, it looks like those coaches don't know any better. And they're getting their information from some guy who doesn't know any better, who knows better, but he's not teaching the right thing and it's just it's horrible to see these young hitters doing that.
Jaime Cevallos  10:25
So, what you would say is the main thing that separates the great hitters from the average or the just the good has to do with this sort of building tension not creating slack in the torso area and the upper legs basically, of the body.
What is the Main Thing that Separates the Great Hitters from Average?
Joey Myers  10:51
Right, exactly. So if you go back and Ted Williams you look at Stan Musial, you look at even Babe Ruth, and not all of them have them have every single principle like they could have and they could have done better. You could even look at Tony Gwynn, right? There was an article I do that every time I put it up on social media, I said something in the article or in the headline to the effect of, could Gwynn have had more power?
Joey Myers  11:16
And I just did an analysis and took a look at his swing and pointed out areas where he could have maximized or optimized power. A lot of people don't like that. You know, Tony, how could you be? You know, how many hits? Did you get the big leagues in? How could you take on Tony, when you don't know what you're talking about?
Joey Myers  11:31
I was like, no, it's dude. It's a thought experiment. I'm not going after the guy, right. He didn't want to hit for power. Although, when he had his talk with Ted Williams, his power numbers sure went up a little bit because Teddy told him, Hey, you might want to pull the ball and own your pull field a little bit more. And that year after he had that talk with him, I think he went from like 11 home-runs a season I think he hit maybe 20 or 18 or something like that.
Joey Myers  11:54
But this idea that Ted Williams is probably one of the best one of the best at it, you see the showing numbers, or his in his case "the number" nine, you see his down shoulder angle. You see him hiding the hands. You see this locked out front lead arm when he started his swing.  Like he's got it all, all of it.
Joey Myers  12:14
The only thing I don't agree with that it's not a bad thing per se. Extra motion, is the idea where he turned his hips in slightly. So, he kind of turned the hips in like he was turning towards the catcher. And I did this read a book you know that in high school and college and stuff like that because that's where I thought power was in the pelvis.
Joey Myers  12:37
But if you think about, when I turn my hips in and I'm creating my neck pressure showing my numbers and I'm pulling the shoulder in well if my hips going away from my back hip, which I'm supposed to be taking my front hip and bringing or my front shoulder and bringing it to my back hip, with my back hip is going away and my front shoulder is chasing what you're continually chasing. So, you never get to that point. Right?
Joey Myers  13:00
So if we just keep the pelvis in neutral, so belt buckle, pointing at home plate we don't inward turn or anything, and just let the shoulders do what they do. Creating neck pressure showing numbers going into that position there. Then now we're compressing where we need to and what happens is when you inward the pelvis and we're seeing data on this, ZenoLink.com – Chris Welch.
Joey Myers  13:26
So he does a lot of experimentation. He's kind of physical therapist guy, and very, very knowledgeable and he's got a lot of data. He's got force plates he's got all this different stuff. And so, I had one of my online hitters went to him, Chris's on the East Coast, went to him to go through all his testing evaluation stuff.
Joey Myers  13:45
And Chris was saying that this particular hitter's barrel speed was super maximized behind him, which is again, the same people that teach barrel swings the body right so the barrel speed was increased or was maximized behind him, but by the time he got to impact it was slowing down. So answer that, how are we teaching something that's actually slowing down your barrel by the time you get to impact…
Joey Myers  14:15
And there's a couple different factors in that we can go into if you want, but that was the whole thing he was in inwardly rotating his pelvis and he was a lefty. So he was taken in rotating his pelvis in towards the catcher and then get to landing and then he would he would rotate, he would rotate back, you know the pelvis back and explode into the ball, but that was causing him to have a premature maximizing of bat speed. It wasn't helping him it wasn't maximizing his ball exit speed.
Jaime Cevallos  14:46
Now, so the most important thing, you mentioned three things, say those, again…
What are the 3 most Important Things to Consistent Power?
Joey Myers  14:54
The spine, of the spine?
Jaime Cevallos  14:57
Well, just that I think there were just three things that were…
Joey Myers  14:59
You're talking about?
Joey Myers  15:02
Oh, oh, oh…the three things the big three, okay, so showing numbers or create neck pressure.  If I'm here, I'm here. So, my head anchors in a tracking position, shoulder comes pulling underneath as far as I can just like you're wringing a towel out right, my head and my shoulders. I'm bringing that towel out, creating pressure in the neck. So that's number one that's showing numbers neck pressure.
Joey Myers  15:27
Number two is downward shoulder angle. From this view, is more of a slight down shoulder. So, it's like you're doing a side bend. So, the shoulders the back shoulder goes up, the front shoulder goes down. And with that, you don't want it to be too much. The sweet spot there is like six to 10 degrees down so it's not a lot, but what helps a lot of times is controlling where that elbow goes.
Joey Myers  15:54
I back this up a little bit, give you guys a little bit more room. If I can use my elbow to pull the elbow or pull the, or bring the shoulders down, steer the shoulders down. That's a way to do it. But you can also focus on taking this front shoulder down and then towards that back hip that'll help to create this down shoulder. Right.
Joey Myers  16:14
And what's interesting in the swing, if we want our body to accelerate and decelerate properly, is we want the shoulders to start down. And then as we swing, then they're going to tilt. This front shoulder starts down, left shoulder, and then as I swing, it's going to go up. And then in my finish, think about the Ted Williams pictures and Lou Gehrig and Babe Ruth and all these guys, how did they finish they end up finishing in this position.
Joey Myers  16:45
So what we should see is we should see… left shoulder starts down, pops up, and then it should end down. So down, up, and then down on the finish. You know those Ted Williams pictures where he's like, position right. It's this one, it's his left shoulder as a lefty starts, or he starts here. His left shoulder here starts up, and then it goes down. And then it finishes up. Right. So that's a proper accelerating decelerating into the spine. So that's the second thing that's the down shoulder.
Joey Myers  17:23
And then the last one is the hiding hands from the pitcher. One more time again. We got so if I start my swing, this way, you can see my hands and the minute I get to landing, I'm creating what you see this back elbow peeking out behind me. So that's they call it a SCAP row, or SCAP load, SCAP pinch wherever you want to call it. So that's the move there. Where now you can't see my hands.
Joey Myers  17:49
And now what I'm doing is this front shoulder for those those Kines geeks out there. The front shoulder is a Scap protraction so the scalp is coming in the scapula is coming this way coming across. And then my back SCAP is retracting. They're doing the opposite of each other protraction retraction, right?
Joey Myers  18:10
So if you watch any gymnastics, or Olympian doing a spin, ice skater, if they do a spin, that's what you're going to see. And a lot of people out there will say, Well, I like to scap pinch, but I don't want this front shoulder coming in. And like you're not, that's not how the human body works, dude, you're not getting 100% optimization out of the rotation.
Jaime Cevallos  18:35
So the showing numbers has been something that people didn't want to do?  I was not aware of that…
Joey Myers  18:41
It was and still, yeah, it's crazy.
Jaime Cevallos  18:45
Why did they say you didn't want to show numbers?
Joey Myers  18:47
Good question. The irony by the way, these same people that don't like it, swear by video, swear by video analysis. They say well we're going to look and see what the best hitters do and that's what we're going to do.  And you see them do it. You can again look at Miggy look at Ted Williams look at Trout look at just look at the top 10 power hitters right now and even in the in the day, and you see all of them do it.
Joey Myers  19:13
So I don't understand why they're all about video analysis, but they choose to see what they want to see. Right. So what they say is the problem they say with it is that it takes the hitters eyes off the ball, but I just talked about, we create neck pressure. The head is the important part. That's the piece that's the anchor. It's like a boat and I ask my hitters, what does an anchor do on a boat, it either stops the boat or it slows it down, right?
Joey Myers  19:37
So the head is the control piece. Wherever the head goes, the body follows. So the head takes a tracking position and anchors down and then it's the shoulder that comes in as far as it can while we're wringing the towel out. And that's what's going to get you to the show numbers.
Joey Myers  19:53
Now lefties if you watch lefties because the camera angle at Major League ballparks is slightly off center towards left field right… (To be continued in Part-3…)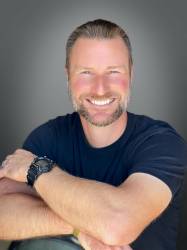 Latest posts by Joey Myers
(see all)
https://hittingperformancelab.com/wp-content/uploads/2020/07/joey-myers-jaime-cevallos-interview-part-2-youtube-e1594274351414.png
281
500
Joey Myers
https://hittingperformancelab.com/wp-content/uploads/2021/10/hitting-performance-labs_c90c0362088ef1d3d528f3078f4f8ac1-300x75.png
Joey Myers
2020-07-09 06:09:15
2020-11-09 06:24:12
How To Wind Up The Body To Deliver More Force