Youth Hitting Power Trainer For Baseball & Softball? | Discover Wrist Snap Batting Drills, Techniques, And Training At Home Sneak Peak | 1 On 1 Private Or Online Lessons In Fresno – Clovis, CA
Part-3: How To Develop Powerful Wrist Snap Like Hank Aaron (Is Devastating Against Pitchers)
Youth hitting consistent power trainer for baseball, softball, and senior league softball located in Fresno – Clovis, CA.  Discover wrist snap batting drills, techniques, and training for home use.  This video is a sneak peak at a 1 on 1 private lesson, and we also do online lessons as well.
Part 3 – [You Are Here] How To Develop Powerful Wrist Snap Like Hank Aaron (Is Devastating For Pitchers)
Here's Part-3 – a continuation of – a three part series showcasing a local lesson of mine…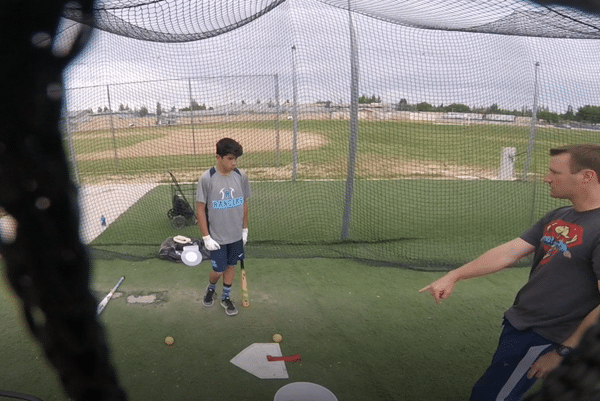 I get questions every week on how I'd run a practice or one-on-one session.  This is an over-the-shoulder look.  The main objective of this video series is to demonstrate how I use some of the "sticky" coaching principles covered in this post, and in my new book The Science Of Sticky Coaching: How To Turn Ordinary Athletes Into Extraordinary.
In case you missed the background information of Part-1,
Zack is a 14-year-old hitter from Visalia, California, which is approximately an hour drive from me, one way.  And this is the first time I worked with him since about a year ago.  We've had about half a dozen session together in total.  And what I like about Zack is he asks a lot of really good questions during our sessions.
And before we started this session, Zack was having a challenge with hitting line drives.  He was either hitting the ball on the ground or non-productive balls in the air.
DISCLAIMER about the video:
Fortunately the video quality is great because Dad used his GoPro, but unfortunately I wasn't mic'd up, so the audio isn't like some of my other videos.
We're at a public High School on a Saturday afternoon, so there are other team noises, bird sounds, emergency vehicles, etc. going on in the background that can be distracting.
Sadly, a few coaches on the socials will be overly critical of this hitter, and I'm asking you to suspend judgement.  The purpose of this video IS NOT about being overly critical of the hitter's swing, it's about the demonstration and use of sticky coaching principles.
Swing and coaching suggestions are welcome, but be nice coaches.
Now, for those coaches looking to learn and help their hitters get better…ONWARD…again!
A typically lesson I do, is organized like the following, from start to finish:
Dynamic warm-up,
Beginning Ball Exit Speed readings,
Record and analyze current swing,
Lesson, and
Ending Ball Exit Speeds readings.
Part-3 lands you towards the end of #4 above.
What you can look out for in above video
Training something new should feel goofy, that's normal…if they feel no change in movement at the beginning stages of motor skill development, then they're repeating the same old thing (about 0:45 mark)
The arch and hollow (hunched) positions in Gymnastics.  "Hunch" can have a negative connotation, but reality says it's a VERY SAFE position for a twisting spine to start in. CLICK HERE for a Zepp swing experiment that looked at the benefits of a "Hunched" spine. (about 1:55 mark)
Playing around with wrist snap variance using the target ankle resistance bands.  It's NOT a roll over, it's like a "waggle" that golfers use pre-swing.  Great defender against off speed and breaking pitches, AND increase BA by controlling the barrel.  Keep main objective in mind: hit ball as hard and far as you can.  (about 3:45 mark)
Working the Wrist Snap Variance Drill on the open field hitting targets. Hank Aaron was really good at this.  Watch Hank Aaron video below and watch his wrist action at impact… (about 6:15 mark)
The Frog Tape bat…barrel awareness.  Focusing on hitting a certain part of the barrel AND hitting it in a specific direction or target. (about 11:20 mark)
Discussing how switching bats between rounds forces a hitter to focus on adjusting their timing. Heavier/top heavy bats have to start sooner…lighter/balanced bats can start later.  (about 15:30 mark)
Zack made the observation that Finger Pressure makes the Wrist Snap Variance Drill easier to feel.  (about 17:30 mark)
Also, when it comes to sticky coaching principles, notice how I:
Move the tee positioning around after every swing (both high/low and inside/outside),
Vary soft toss heights and depths,
Vary mechanics on certain swings in a 5-swing round (I call these Varied Rounds), or practice one thing the whole round (I call these Block Rounds),
Ask quite a few feel, visual, and/or audio feedback questions AFTER round is over (think of it like a hitting quiz),
Keep my mouth shut during the 5-swing round (little to no feedback from me),
Don't make Zack take a lot of swings during our time together,
Chunking certain movement together, so they don't seem like separate pieces,
Have him change his bat size during rounds, and
Work with him on simplifying the juggling of a couple different mechanical cues.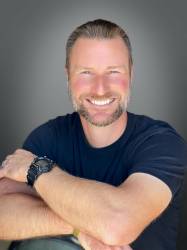 Latest posts by Joey Myers
(see all)
https://hittingperformancelab.com/wp-content/uploads/2017/05/over-shoulder-look3-blog.png
401
600
Joey Myers
https://hittingperformancelab.com/wp-content/uploads/2021/10/hitting-performance-labs_c90c0362088ef1d3d528f3078f4f8ac1-300x75.png
Joey Myers
2022-04-19 09:00:26
2022-04-20 04:56:21
Youth Hitting Power Trainer For Baseball & Softball? | Discover Wrist Snap Batting Drills, Techniques, And Training At Home Sneak Peak | 1 On 1 Private Or Online Lessons In Fresno – Clovis, CA