Pinching Lower Back Pain Swinging Baseball Or Softball Bat? Go From Common Player Injuries Like Lumbar Strains To Teaching 14 Year Old Kid Science Of How To Hit With More Power
Does your kiddo have pinching lower back pain when swinging a baseball or softball bat?  Or even pitching?  Go from common lower back player injuries like a lumbar strain to teaching a kid the REAL science of how to with with more power.
Hitting May Be Dangerous To Your Spine [Swing Experiment]
Question: Does Having a 'Hollowed Posture' Boost Bat Speed Over NOT?
In this baseball hitting drills off tee experiment using the Backspin batting tee, I wanted to use the Scientific Method to analyze the benefits of swinging with a 'hollow posture' versus 'NO hollow', by taking:
100 swings with a 'hollow posture' (Global Spinal Flexion) – think Hunter Pence, and
100 swings with 'NO hollow' (Spinal Lordosis) – think Derek Jeter…
Background Research
First I wanted to start off with the application of what a 'hollow posture' looks like in the MLB.  Look at the following hitters/pitcher, and note the similarities in the shape of their backs (or spine) before they begin rotation:
SCIENCE-BASED TRAINING:
Improve your hitting strategy dramatically by applying human movement principles.
Learn not only how and what to train but also the science behind the methods.
There are many more, especially in the 1960's and '70's.  These hitters/pitcher either start with the 'hollow' or move into it before they start turning.
For the science, I recommend you read Dr. Serge Gracovetsky's book The Spinal Engine
.  I will go over a few talking points about the Posterior Ligamentous System (or PLS).  Think of the PLS as a connective tissue harness you'd use to scale down a large building.
In Dr. Gracovetsky's aforementioned book, I'd like you to read under the subheading "Lifting While Lordosis Is Maintained" p. 82., and nd "Lifting While Lordosis Is Reduced" on p. 83.
I'm paraphrasing, but Dr. Gracovetsky says when the bend in the lower back is maintained (NO hollow), then we're using a "muscle-predominant strategy", and when the lower lumbar curve is taken out (hollow), then we're tapping into the "muscle relaxation response".
What Dr. Gracovetsky found in his research and study was that when a person picks something up from the ground that is heavier than we're used to picking up, the back will round (hollow), muscles will turn off, and the PLS system will kick in.
You can experience the two systems (muscle v. ligament) by trying to see how long you can sit up straight in your seat…once your muscles get tired, then you'll take on the hollow posture, letting the PLS take over.  This is why it's so comfortable to sit slouched, and hard work to 'keep your back straight'.
The reason for this 'spinal safety net' as Dr. Serge Gracovetsky alludes to, is to put the vertebrae of the spine into a safer position, also known as decompression.
My friend D @SelfDecompress on Twitter is doing just this with his clients.
One last note on the research…
CLICK HERE and read under the sub-heading "The Hitting 'Governor'" in this HPL article about how our brain puts a limit on performance because of movement dysfunction.
Hypothesis
Based on Dr. Serge Gracovetsky's research and study,  it is my forecast that taking on a 'hollow posture' before the turn, will increase average bat speed over not hollow.
I also add the same results is because of the information I included under 'The Hitting Governor' sub-heading in the aforementioned HPL article.
In other words, by hollowing the lower back, thereby decompressing the vertebrae of the spine, we remove 'The Hitting Governor' Effect, and allow the body to optimize turning speed.
Not to mention we make the swing safer for our rotating athletes' bodies.
Baseball Hitting Drills Off Tee: 'Hollow Posture' Experiment
Equipment Used:
Backspin Batting Tee,
Zepp Labs Baseball app
My Android GS6 phone camera,
Baseballs, and
 33-inch BBB Bamboo wood bat
Setup:
We used the Zepp Labs Baseball app to gain swing data.  Our concern is for an apples to apples comparison between the two sets of 100 swings.
All swings for the baseball hitting drills off tee 'hollow posture' experiment were taken off a Backspin batting tee.
I stayed as consistent as I could with keeping the ball height and depth the same for most swings.
I used two yellow dimple ball markers to make my stance setup consistent…one was placed inside my back foot, close to the plate.  The other was placed one bat's length plus two baseballs in front of the back marker.
The two tests in the baseball hitting drills off tee 'hollow posture' experiment were counter-balanced.  Which consisted of eight blocks of 25-swings done in the following order ABBA BAAB.  'Hollow posture' was letter 'A', and 'NO hunch' was letter 'B'.  200 total swings were completed in the experiment, 100 per test.  Counter-balancing helps remove the "getting tired" and "not being sufficiently warmed up" factors.
Throughout the baseball hitting drills off tee swing experiment, I was drinking a Strawberry Lemonade Gatorade (because I like it!) and a chocolate milk to replenish my body's protein, sugars, and electrolytes during the 2-hour experiment.
I did an 8 exercise dynamic warm up before taking about 15-20 practice swings off the tee.
Data Collected (Zepp App Screenshot)
Data Analysis & Conclusion
As you can see from the baseball hitting drills off tee Zepp screenshot and metrics above, the big differences between the two groups of 100 swings were the average:
Time To Impact: the 'hollow posture' was .004 seconds less than 'NO hollow', AND
Attack Angle: the 'hollow posture' was 4-degrees more positive than 'NO hollow'
It looks like my baseball hitting drills off tee swing experiment Hypothesis was wrong in thinking there would be a boost to average bat speed with the 'hollow posture' swings.  However, there were three MAJOR benefits to swinging 'hollow':
According to Dr. Gracovetsky's research, we can conclude it's safer on the spine,
A DECREASE in Time To Impact, which buys a hitter more time to make a decision to swing, and
A more POSITIVE barrel Attack Angle, which puts a hitter into a better position to hit more consistent line drives.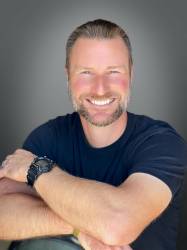 Latest posts by Joey Myers
(see all)
https://hittingperformancelab.com/wp-content/uploads/2022/10/Can-Swinging-A-Baseball-Or-Softball-Bat-Cause-Pinching-Lower-Back-Pain.png
423
800
Joey Myers
https://hittingperformancelab.com/wp-content/uploads/2021/10/hitting-performance-labs_c90c0362088ef1d3d528f3078f4f8ac1-300x75.png
Joey Myers
2022-10-10 09:00:39
2023-01-05 20:48:38
Pinching Lower Back Pain Swinging Baseball Or Softball Bat? Go From Common Player Injuries Like Lumbar Strains To Teaching 14 Year Old Kid Science Of How To Hit With More Power