Audio Interview Talking About: 2nd Edition of Catapult Loading System Book, REAL Science Versus "Bro-science", Difference Between Hitting Principles Versus Theories, Improving Hitters, & More
James Ernest from The Grueling Truth recently interviewed me on his sports podcast episode, "Sports of All Sorts: Joey Myers Author of "The Catapult Loading System" Baseball Hitting Book".  Thanks again James for having me on!
(PLEASE NOTE: the audio isn't quite the best on my end, since he was interviewing me over the phone.)  
I've included time-stamps below, so you can freely navigate through the audio interview…ENJOY!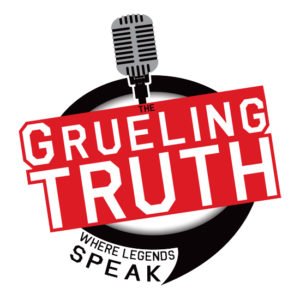 At about 0:10 second mark, James asked me to tell him about the Catapult Loading System (CLS) book, working on the second edition of the book now and new additions to it.
At about 2:40 minute mark, what the Hitting Performance Lab is all about, applying human movement principles validated by REAL science, to hitting a ball, Anatomy Trains by Thomas Myers, The Spinal Engine by Dr. Serge Gracovetsky, Dynamic Body by Dr. Erik Dalton. Base system off higher standard: REAL science, not "bro-science", data (experiments, stats, etc.) and technology (Zepp, SwingTracker, BlastMotion, HitTrax) are great to measure, test, re-measure.
At about 6:30 minute mark, James asked what the difference between hitting "philosophy" versus hitting "principles", talk about bowling "bumper" analogy, "Theories" are okay but MUST have a REAL science to back them up, is body-weight a good indicator of batted ball distance? Are athletic "freaks" the only ones who can triple their body-weight in batted ball distance?
At about 10:30 minute mark, James asked me to clarify "body loading", is the body just a rubber band system?  The difference between compression and tension forces and springy fascia, what is fascia and why the secret to consistent power is found in it.  How an elite hitter loads these compression and tension forces, the Springy 'X' Pattern, and the Goldilocks Golden Rule, how to match the plane of the pitch, not teaching hitters to hit "pop-flies" or ground-balls.
At about 15:30 minute mark, James asked how we teach the Springy 'X' Pattern to younger hitters, 'Showing Numbers' and "back eye test", using back elbow for Downhill Shoulder Angle, to get the 'Scap Row' we use "hiding their hands from pitcher" cue, "Finger Pressure", the "Hollow" or "Hunched Position", head positioning and following the "One-Joint Rule",
At about 21:00 minute mark, James asked who taught or supported me in this information?  Where learning this originated from, self taught, started from trying to fix a chronic knee tightness, reverse engineered the swing through human movement principles validated by science, Aaron Judge and Sierra Romero as great models for an effective swing.
At about 24:00 minute mark, follow up question on the difference between first and second edition of the CLS book, the path to finding the truth to consistency in the swing, how the tens of thousands of coaches reading and applying the principles are getting the same results – if not better – with their hitters that I am with mine!  How we improved free agent Professional hitter recently using a wood bat off Backspin Tee, 75-mph Ball Exit Speed to 85-mph in one hour.
At about 28-minute mark, where can people learn more about what we're doing here at Hitting Performance Lab? Where you can find us on Facebook, Twitter, YouTube, Linkedin, etc., BIG ask from the audience: SHARE, SHARE, SHARE
https://hittingperformancelab.com/wp-content/uploads/2017/12/TheGruelingTruth_Logo_220-300x300.jpg
300
300
Joey Myers
https://hittingperformancelab.com/wp-content/uploads/2018/05/hitting-performance-labs_c90c0362088ef1d3d528f3078f4f8ac1.png
Joey Myers
2017-12-28 20:07:44
2020-04-28 17:31:55
Improving Pro Hitter From 75-mph Ball Exit Speed To 85-mph In One Hour?