Best 16-Week Hip & Shoulder Mobility Exercise Program For Baseball, Softball, & Pitcher Athletes
Discover the best 16-week hip mobility, shoulder mobility, and core stability exercise program for baseball and softball athletes, in addition to pitchers.
8 Exercises To Help Fix Hitting Imbalances In 16-Weeks
In this post, I want to answer the following reader suggestion for future content on the HPL  blog:
"Exercises for imbalances created by hitting."
I include the following corrective exercise strategy in The Truth About Explosive Rotational Power online video DIY hitting course.
And part of The Feedback Lab online video lesson program is prescribing a formulation of these exercises depending on what I see that's possibly limiting range of motion for my local and online hitters.
A little background on my 10+ years in the corrective fitness industry:
Certified by the National Academy of Sports Medicine (NASM),
Certified with Corrective Exercise Specialist (CES) through NASM,
Certified through the Functional Movement Screen (FMS),
Yoga certified through YogaFit, and
Youth Fitness Specialist (YFS) certified through the International Youth Conditioning Association (IYCA).
In Baseball & Softball, Imbalance is Not Only Tolerated, but Promoted
I was a right handed hitter and thrower for all 17-years of my playing career ending at Fresno State.
You don't go to the gym and pick up a 30-pound dumbbell, do 100 bicep curls with your right arm, and then go home…do you?
People would think you're nuts!
But think about what we have our players doing on the diamond…
How many swings and throws does a baseball or softball athlete take everyday, or at least every practice, without doing the same amount of repetitions on the opposite side to balance out?
It just doesn't happen this way, right?! At least if we're like most hitters that don't switch hit.
My best friend and teammate, who was a switch hitter in college, would argue hearing me say this, but…
The ONLY advantage a switch hitter has over a dominant side hitter and thrower, like me, is a more balanced body.
The advantage IS NOT seeing a breaking ball "come into" the hitter.
Ted Williams and Babe Ruth did just fine batting left handed their whole career.  And I think Miguel Cabrera, Mike Trout, and Jose Bautista will do just the same batting right handed for the rest of their careers.
However, when it comes to body balance, all these hitters NEED to be doing something else to counter-balance the imbalance inherent in baseball and softball.
The Hitting 'Governor'
What happens is what I call the Hitter's 'Governor Affect'.  Bus engines have what's called a Centrifugal Governor in the engine to keep the bus from going too fast.
Here's an example of how this works…
One of my other good friends who played baseball at Pepperdine, demonstrated this with his 2001 Chevy Silverado…
In the summer, we were in his truck driving to Calabasas for a party at his apartment with his roommates, when he said, "Watch this…", and proceeded to put his pedal to the metal…
I saw his odometer climb until it approached 90-mph on HWY-101, when the engine automatically down shifted, and I saw the odometer drop 20-mph in the matter of a few short seconds.  CRAZY!  At the time, I never knew anything like that existed.
Our brain does the same thing to our bodies when there's a hip mobility, shoulder, or ankle mobility issue.  Sometimes there are more than one issue that needs to be addressed, in order to raise the limit of the brain/body's own Centrifugal Governor.
How-to Fix an Imbalanced Athlete?
I've mentioned in a past post, the SIX most balancing disciplines to participate in are:
Martial Arts,
Gymnastics,
Olympic Lifting,
Yoga,
Dance, and
Swimming…
What if your hitters haven't participated in any of these athletic endeavors for at least 3-5 years?
I'm presenting a 16-week corrective exercise program helping to make dysfunctional movement functional, in baseball and softball athletes, enabling them to move better, and as a result, will perform better.
This is NO joke!
Ask any bone Doc why they're getting an increase in injured baseball and softball players over the past decade, and I bet you they'll say overuse and imbalances.  Studies and research are showing that present day athletes spend 85% of their day sitting!!
AND, the sport of baseball and softball isn't known to be the most active of sports.  Awhile back, I read another study that accumulated all the 'active' movement time in a 6-inning game, and I remember it concluding a total of about 4-minutes…
That was shocking to me!  I didn't realize how 'lazy' my favorite sport was.
But that's our reality, so we have to take care of our athletes…
Here's the 16-week program to getting young athletes to move better, so they perform better (in order of highest to lowest priority)…
Weeks 1-4: Hip & Shoulder Mobility
Passive Leg Lower
Do once daily,
Weeks 1-2: 2 sets X 12 reps each leg, AND
Weeks 3-4: 2 sets X 15 reps each leg…
8-Way Shoulder Circles
Do 2-3 times daily
Three circles clockwise and counterclockwise at each shoulder position
Keep reps slow and controlled…
Weeks 5-8: Rotary Stability (Braking Systems) & Core Stability
Bird Dogs
Do once daily,
Add band resistance if necessary,
Weeks 1-2: 2 sets X 12 reps each leg, AND
Weeks 3-4: 2 sets X 15 reps each leg…
Super Plank
Do once daily,
Weeks 1: 1 set X 30-45 second hold,
Weeks 2: 1 set X 45-60 second hold
Weeks 3: 2 sets X 30-45 second hold
Weeks 4: 2 sets X 45-60 second hold, and
CLICK HERE for the Plank-Up progression if needed…
Weeks 9-12: Ankle Mobility & Glute Activation
Ankle Circles
Do 2-3 times daily
Three circles clockwise and counterclockwise at each ankle position
Keep reps slow and controlled and reach into those 'corners'…
Single Leg Floor Bridge
Do once daily,
Add band resistance if necessary,
Weeks 1-2: 2 sets X 12 reps each leg, AND
Weeks 3-4: 2 sets X 15 reps each leg…
Weeks 13-16: Hurdle Step & Squatting Patterns
Super Mountain Climbers
Do once daily,
Incline to regress OR decline to progress intensity,
Weeks 1: 1 set X 30-45 seconds,
Weeks 2: 1 set X 45-60 seconds,
Weeks 3: 2 sets X 30-45 seconds, and
Weeks 4: 2 sets X 45-60 seconds…
Squat Pattern Progression
Do once daily,
Weeks 1-2: 2 sets X 12 reps, AND
Weeks 3-4: 2 sets X 15 reps…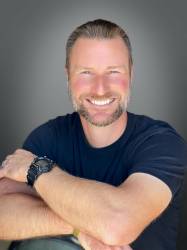 Latest posts by Joey Myers
(see all)
https://hittingperformancelab.com/wp-content/uploads/2015/12/Hip-Mobility-Exercise-Program-For-Better-Baseball-Softball-Pitcher-Hamstring-Flexibility.png
423
800
Joey Myers
https://hittingperformancelab.com/wp-content/uploads/2021/10/hitting-performance-labs_c90c0362088ef1d3d528f3078f4f8ac1-300x75.png
Joey Myers
2023-02-08 09:45:48
2023-02-09 07:04:30
Best 16-Week Hip & Shoulder Mobility Exercise Program For Baseball, Softball, & Pitcher Athletes