How To Get Out Of A Hitting Slump | Heads Up Baseball 2.0 Mental Toughness Psychology Training | Dr. Tom Hanson Coaching Program
Discover how to get out of a hitting slump! Learn how Dr. Tom Hanson's Heads Up Baseball 2.0 is second to none mental toughness training and coaching program for the psychology of baseball and softball hitters.
How To Give 100% Of What You Have Right Now To The Next Pitch
Click Here to Listen or Download to the podcast episode.
Tony Robbins has said that success is 80% psychology, 20% mechanics.  Certified Hypnotist and creator of the cartoon comic strip Dilbert, Scott Adams, has said humans are irrational 80% of the time, in his recent book: Win Bigly: Persuasion in a World Where Facts Don't Matter.  We're only rational when deciding on things like which soap to buy!  He adds that we make decisions based on emotion, THEN we rationalize.  Not the other way around.
The best athletes in the world are better at controlling the mental part of the game, and their emotions.  They focus on controlling only what they can control.  Which leads me to this interview with Dr. Tom Hanson…
I stumbled onto a first edition of Heads-Up Baseball back in 1995 when I was in High School.  It helped clear my mind of all the hitting mechanical books I was reading at the time that left me more confused than when I started.  I owe a lot to Drs. Hanson and Ravizza for helping me play 4-years of Division-1 baseball at Fresno State, tuition free.
SCIENCE-BASED TRAINING:
Improve your hitting strategy dramatically by applying human movement principles.
Learn not only how and what to train but also the science behind the methods.
Without further adieu, here are some time-stamps to help you navigate the interview: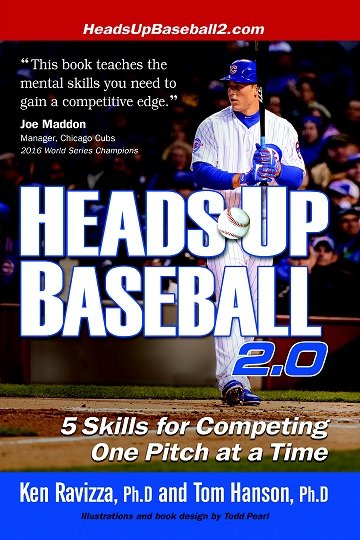 About 2:30 minute mark, Dr. Hanson talks about his experience coaching baseball at UVA and D3 Skidmore College. It's a challenge to find someone who has a PhD in psychology and experience coaching the game at the college level.
About 4:30 minute mark, I talk about how I stumbled upon the first version of Heads-Up Baseball, and how the information helped me cut through the white noise at a time when I felt overwhelmed with hitting mechanics, reading every book I could get my hands on.
About 6:00 minute mark, what were the top two or three things you and Dr. Ken Ravizza changed in the 2.0 version of Heads-Up Baseball?  One was this idea of changing "Trust" to "Compete". The purpose of a routine is to compete.  Give 100% of what you have right now to the next pitch.  Problem right now is players are coming to college with a "showcase" mentality.  The importance of hitters being patient AND being aggressive.  Thoughts on including quotes and anecdotes from fresh coach and player faces in the book.
About 11:30 minute mark, if you could direct coaches to two concepts in the book, what would they be and why?  I liked the "Heads Up Practice" Chapter, but Dr. Hanson suggested "Chapter 2: The 3 Levels of Learning to Compete", Know it, Do it, Own it. He also recommends reading Mike Scioscia's Introduction of the book.  The Goldilocks Golden Rule, what's right for the hitter right now (or today – know yourself).
About 18:00 minute mark, Dr. Hanson talks about the importance of having a model to explain the questions that come in about the mental game.  He goes into the RAMP-C model: Responsibility – the ability to respond, choose what you focus on, great question to ask: "How did you choose to respond?"  Awareness – being conscious of and how you typically respond under pressure or when you're hitting well, extrovert/introvert, how are you feeling right now.  Dealing with "yellow" or "red" lights.  Mission – what would you like to have happen, purpose or swing intention.  Preparation – what can I do to get myself to feel a "green" light, training in the off-season, what am I going to prepare for the next pitch or season.  Compete (changed from "Trust") – give 100% of what you have right now to get to win the next pitch.  Nobody on the Cubs felt like they had a "green" light for Game 7 of the World Series when they win it.  Control, Plan, Trust changed to Control, Commit, Compete
About 30-minute mark, what have you found most valuable utilizing information in this book with your own kids while navigating the craziness of travel baseball, son C.J. is 14yo and daughter Angelina is 11yo.  First edition of Heads Up Baseball was before kids, now 20-year reflection period to version 2.0.  Before 13/14yo Dr. Hanson wanted to create an environment of fun for his son.  Helping kid fall in love with sport.  Not constantly picking the kid apart.  It's all about Relationship building.  No matter the message, if the relationship isn't there, then the message doesn't have its optimal effect.  Joe Maddon talked about building relationships as his priority in first 3 weeks of Spring Training with Cubs that first year, was building relationships with players.
About 39:00 minute mark, can you be a coach that can stretch out of being the best at conceptualizing and doing, and get more into understanding relationship.  Knowing your players, where they are in life, and how to relate is huge with players.
Unfortunately, the phone recording app I was using cut off another 20 minutes of the interview.  Here are some nuggets that were inconveniently left out:
How to change an athlete that has an emotional "red" or "yellow" light from his book Play Big: Mental Toughness Secrets That Take Baseball Players to the Next Level
. Using the ABC model:
Act Big,
Breath deep, and
Compete.
Dr. Hanson shared a conversation he had with Reggie Jackson, where he asked Reggie if he was confident all the time.  Reggie responded with, "Heck no!"  Reggie said he faked it a lot of the time.  Act Big.
Dr. Hanson shared a conversation between Mike Trout and Dr. Ken Ravizza.  Mike Trout likes to finish his exhale before getting in the box.  If he gets in the box without doing that, he steps out and finishes it.  That's Breathing deep.  Mike Trout also said he likes to stride slow to the plate in order to slow down the moment.
We also talked about where you can find Dr. Hanson online and the socials:
Book Resources Mentioned in the Interview…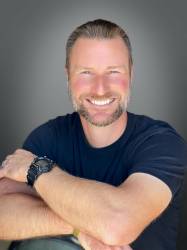 Latest posts by Joey Myers
(see all)
https://hittingperformancelab.com/wp-content/uploads/2017/12/heads-up-baseball2.jpg
540
360
Joey Myers
https://hittingperformancelab.com/wp-content/uploads/2021/10/hitting-performance-labs_c90c0362088ef1d3d528f3078f4f8ac1-300x75.png
Joey Myers
2023-03-06 09:00:09
2023-03-07 05:32:02
How To Get Out Of A Hitting Slump | Heads Up Baseball 2.0 Mental Toughness Psychology Training | Dr. Tom Hanson Coaching Program