Why I Ask Questions (And Maybe You Should Too) Interview With Speed Coach Lee Taft
"Rules are for the Obedience of Fools and the Guidance of Wise Men." – Douglas Bader
This is the second in a 3-part interview series…
PART-2: [YOU ARE HERE] Why I Ask Questions (And Maybe You Should Too) Interview with Speed Coach Lee Taft, and
The more I coach youth hitters and athletes, the more I realize that coaching isn't about coaching (or telling), but listening.  This year, I've really grown in asking my hitters and athletes better questions.
My next guest will get into this more in a moment, but for now, it's my honor to introduce…
Lee Taft, known to most simple as "The Speed Guy", is highly respected as one of the top athletic movement specialist in the world. The last 25 years he has devoted the majority of his time training multi-directional speed to all ages and ability. He has spent much of this time teaching his multi-directional speed methods to top performance coaches and fitness professionals all over the world. Lee has also dedicated countless hours mentoring up and coming sports performance trainers, many who have gone into the profession and made a big impact themselves.
Here's Speed Coach Lee…
If you were to train me for four weeks for a HUGE tournament and had a million dollars on the line, what would the training look like? What if I trained for eight weeks?
With only 4 weeks to get you ready we are going to take a three pronged approach. First we will address the needs based off your assessment. I will assess you using the Functional Movement Screen, basic mobility and flexibility to test range of motion in key joints like; ankles, hips, T and cervical spine, shoulder, and wrists, etc…, and Athletic Movement Screen where we would look at acceleration in all direction, ability to get through hips, speed, and overall agility.
The second area we will train is speed and agility. The approach here is to improve explosive acceleration to be better at getting a jump offensively and defensively, overall agility so you can effectively move in any direction and open your hips to make a play.
The final area we would attack is strength and stability. I can make more improvement in your overall stability of the major joints, spine, pelvis in a short 4 weeks than I can in overall maximal strength- but I can make some some neuromuscular changes due to the strength training.
So here we go with a program…
Week #1-#4:
Monday's will consist of corrective/stability exercises, linear acceleration, and total body strength training (based on experience the strength training will be technique based for four weeks but slowly increasing resistance).
Wednesday will consist of corrective/stability exercises, lateral and angular acceleration, and total body strength (vary the movement patterns. example; bend, vertical push, vertical pull, etc…so they are different from Monday).
Finally on Friday we will follow up with the corrective exercises and test to see improvement/ and stability work, reactionary agility where drills are based on the coaches signal. Athlete will learn to explode in all directions based on a command. Lastly strength training (again, movement patterns will change back to Monday's patterns).

If we move to an eight week program the biggest change will come in the strength training and corrective and stability work. The speed and agility will obviously focus on need and overall athletic movement. The strength training will shift from a basic 4 week introductory program to a 3 blocks…
The first strength block would be 2 weeks and emphasize more of an eccentric approach to build force reduction.

The second block would be 3 weeks and emphasis more maximal strength with a tempo that is much faster than the first block.

In the third block I would emphasize more power development with a fast concentric tempo.

A philosophy of mine is to constantly be willing to change according to how the athletes are doing day to day. Baseball and softball athletes require constant supervision due to the explosiveness of the sport and the high repetition through the shoulder and core regions.
What makes you different? Who trained you or influenced you?
The biggest influences for me were my father and two brothers. They were coaches and teachers. What, I feel, makes me different is my strong background as a teacher. Today it is common to see performance coaches skip steps and coach to the DRILL versus focusing on the SKILL. My approach has always been to identify the skills that need to be improved and attach drills that fit the solution- not the other way around.
I think one of the major difference I have than many coaches is my willingness to watch and learn from my athletes. What I mean is I don't just start teaching my athletes. I watch them move and allow them to show me what they do well and what dysfunction they have. This approach makes my teaching stronger because I don't waste time on things that aren't pertinent to their success.
Many of the training techniques I endorsed years ago were based on innate human movement. There are reasons athletes move the way they do. Much of it can be related to our nervous systems "Fight or Flight" reactions. This means athlete have innate reactions based on if they are being chased or chasing. In either case, the athlete will move into an acceleration posture as quickly as possible to make a play.
An example of this would be an infielder quickly accelerating after a bunt. You will notice how they reposition their feet into an acceleration posture. One foot will drop back (which I coined a plyo step). When this occurs the use of elastic energy increases the acceleration. There are many examples of this fight or flight reaction to help athletes move quicker and more effectively.
My approach of allowing these reactions to occur naturally then supporting the movement with proper posture build a more efficient athlete.
What are your favorite instructional books or resources on the subject? If people had to teach themselves, what would you suggest they use?
There are two primary resources I feel novice coaches should use. Complete Speed Training and Ground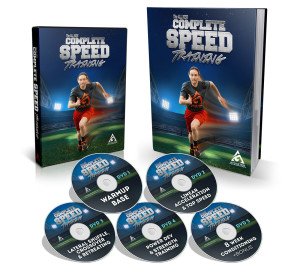 Breaking 2.
Complete Speed Training is a resource coaches can learn about many areas of speed, agility, strength, power, conditioning, and warming up.
Ground Breaking 2 is an indepth look at multi-directional speed techniques and how to teach them. Both are great products for coaches to gain valuable knowledge into the world of speed and agility and more.
I think it is important for coaches to use resources that solve their needs from a foundational standpoint first. This means, don't overshoot your knowledge level. Too many coaches try to be jack of all trades when simply understanding the foundational information will take them far.
What are the biggest mistakes and myths you see in hitting? What are the biggest wastes of time?
One of the biggest waste of times is when I see dads bring the heavy bat for their 9 year old- I cringe. Far too often strategies that are used at the highest levels trickle down. When a young kid uses a heavy bat the timing of the swing is distorted. The swing, at a young age, needs to be built with timing and feel. When the bat is too heavy, even for training purposes, the swing changes from the feet all the way to the hands. The youngsters try to muscle the swing rather than using proper mechanics.
…
Thanks Coach Lee!
Here's how you can stay updated with Speed Coach Lee Taft:
Please direct any questions or comments for Coach Lee below…
https://hittingperformancelab.com/wp-content/uploads/2015/06/leetaft-opener.png
393
590
Joey Myers
https://hittingperformancelab.com/wp-content/uploads/2021/10/hitting-performance-labs_c90c0362088ef1d3d528f3078f4f8ac1-300x75.png
Joey Myers
2015-06-19 00:55:58
2019-01-28 05:20:38
Why I Ask Questions (And Maybe You Should Too) Interview With Speed Coach Lee Taft