Increase Hitting Power, Bat, & Hand Speed Like Mookie Betts Baseball Or Softball Swing | Square Ball Up & Hit Consistent Line Drives Instead Of Ground Balls
Discover how to increase hitting power, bat, and hand speed like a Mookie Betts baseball or softball swing using the Catapult Loading System.  In addition, learn how to square the ball up and hit more consistent line drives instead of ground balls in this swing analysis…
Mookie Betts Swing Analysis: Build Massive Power For Small Sluggers Like Mookie Betts & Trea Turner…
What we'll be contrasting in this Mookie Betts swing analysis compared with Trea Turner:
Mookie Betts stats on Fangraphs AND Trea Turner stats on Fangraphs
Catapult Loading System principles – CLICK HERE to watch this video post I did on taking slack out of the spine with the "wringing towel" metaphor…
Pitch-Plane Domination catcher's glove barrel path principle – CLICK HERE to watch this video post on WHY we may have barrel path all wrong…
SCIENCE-BASED TRAINING:
Improve your hitting strategy dramatically by applying human movement principles.
Learn not only how and what to train but also the science behind the methods.
Few out there think power comes from the snapping of the back hip and barrel.  These people are only one-third of the way there.  The pelvis (including hip), spine, and shoulders as a complete unit is where to find consistent power.
There are three pieces of our spine:
Cervical (neck)
Thoracic (shoulders and middle back), and
Lumbar (lower back).
Imagine each section as a hand.  Now imagine three hands wringing a towel out.  The top (Cervical) and the bottom (Lumbar) are wringing in the same direction, while the middle (Thoracic) is wringing in the opposite direction of its "bookends".  Mookie Betts does this just as well as anybody.
When it comes to barrel path, these same "snapper" hitting instructors promote a one path fits all barrel path.  And they claim teaching a high level pattern.  This is the exact opposite of what a higher level pattern is.  The best hitters' barrel enters the hitting zone at different points depending on pitch depth.  You don't see Mookie Betts knocking off the "real" catcher's glove when hitting 97-mph inside.  If he did, he'd be picking up his thumbs.  Or he'd have to bend his front elbow so significantly that it would drop his average ball exit speeds by 20-mph, which equals at least 80-feet of batted ball distance.
Shorten the lever, you shorten power amplification.  The "snappy" pattern has its consequences.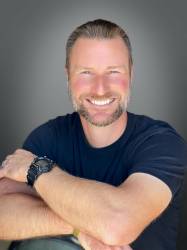 Latest posts by Joey Myers
(see all)
https://hittingperformancelab.com/wp-content/uploads/2019/10/How-To-Increase-Hitting-Power-Bat-Hand-Speed-Like-Mookie-Betts-Using-Catapult-Loading-System.png
423
800
Joey Myers
https://hittingperformancelab.com/wp-content/uploads/2021/10/hitting-performance-labs_c90c0362088ef1d3d528f3078f4f8ac1-300x75.png
Joey Myers
2023-01-09 09:00:18
2023-01-10 00:12:49
Increase Hitting Power, Bat, & Hand Speed Like Mookie Betts Baseball Or Softball Swing | Square Ball Up & Hit Consistent Line Drives Instead Of Ground Balls