How Mike Trout Uses Golf Footwork To Hit Homeruns Better & Farther Every Time | Hitting Drills To Increase Bat Speed & Power
Learn how Mike Trout uses his "golf" footwork to hit home-runs better and farther every time. Discover hitting drills to increase bat speed and power like Trout's golf swing?
Mike Trout Hitting Golf Ball: Same As Baseball Swing?
What we go over in this Mike Trout hitting golf ball video:
Let's get started…
"…rear leg is slave to middle of body" Quote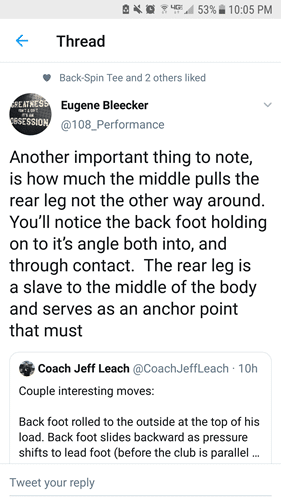 As Physicist, Electrical Engineer, and author of The Spinal Engine, Dr. Serge Gracovetsky says the arms and legs ARE NOT necessary for locomotion, they're an enhancement. When it comes to spinal movement, hitting is basic locomotion. Fact.
Shifting Foot Pressure
A couple recent posts I've done complimenting the above video…
Very few are teaching this. This is at the heart of a stable swing. I see a lot of hitters over-rotating their lower half. Back foot heel moving closer to the the plate versus staying far away. When the hitter shifts pressure to pinky side of front foot, we should see them shift back foot pressure to the big toe side. If instead hitter shifts back foot pressure to outside (over-rotates), then hitter is unstable with low half.
Catapult Loading System – BIG-3
Recent posts I've done on this topic…
The Big-3 are fundamental to building consistent power in hitters. They're a combination of using springy fascia and the spinal engine. Responsible for 70-80% of consistent power. Legs contribute only 20-30% to power.
https://hittingperformancelab.com/wp-content/uploads/2020/03/How-Mike-Trout-Uses-His-Golf-Footwork-To-Hit-Homeruns-Better-Farther-Every-Time.png
423
800
Joey Myers
https://hittingperformancelab.com/wp-content/uploads/2021/10/hitting-performance-labs_c90c0362088ef1d3d528f3078f4f8ac1-300x75.png
Joey Myers
2023-01-09 09:30:02
2023-01-10 06:21:18
How Mike Trout Uses Golf Footwork To Hit Homeruns Better & Farther Every Time | Hitting Drills To Increase Bat Speed & Power