Two Quick Tips For A Faster Turn,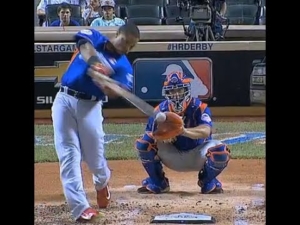 …We'll be comparing one of my eleven-year-olds Ian to Robinson Cano:
If he's "hiding his hands" from the pitcher,
How his front elbow is creating barrel path mayhem,
How Robinson Cano uses the Catapult Loading System, and
What does Ian need to work on?
In this Robinson Cano Baseball Hitting Mechanics Video…
I wanted to show a snapshot in time of one of my eleven-year-old hitters.  Ian is working on staying short with his limbs – pre-landing position – in order to turn faster.  His front arm tends to move back towards the catcher too much, which causes it to bar out and turn his torso slower.
We can break the swing up into two steps: 1) To landing (or the Fight Position), and Final Turn.  75% of consistency and power is taken care of in Step One.  Here's the drill Ian will use in the video for correction…
Break It Apart Mirror Drill
Get into stance with front shoulder facing mirror or picture window,
Get to fight position (Landing), and
Make sure you've hidden your hands from view – like a boxer would when he's going to deliver the knock out blow.
CLICK HERE or watch below, another one of my Robinson Cano baseball hitting mechanics YouTube videos that I did for SwingSmarter.com:
I'm a member of the American Baseball Coaches Association (ABCA), the International Youth and Conditioning Association (IYCA), and the Society for American Baseball Research (SABR).I'm also a HUGE supporter of the Positive Coaching Alliance (PCA).

I've spent 11+ years in the corrective fitness industry, and have too many alphabet-soup certifications to bore you with.I also played four years of Division One baseball at Fresno State from 2000-2003.

It's NOT how you study, but what you study that counts.I apply human movement principles (or rules), validated by science, to hitting a baseball and softball.
Latest posts by Joey Myers (see all)
https://hittingperformancelab.com/wp-content/uploads/2013/12/robinson-cano-baseball-hitting-mechanics-video-revealed-hitting-performance-lab.jpg
360
480
Joey Myers
https://hittingperformancelab.com/wp-content/uploads/2018/05/hitting-performance-labs_c90c0362088ef1d3d528f3078f4f8ac1.png
Joey Myers
2013-12-11 23:55:26
2018-09-10 05:14:20
Robinson Cano Baseball Hitting Mechanics Video