In This Baseball Hitting Video Easy Distance PART 2,
We're going over:
"Gas Pedal" — Natural, NO Push from Backside,
"Smooth" — NO Rush (Archer Metaphor), and
How Far Should the FREE-FALL be? (setting up your feedback markers).
Someone did a video analyzing The Babe's swing (not up anymore), and what's amazing is his nearly three-foot long bat almost matches his just under three-in-a-half foot stride length.  Also important to note is Babe Ruth's head moved two-and-a-quarter feet forward before his front heel hit the ground.  CLICK HERE to see game footage.
What do you think The Babe would say to those today who shout, "NO head movement!"?  When we look at the science and its application, we know this statement doesn't make sense.
MLB BIG-Boppers who use Forward Momentum
David "Big Papi" Ortiz (9-Time All-Star):
Chris "Crash" Davis (2013, led Big Leagues with 53 hr's and 138 RBI's & was an All-Star in 2013):
Bo Jackson when he was with the White Sox (All-Star in 1989):

Here's one of my college hitters, and his BEFORE (left) & AFTER (right) Forward Momentum: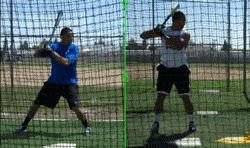 Other Athletes Who Use Forward Momentum…
Paul Rabil – Lacrosse player with world record's fastest throw (111 mph, and averages well over 100 mph in games):
Ulf Timmerman – holds the World Shot Put Record using the Glide Technique:
Jan Zelezny – World Record holding male Javelin Thrower:
I hope you learned something from watching the baseball hitting video easy distance part two.  CLICK HERE for the Baseball Hitting Video PART-THREE (How-To Make Swing Science Sticky) of a FOUR-Part Series on Explosive Rotational Power.
I'm a member of the American Baseball Coaches Association (ABCA), the International Youth and Conditioning Association (IYCA), and the Society for American Baseball Research (SABR).I'm also a HUGE supporter of the Positive Coaching Alliance (PCA).

I've spent 11+ years in the corrective fitness industry, and have too many alphabet-soup certifications to bore you with.I also played four years of Division One baseball at Fresno State from 2000-2003.

It's NOT how you study, but what you study that counts.I apply human movement principles (or rules), validated by science, to hitting a baseball and softball.
Latest posts by Joey Myers (see all)
https://hittingperformancelab.com/wp-content/uploads/2013/12/baseball-hitting-video-easy-distance-part-2-hitting-performance-lab.jpg
360
480
Joey Myers
https://hittingperformancelab.com/wp-content/uploads/2018/05/hitting-performance-labs_c90c0362088ef1d3d528f3078f4f8ac1.png
Joey Myers
2013-12-22 23:55:30
2019-01-21 05:30:10
Baseball Hitting Video Easy Distance PART 2