In This Baseball Hitting Mechanics Video,
…I analyze one of my eighth graders Zack, and we uncover the #1 simple tip can overcome bad hitting technique: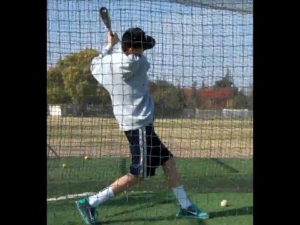 "How to make your everyday stance your fight stance, and your fight stance your everyday stance" – Musashi, a famous Japanese Samurai swordsman
The Snapping Towel Effect: getting the body moving,
The Snapping Towel Effect: the snap back, and
How Zack can improve…
CLICK HERE for an MLB case study YouTube video I did on David Ortiz looking into how Big Papi used the same Snapping Towel Metaphor in the 2013 Playoffs.
I'll be doing a lot of baseball hitting mechanics video case studies of my own hitting students.  Some where I do before and afters of their own swing.  And other times, comparing their swing to a small-bopper I think is relevant to them.  I think these case studies help coaches and instructors eliminate the excuse of how young hitters can't develop high level mechanics.
The main objective of the Hitting Performance Lab is to show we're not arguing about linear versus rotational mechanics.  It's that we're discussing human movement.  It doesn't matter whether you're male or female.  Young or mature.  Baseball or softball.  We're talking about how the human body is designed to efficiently move.
I'm a member of the American Baseball Coaches Association (ABCA), the International Youth and Conditioning Association (IYCA), and the Society for American Baseball Research (SABR).I'm also a HUGE supporter of the Positive Coaching Alliance (PCA).

I've spent 11+ years in the corrective fitness industry, and have too many alphabet-soup certifications to bore you with.I also played four years of Division One baseball at Fresno State from 2000-2003.

It's NOT how you study, but what you study that counts.I apply human movement principles (or rules), validated by science, to hitting a baseball and softball.
Latest posts by Joey Myers (see all)
https://hittingperformancelab.com/wp-content/uploads/2013/12/baseball-hitting-mechanics-video-overcome-bad-hitting-form-hitting-performance-lab.jpg
360
480
Joey Myers
https://hittingperformancelab.com/wp-content/uploads/2018/05/hitting-performance-labs_c90c0362088ef1d3d528f3078f4f8ac1.png
Joey Myers
2013-12-04 23:55:21
2018-11-19 05:47:45
Baseball Hitting Mechanics Video: Snapping Towel