Correct Head Position And Movement, See Ball Better, & Keep Eye On Ball For Baseball And Softball Hitters 2023 | Keep Head Still Batting Swing Drills
Discover correct head position, head movement, see the ball better, and how to keep your eye on the ball for baseball and softball hitters in 2023. Learn how to keep head still with this batting swing drill.
You Too Can STOP Head Movement With The Snapping Towel Drill
Look, I'm not going to get into the specifics of head movement with the written part of this video post. You can go to the following links for that:
But I WILL get into an outstanding drill that helps my hitters get rid of late head movement. I get asked quite a bit on the 'Socials' about posting the "Snapping Towel Drill". I learned this drill from Chas Pippitt of BaseballRebellion.com, which he calls the Lean Drill.
Well, here you go! This is one of my favorite go-to drills with most of my hitters. It helps with lunging, which I define as when a hitter continues moving forward during the turn…NOT at stride landing. It also helps a hitter cover more of the pitch plane with the barrel, which is why I promote it in the Pitch-Plane Dominator online video mini-course.
In the above video, we'll discuss:
How the swing is a snapping towel,
And define Reactive Neuromuscular Training (or RNT),
How to BEWARE of the "C" Shape, and
How to setup the Snapping Towel Drill…
SCIENCE-BASED TRAINING:
Improve your hitting strategy dramatically by applying human movement principles.
Learn not only how and what to train but also the science behind the methods.
The following video I did awhile back, which analyzes Dustin Pedroia and David Ortiz's swings to show the 'snapping towel' effect…
CLICK HERE for a post I did on how to fix stepping in the bucket using Reactive Neuromuscular Training (RNT).
The following image is Chase B., one of my hitters, that is working on fixing his Reverse 'C' shape (by the way, the same fault with a lefty will resemble a normal 'C')…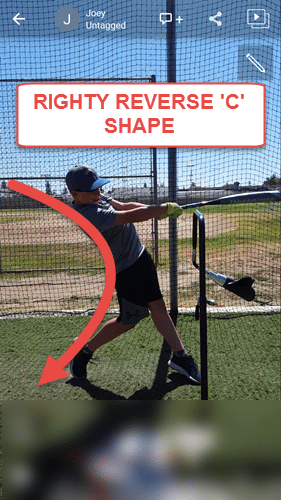 It's not too bad, but I've seen worse. Some of the things to look out for at and post impact:
Head floating out over "no man's land",
Over arching of the low back, and
The hitter complaining of low back 'pinching' or pain in the Up Dog Yoga Pose…
The latter can be because of tight hamstrings and hip flexors, in addition to glutes and low abdominals (psoas) not firing off. However, please consult a Physical Therapist if there's discomfort in the Up-Dog Pose.
What is this hitting position suppose to look like?
Check out Sierra Romero (one of my fav. fastpitch hitter's to model)…
Notice the stacking of her head over rib cage, and rib cage over pelvis. In a perfect world, we'd like to see a slight slant back over the catcher with these three pieces of the body.
Think about three bricks stacked on top of each other, but being stacked slightly off center towards the left hand side (for a righty), and reverse for a lefty.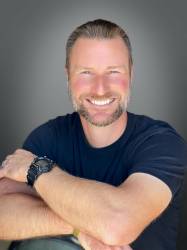 Latest posts by Joey Myers
(see all)
https://hittingperformancelab.com/wp-content/uploads/2022/05/Learn-How-To-Correctly-Position-And-Move-Your-Head-To-See-The-Ball-Better.png
423
800
Joey Myers
https://hittingperformancelab.com/wp-content/uploads/2021/10/hitting-performance-labs_c90c0362088ef1d3d528f3078f4f8ac1-300x75.png
Joey Myers
2023-01-30 10:00:15
2023-01-31 06:28:57
Correct Head Position And Movement, See Ball Better, & Keep Eye On Ball For Baseball And Softball Hitters 2023 | Keep Head Still Batting Swing Drills