Sybervision Systems Motor Skill Acquisition: Why Squishing Bug During Baseball Softball Swing Is Bad | Weight Transfer & Footwork Modeling | Keep Head Hitting Position Still, Down, & Eye On Ball
Discover the power of Sybervision systems motor skill acquisition.  Using elite swing modeling, you can easily see why squishing the bug during the baseball or softball swing is bad.  And what weight transfer and footwork is suppose to look like.  Learn how the best keep their head hitting position still, down, and their eyes "on" the ball.
Watch Perfect Action Over And Over, Subconscious Mind and Muscle Memory Will Start To Incorporate The Actions…
(Disclaimer: my swing isn't perfect, so please be nice in the comments.  Not even the fat old guy with the burner accounts and glasses has a perfect swing).
I had heard of Sybervision back in the early to mid-1990's, when someone told me about a Baseball With Rod Carew instructional VHS hitting video you could watch over and over of him hitting, and "magically" you'd start moving just like him!  At least that's what I thought about it at the time, but there actually is some merit to it.
Some call Sybervision the Neuropsychology of self discipline, and has a basis in visual modeling — how we  learn and assimilate (neurologically, psychologically, and cognitively) skills and behaviors from the observation of others.
It is based on research conducted by Steve DeVore, and Dr. Karl Pribram, a brain scientist (who postulated the holographic brain theory) at the Stanford University's Neuropsychological Research Laboratories.
One of the grand-dads of two hitters I worked with this past summer, Paul Rosemont, said this of Sybervision:
"The Sybervision concept is that if someone watches perfect action over and over, their subconscious mind and muscle memory will start to incorporate the actions. It's ideal to view it before practicing but just viewing it is still supposed to work. The system was used years ago on college and Olympic level athletes."
SCIENCE-BASED TRAINING:
Improve your hitting strategy dramatically by applying human movement principles.
Learn not only how and what to train but also the science behind the methods.
By the way, Paul took the time to have my swings edited into the above video we're sharing with you today, using the Sybervision technique.
Along the same lines, utilizing shorter clips of Big Leaguers, and without the different views, one of my online lesson dads Victor Canseco made the following two videos using the same Sybervision concept.  They're cropped to specific aspects of the swing, to help his son Harrison get the concepts we were working on with him…
Back Foot Skip
Please CLICK HERE for the Back Foot Variance Drill I use with my hitters.
Head Movement & One-Joint Rule
Please CLICK HERE for the One-Joint Rule Drill I use with my hitters.
Thank you Paul and Victor!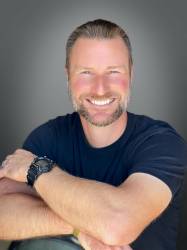 Latest posts by Joey Myers
(see all)
https://hittingperformancelab.com/wp-content/uploads/2022/10/Sybervision-Systems-How-To-NOT-Squish-A-Bug-Transfer-Weight-Keep-Head-Position-Still.png
423
800
Joey Myers
https://hittingperformancelab.com/wp-content/uploads/2021/10/hitting-performance-labs_c90c0362088ef1d3d528f3078f4f8ac1-300x75.png
Joey Myers
2022-10-03 09:15:10
2022-10-04 00:42:20
Sybervision Systems Motor Skill Acquisition: Why Squishing Bug During Baseball Softball Swing Is Bad | Weight Transfer & Footwork Modeling | Keep Head Hitting Position Still, Down, & Eye On Ball