Committing To College Baseball: A How-To VIDEO
"Committed: The Guide to Developing College Ready Recruits from Middle School Through High School" Committing to College Baseball Book by Bryan Eisenberg & Walter Beede
Here's what Bryan Eisenberg, Walter Beede, and I discuss in the above committing to college baseball interview: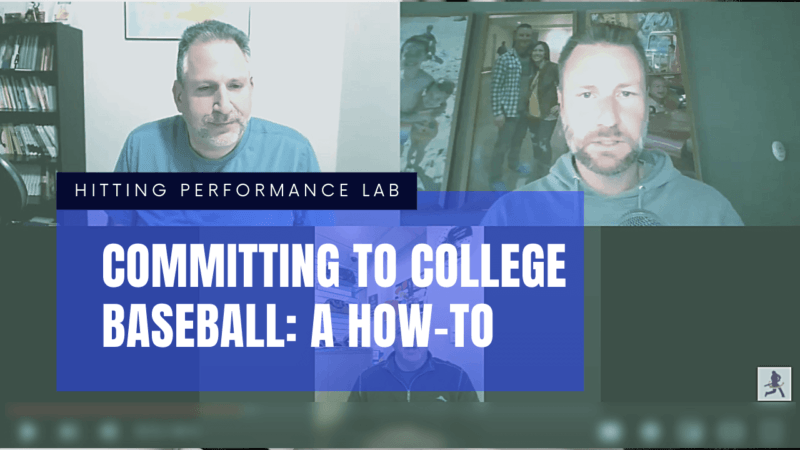 What are the top-3 kid raising pitfalls parents fall into in middle school and high school in before college and professional ball?
The DANGERS lurking in self-comparison from ages 14-18 years old
"Getting repetition because through repetition, we're going to gain our retention…."
"They won a college world series. It was a great moment. But suddenly, everything's winding down. I suddenly realize that journey had concluded…"
"I use the term and I've used 40 years where I tell parents the whole objective [of committing to college baseball] is to trade athletic ability for academic excellence."
"What's the difference of success levels between your son who just played through college and the one who went pro in the way you treated them and brought them up?"
This is also an episode of the Swing Smarter Hitting Training Podcast.  One of my favorite committing to college baseball gold nugget quote from Walter…
Walter Beede: "I would say the first lesson that I learned is if we have to push, then we're probably not going to get the results that we're hoping.

Mental standpoint, meaning if your son is pulling you, instead of you pushing your son, much more advantageous position to be in, especially for the student athlete. I think it's about structure routine and accountability. Meaning my oldest son was really scattered, not so much from, as a multi-sport athlete, but just, really didn't have that defined schedule of, okay, I'm going to lift here, work out here.

I'm going to do this routine here with regards to throwing or hitting or what, whereas my youngest son was driven. A lot of that had to do with him being around the college routine and watching how student athletes conducted themselves in a non-team environment, meaning off to the sidelines, how they will bring up [committing to college baseball], et cetera.

I would say the red line in the sand, between the young man that ultimately gets to the college level and the young man that kind of gives up the game at the high school level, truly is about the passion component. My oldest son loves the game but wasn't passionate about the game."
CLICK HERE to download the committing to college baseball interview transcription in PDF format.  And if you're interested in learning more about getting "committed" and want to support Bryan and Walter's fantastic cause, then CLICK HERE to grab the book on Amazon.  And by the way, all the student athlete life hack tips and tricks that Bryan and Walter reveal in the book apply to fastpitch softball as well.
ENJOY!
BREAKING NEWS:
Grab two chapters of our NEW Amazon book FREE...
"Swing Smarter: Science Based Hitting Training Built To Understand How, Why, & Reasoning Behind It"
https://hittingperformancelab.com/wp-content/uploads/2021/12/committing-to-college-baseball.png
423
800
Joey Myers
https://hittingperformancelab.com/wp-content/uploads/2021/10/hitting-performance-labs_c90c0362088ef1d3d528f3078f4f8ac1-300x75.png
Joey Myers
2021-12-06 22:08:53
2021-12-06 22:31:40
Committing To College Baseball: A How-To VIDEO