Corey Dickerson VIDEO: #1 Most Critical Hitting Position
Corey Dickerson: 3 Human Movement Laws That Dominate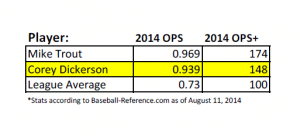 I wanted to analyze a young lefty slugging Colorado Rockies outfielder by the name of Corey Dickerson.  Standing and weighing in at 6-foot, 1 inch, and 205 pounds, Dickerson isn't a big guy by today's standards.  And comparing key offensive indicators (photo on right), puts him in decent company…
FanGraphs.com says this about OPS & OPS+:
"OPS is the widely used metric measuring a hitter's contact, patience, and and power.  Since OPS+ adjusts for league and park effects, it's possible to use OPS+ to compare players from different years and on different teams."
How efficiently a hitter gets into their Fight (landing) Position can dramatically effect their OPS and OPS+.  In analyzing Corey Dickerson swing, we'll see how he uses THREE scientifically proven human movement laws to dominate his Fight Position:
Gravitational Forces,
Transferring Forward Momentum, and
Spine engine mechanics.
We'll also look at what repeatable power elements are missing in his swing…
Laws That Dominate #1: Gravitational Forces
Imagine standing in the middle of a trampoline.  Push your body weight into the canvas by bending your knees slightly, and jump 2-inches off the surface.  Now, use all your body weight, squatting down like your butt's going to touch the canvas, and jump 2-feet in the air.  Notice how pushing harder into the surface, gave you a higher jumping result?
These are Gravitational Forces at work.  By pushing into the ground (trampoline canvas), the surface pushes back with an equal and opposite force.  Corey Dickerson amplifies Gravitational Forces by "getting shorter" and dropping his body-weight into the earth when he lands into his Fight Position.  The ground gives thanks by giving him a push back!
Following…
Laws that Dominate #2: Transferring Forward Momentum
In science, this is commonly referred to as the Conservation of Linear Momentum.  In Corey Dickerson's case, here's how it works:
First, he transfers his weight back and Floats (timing) before falling forward,
He gets a swing "head start" by moving his body-weight towards the pitcher, and
Then commits to weighting his front leg before transferring Forward into Angular (rotating) Momentum at the Final Turn.
Corey Dickerson lands with an open hip-knee-toe to set up the turning of the pelvis.  His front knee is bent and stacked almost over his ankle allowing him to push into the ground (Gravitational Forces).  This will make way for what's called "Blocking" during the Final Turn.  Next…
Laws that Dominate #3: Spine Engine Mechanics
Blocking the shoulders from opening too soon is critical to repeatable power.  Tony Gwynn calls this "staying on the ball".  And Corey Dickerson does the basics (a la Gwynn).  He's not loading his torso's springy material optimally.  I believe he's leaving 10% of his repeatable power on the table.  Here's how he can improve his Fight Position:
 Raise back elbow above top hand during fall, to get a more downward shoulder angle,
Show his number to the pitcher more clearly, and
Hide his hands from the pitcher a little better.
The Fight Position is one of THE most critical points in the swing.  As you can see, Corey Dickerson uses THREE (2.5, lol) scientifically proven human movement laws before he lands his Fight Position.  To me, at least 70% of hitting faults can be fixed here.  Make sure you're swinging smarter by moving better!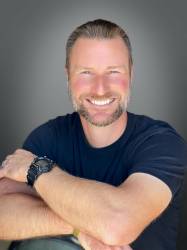 Latest posts by Joey Myers
(see all)
https://hittingperformancelab.com/wp-content/uploads/2014/08/corey-dickerson3.png
445
653
Joey Myers
https://hittingperformancelab.com/wp-content/uploads/2021/10/hitting-performance-labs_c90c0362088ef1d3d528f3078f4f8ac1-300x75.png
Joey Myers
2014-08-14 03:37:18
2018-12-10 05:25:48
Corey Dickerson VIDEO: #1 Most Critical Hitting Position