11 Popular 2016 Links Revealing How To Make Hitting Great Again
A Simple Way To Make Adjustments, Build Swing Tempo, AND Elevate The Ball That Works For Mike Trout & Josh Donaldson
I have a treat for you…
A "grab-bag" of golden nuggets…
The following 11 hitting tips come from my most popular social media non-HPL links of 2016.
To give you an idea,
I typically promote 1 non-HPL link per day on the socials, so that's 365 links getting put in front of my 20K+ followers.
I get a front row seat to see what coaches think interesting and worth their time.
The following creme-of-the-crop link montage, is arranged in descending order, least clicks to the most.
You'll find these somewhat of a random sort, but they all relate to hitting, albeit indirectly in some cases.
Happy learning!
#11: 30 Clubs in 30 Days: How Mike Trout Approaches Hitting
This is the featured video above.
Sean Casey interviewed Mike Trout during Spring Training of 2016, where Trout discusses his hitting routine…I jotted down 9 key notes for you:
First few rounds he works on hitting to RCF,
Stay up the middle,
A few times hit the ball to LCF, to stay square with the pitcher,
He mentions not getting too 'chicken wing',
Tee work: set it high and 'get on top of the ball' (to counteract dropping the shoulder and barrel too much),
10-20 swings trying to hit a ground-ball every time,
In games, sit fastball, react to off-speed and breaking balls,
On top of the plate, back of the batter's box, and
Work up the middle in games.
All these tips are pretty solid…
…for Mike Trout.
When I posted this, and made a note that Mike Trout is definitely not looking to optimize hitting the high pitch in games,
AND
He's most definitely NOT trying to 'get on top of the ball' in games (both in reference to tip #5 above)…
There were a few men on Facebook that got their panties in a bunch, saying I was calling Mike Trout a liar…yada, yada, yada.
If we look at Mike Trout's Sabermetrics at FanGraphs.com, the reality is, he's THE BEST at hitting the low ball…and THE WORST at hitting the high ball.
So WHY does he practice hitting off a high tee?
Another look at Mike Trout's metrics, and we see he's:
Well below average in Ground-ball percentage (39.6% v. league average is 44%),
Above average in Line Drive percentage (22.1% v. league average is 20%),
Above average in Fly-ball percentage (38.2% v. league average is 36%), AND
Well above average in his Fly-ball to Home-run ratio (19.6% v. league average is 9.5%).
What does this mean?
It's a 'what's real' AND 'what's feel' sort of thing…
Because he's definitely NOT trying to hit ground-balls in games (contradicting hitting tips #5 & #6 from above).
So am I calling Mike Trout a liar…
And, WHY would he practice like this?
Earlier, notice how I said,
"All these tips are pretty solid…for Mike Trout."
No, I didn't say that because Mike Trout is a mutant, and only Mike Trout can do that and get away with it.
When coaches say this, it's a cop out.  It means they have no REAL clue what's REALLY going on.
Here's where I'm going with this,
And it's VERY important…
And also WHY I made popular link hitting tip #11 the featured video…
What John Doe Coach missed in the interview was when Trout mentioned he has a tendency to 'chicken-wing' and 'drop his back shoulder and barrel' too much.
In other words, uppercut too much.
Mike Trout is using these seemingly counter-intuitive hitting tips to make adjustments to his swing's extreme tendencies.
I'm not calling Mike Trout a liar.
He's a friggin' smart competitive athlete.
He knows himself and his swing, and makes the necessary adjustments to stay in the black, and not get too far in the red.
There's no secret,
Mike Trout is trying to get the ball in the air.
It's like the advice Lightning McQueen heard in the animated movie Cars, "Turn left to go right"…when attempting to correct a spin-out.
#10: Hitting A Baseball – "The Hardest Thing To Do In Sports"
CLICK HERE for this article by Axon Sports.
Some of the things you'll gain by reading this:
"Hitting is timing.  Pitching is upsetting timing." – Warren Spahn,
Why "Keep your eye on the ball", or "Watch the ball hit the bat" is humanly IMPOSSIBLE according to research, and
Awesome info-graphic breaking down the reaction time of a hitter.
#9: Hamstring Flexibility: 6 Tips to Loosen Up
CLICK HERE for the full article by GMB Fitness.
98% of my hitters are immobile in the hip.
And oftentimes, this comes in the form of tight hamstrings.
This is a great post looking into factors and strategies you can employ to improve the flexibility of your hitter's hamstrings…and maybe yours 😉
#8: Bryce Harper is pounding the ball into the ground to no avail
CLICK HERE for this Beyond the Box Score post.
This article was written July 28th, 2016 with a sub-head that reads:
"He's gotta figure out how to elevate more despite pitchers giving him few pitches to elevate."
This was when B.H. was struggling to lift the ball early in the season.
The article talks about how Harper's dramatic launch angle change (down), led to a dramatic increase in his ground-ball rate.
The post discusses how pitchers are throwing him more outside and down in the zone.
The bottom line?
…Is that a ground-ball focused hitting strategy SUCKS!!!
It doesn't matter how hard you hit the ball, if you can't elevate, you'll hit A LOT of worm burners that end up as outs at the higher levels.
#7: Are overbearing parents ruining the Westlake baseball program?
CLICK HERE for this LA Times post.
The parent and player behavior is probably not going to surprise you…
However, I want you to ask yourself the question as you read this,
"How did the coaches respond to the parents that clearly didn't work?"
How could coach be more effective in dealing with parents in this environment, if a million dollar bet was on the line?
Look, maybe the athletes are spoiled brats, or maybe the coaches just don't have an effective strategy for dealing with this situation.
In other words, don't label the players or parents "mean" right away…
Be creative, brainstorm, and future pace how you'd handle this situation.
Because chances are, you will run across this scenario, in some form, in your lifetime.
#6: Clayton Kershaw UMPIRE VIEW of pregame warm up
You will get better at Pitch Recognition watching this video.
In the spirit of the playoffs, this video features arguably one of the best pitchers in history, Clayton Kershaw.
Do this for me…
Watch this video for a couple minutes, trying to pick up the "shape" of each pitch he throws, like what Perry Husband talks about in this article.
Then pick a series of pitches, see which pitch Clayton Kershaw signals to the catcher, look at his release, and close your eyes.
This would be like Dr. Peter Fadde's video occlusion training featured in this post.
Then try to pick another series of pitches, don't look at him signal to the catcher what he's throwing, and test yourself.
This is such a cool game to do with hitters.
#5: Vladimir Guerrero Jr. Blasts 33 HR in 60 Swings in Home Run Derby in the DR (Round 2 November 2014) 
I know this isn't Vlad G. the first, but there are a lot of similarities to their swings.  A few notes to look out for while watching him hit…
Toe-tap for timing
Aggressive move towards the pitcher with stride
Back foot stays sideways until follow through
Great knee action at landing (front), and during the turn (back)
Showing numbers to pitcher as close to landing as possible
Downward shoulder angle as close to landing as possible.
What do you see?
#4: Donaldson gives a hitting demo
Cool MLB.com interview with Josh Donaldson on developing timing and rhythm at the plate, with Sean Casey.
A couple notes from the video below:
Find out what's comfortable for you
Leg kick: engaged into back hip not back knee
Leg kick: control when get front foot down
Being on time, not about getting front foot down on time
Soft focus on the pitcher, recognize pitch better at the plate ( stay relaxed)
Hit with music on, adds a smooth tempo to the swing
Watch Manny Ramirez setup to swing, "boring" rhythm at the plate (again relaxed mindset)
Put the work in (Sean Casey)
#3: Which is Better? A Ground Ball Pitcher or a Fly Ball Pitcher
CLICK HERE for this FanGraphs.com post.
I included the following chart from this post on my Ground-ball RANT post…

Most understand Line Drives MUST be the main hitting objective (for a majority of swings), however I want you to compare the Ground-ball metrics to the Fly-ball metrics from the chart above:
A 32-point increase in Batting Average with Ground-ball over a Fly-ball,
A 358-point INCREASE in ISO (or raw power) with Fly-balls over Ground-balls…AND
A 115-point INCREASE in weighted On-Base Average with Fly-Balls over Ground-balls, which according to FanGraphs.com…
"Weighted On-Base Average combines all the different aspects of hitting into one metric, weighting each of them in proportion to their actual run value. While batting average, on-base percentage, and slugging percentage fall short in accuracy and scope, wOBA measures and captures offensive value more accurately and comprehensively."
So, WHY are we still teaching hitters to hit ground-balls, and NOT to elevate?  Beside situational hitting of course.
What's more…
#2: Scooter Gennett and ground balls
CLICK HERE for this Beyond the Box Score post.
I love the sub-header, which reads:
"Scooter Gennett's offense has declined every year since he broke into Major League Baseball, are ground balls the reason?"
After careful metric analysis, Shawn Brody the post's author, says:
"In my mind, Gennett should be closer to his 2014 level of production, which is something he could return to if he put the ball in the air more often."
Hitting consistent ground-balls will land you on the bench at the higher levels, unless of course you have plus running speed.
In which case, analysis shows that any launch angle above 10-degrees, makes faster running speed irrelevant.
So, what if a hitter hits the ball just plain hard?
Maybe the following #1 link post from my 20K+ followers will shed light on that…
#1: Jon Lester shows importance of launch angle
CLICK HERE to read this Cubs.com post.
The great case study article discusses how Jon Lester ranks second among Major League hitting pitchers with an average Ball Exit Speed of 92.5-mph.
So, what's the problem?
Quoted from the article:
"…(He ended up with four hits on the season in 71 plate appearances, a .065/.108/.065 line.) Part of it is that, like many pitchers, contact was an issue — Lester's 42.3 percent strikeout rate was above the 37.7 percent average for pitchers."
How could Lester hit the ball so hard without finding much hitting success?
Again, quoted from the article:
"…it's because 19 of Lester's 24 tracked batted balls failed to get above 7 degrees of launch angle. Sixteen of those 19 failed to even achieve positive launch angle, which is to say that he pounded the ball into the ground constantly."
In other words, to get the ball in the air, the hitter MUST have a positive launch angle.  About 10-degrees positive will get the ball to the outfield grass…on the "big" field.
If the hitter has a negative or less than 10-degree positive launch angle, THEY WILL:
Hit A LOT of worm burners,
Strikeout more,
NOT get many hits, and
Professionally speaking, NOT make it past A-ball (if they're lucky enough to make it that far).
Even if they're lighting up the BES radar guns.
Here's a BONUS link for ya…
CLICK HERE to read a Cut4 article highlighting Giancarlo Stanton hitting the hardest ball ever recorded by Statcast at 123.9-mph, but it was hit into a 4-6-3 double play.
Here's the lesson folks…
Line drives tend to be between 10-20 degree positive launch angles (see image above).
Dingers tend to be between 20-40 degree positive launch angles (see image above).
Of course, whether it's over the fence or not will depend on the Ball Exit Speed.
It's not enough to hit the ball hard.
Teach hitters to elevate.
Get barrel on path of incoming pitch.
Focus on striking bottom half of ball.
That, my coaching friend, is how to decrease strikeouts, mishits, and weak fly-balls…AND increase BA, ISO, and wOBA.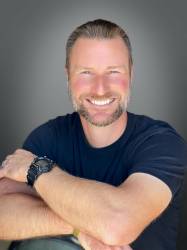 Latest posts by Joey Myers
(see all)
https://hittingperformancelab.com/wp-content/uploads/2016/07/josh-donaldson-interview-sean-casey-timing.png
432
649
Joey Myers
https://hittingperformancelab.com/wp-content/uploads/2021/10/hitting-performance-labs_c90c0362088ef1d3d528f3078f4f8ac1-300x75.png
Joey Myers
2016-10-21 01:36:39
2018-12-24 04:53:49
11 Popular 2016 Links Revealing How To Make Hitting Great Again