700 Foot Longest Home Run Ever? Mickey Mantle, Babe Ruth, Barry Bonds, Or Aaron Judge? | MLB In 2021 And World Series? Optimal HR Launch Angle & Exit Velocity Formula Experiment
Longest Home Run Ever "Principles" May SURPRISE You…
Is the 700 foot home run the longest ever?  And how hit it?  Mickey Mantle, Babe Ruth, Barry Bonds, or Aaron Judge?  The answer will shock you.  What about the longest MLB home run in 2021?  Or in the World Series?  What is the optimal home run launch angle and exit velocity formula?  And how do you get it?  Interesting swing experiment…
Popular player longest home runs:
But before analyzing the longest home run ever 'principles', I want to share a few important resources…
Some of you may remember first reading Physics Professor Robert Adair's book The Physics Of Baseball
.  Think of the above video as the "engineering" of baseball – ahem, hitting specifically.  Many of you know our motto here at Hitting Performance Lab and HOW our hitting approach is different than most out there …
We apply human movement principles that are validated by Science, to hitting a ball … (unlike the willfully ignorant 'bro-science' approach to hitting).  
SCIENCE-BASED TRAINING:
Improve your hitting strategy dramatically by applying human movement principles.
Learn not only how and what to train but also the science behind the methods.
Another good longest home run ever engineering principles book resource is The Golfing Machine
 authored by Homer Kelley, who was an aeronautical engineer that worked for Boeing during the Great Depression.  He fell in love with golf and applied engineering principles to the golf swing, which were meticulously described in the book.
A fantastic post on the topic of longest home run ever comes from Dr. Alan Nathan over at PopularMechanics.com titled, "What's The Longest Possible Home Run". Alan Nathan is a professor emeritus of physics at the University of Illinois who has spent a career tracking physics, especially as it relates to baseball. He says two primary factors guide how far a ball is going to fly: exit velocity and launch angle.  Click the PopularMechanics.com link to read more.
The SmarterEveryDay YouTube channel is a MUST subscribe.  They're a bunch of engineering geeks that put together fascinating experiments and tests that challenge things like the longest home run ever (above) to the backwards brain bicycle.  Their videos are very entertaining, funny, and extremely informative.
What I have for you below are time marked bullet points I found interesting in the above longest home run ever SmarterEveryDay video.  Big THANK YOU to the golfing sensei, and my good friend, Lee Comeaux for the share…
At 1-min, 25-sec mark, he acknowledge the "Launch Angle" craze, their focus is to "…point at the fence and swing a bat as fast as we can."
Safety first kids!!  These guys took many many safety precautions when running this experiment defending against batted balls (200+ mph!), broken flying wood and metal bats, or even broken shards of machine.
At 2-min mark, they discuss how they setup the scenario for higher probability of moving ball hitting moving bat
At 2-min, 45-sec mark, talked about who these guys are and 3-phase power, "…dads who love to build things."
At 4-min, 40-sec mark, discussed how wood bat broke during first phase of experiment, "tension" break
At 5-min, 45-sec mark, 2nd phase of experiment, metal bat broke off at plastic knob (slo mo at 6:40), and flew 581-feet!!
At 7-min, 45-sec mark, interesting to note the imbalance of the "Mad Batter Machine" when one of two metal bats break off…think about a hitter that isn't counter-balancing their body when swinging (e.g. breaking one-joint rule – rear ear closing in on rear shoulder during turn, OR shifting weight during stride, then continuing to go forward during turn – lunging).
At 10-min, 15-sec mark, fantastic frame-by-frame of bat ball collisions – ground-ball, high fly-ball, hit too early … as power was turned up, they started breaking bats … crazy how much fun these guys were having doing this.  I'm so envious!
At 11-min- 35-sec mark, talked about fastest ball exit speed being Giancarlo Stanton (123.9-mph), one hop double play grounder to second baseman, their pitching machine was throwing balls at 50-mph, while their high speed bat was hitting batted balls at 240-mph!  This goes to show pitching velocity isn't the best predictor of batted ball distance (1-mph of added pitching velocity only adds 1-mph to ball exit speeds) … bat speed is (1-mph of added bat speed adds 4-mph to ball exit speeds).
Thought experiment … imagine if these guys angled the Mad Batter Machine in an extreme downward or upwards plane – what would happen?  I think this experiment would take them months, not days.  Think about it, a couple engineering guys, didn't care about the 'Launch Angle' craze, and just angled it to where it'd hit the majority of balls … hmmmm, let that sink in 😉
At 12-min, 10-sec mark, history of longest home run ever tape measure shots: Mickey Mantle – 565-feet, Babe Ruth – 575-feet, and Joey Meyer – 582-feet (no immediate relation :-P)
At 12-min, 45-sec mark, they show the longest home run ever… (full power!!!)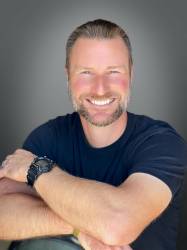 Latest posts by Joey Myers
(see all)
https://hittingperformancelab.com/wp-content/uploads/2020/01/longest-home-run-ever-e1577912907178.png
257
500
Joey Myers
https://hittingperformancelab.com/wp-content/uploads/2021/10/hitting-performance-labs_c90c0362088ef1d3d528f3078f4f8ac1-300x75.png
Joey Myers
2022-05-31 09:45:54
2022-06-01 05:00:33
700 Foot Longest Home Run Ever? Mickey Mantle, Babe Ruth, Barry Bonds, Or Aaron Judge? | MLB In 2021 And World Series? Optimal HR Launch Angle & Exit Velocity Formula Experiment