Matt Holliday Part-3: How to Optimize Vision, Tracking, and Timing
…In this Matt Holliday video we're mourning the loss of plate discipline in today's youth game.  World renowned motivational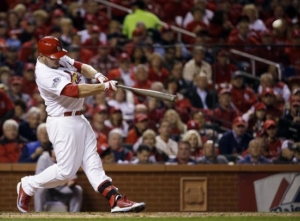 speaker Tony Robbins once said,
"If you want to be successful, find someone who has achieved the results you want and copy what they do and you'll achieve the same results."
In his 11-year career, 6-time All-Star Matt Holliday has amassed an On-Base Percentage of .387 (according to Baseball-Reference.com).  This is impressive, considering the league average is .340.
Plate discipline is critical, and in this video, we'll discover How-To:
Fix common mistakes at practice,
Develop a solid plate discipline strategy, and
Strengthen your eyes in 30 days.
How-To Fix Common Mistakes at Practice
We have to make batting practice as "game-like" as we can.  The THREE worst mistakes are:
Rapid-fire batting practice,
NO home plate for pitchers to throw over, and
NO plate discipline strategy.
How-To Develop a Plate Discipline Strategy
Guys like Matt Holliday ABSOLUTELY have a strategy at the plate.  Coach Mike Batesole at Fresno State showed me this in 2003.  His 2008 Bulldogs won the College World Series.  For younger hitters, use this strategy in practice ONLY.  It doesn't work as well in games until about High School, when pitchers get better with their accuracy and their own hitter game plans.  Check it out:
Cut the plate up into 2/3 and 1/3.
Hitter focuses on either the inner OR outer 2/3's.
If the pitch crosses inner OR outer 1/3, then they take it.
In games, only use approach with zero or one strike.
In games with two strikes, a hitter will cover the whole plate.
In games, look fastball with zero or one strike.  At higher levels, like college and professional, hitters may need to look breaking ball with zero or one strike.
Be flexible with the plan if the pitcher's stats show otherwise.
How-To Strengthen Your Eyes Better Than 20/10
According to a Yahoo Health article, the ULTIMEYES interactive game app improves vision by training the brain.  According to the article, the app "even improves vision in athletes who already have excellent eyesight, according to a new study published in the peer-reviewed journal Cell Biology."  
The article summarized the study:
"University of California Riverside researchers tested the perceptual learning app on 19 baseball players from the school's team, then compared their results with a control group of 18 untrained pitchers. On average, the trained players achieved a 31 percent improvement in visual acuity."
The players used the app for 25 minutes a day for 30 days.  CLICK HERE to get the app.  Right now, it's only available on PC, MAC, and iPad.  Coming soon to Android.
Any questions about this Part-3 Matt Holliday: The Death Of Plate Discipline article?  Please post below.  In case you missed Part-1 and 2 to the Vision, Tracking, and Timing video series, then CLICK HERE for Part-1, and CLICK HERE for Part-2.
https://hittingperformancelab.com/wp-content/uploads/2014/04/matt-holliday-hitting.jpg
406
550
Joey Myers
https://hittingperformancelab.com/wp-content/uploads/2021/10/hitting-performance-labs_c90c0362088ef1d3d528f3078f4f8ac1-300x75.png
Joey Myers
2014-04-05 04:26:07
2018-08-16 04:20:20
Matt Holliday Video: The Death Of Plate Discipline