How To Fast-Track Your Hitter's Pitch Recognition Skills
Discover how to improve pitch recognition skills for ANY hitter with the best in training aids, online courses, and drills in this PART-2 interview with Bill Masullo…
This is Part-2 to the Facebook LIVE conversation I recently had with Bill Masullo, who is the Co-Owner and Senior Baseball Instructor at the Ultimate Edge @ Goodsports.  In case you missed Part-1, where we talked about the effect Fortnite has on our hitter's mental health, then CLICK HERE.
The subject of this interview is complimentary to a post I did titled, "Why Fortnite May Be Dangerous To Building Hitters Who Crush".  HEADS UP: us two knuckle-dragging hitting coaches were having technical difficulties (I know SHOCKER!) before the start of this video.  This is probably the fourth and final take!
SCIENCE-BASED TRAINING:
Improve your hitting strategy dramatically by applying human movement principles.
Learn not only how and what to train but also the science behind the methods.
Below are some highlighted notes I took for you…
At the 0:50 minute mark, how does posture effect the swing, studies show young athletes sit 80% of their day, certain groups of muscles get tight and others turn off, Gymnastics, Dance, Martial Arts, Swimming are great counter disciplines to friction free movement, rock climbing is also a great "counter" to chronic sitting positions.
At the 4:00 minute mark, how working on screens (mobile, tv, computer) for extended periods of time effect ball players, for every 20 minutes of screen time, the eyes need 5-minutes off the screen, Dr. Peter Fadde and "video occlusion" training using his Game Sense Sports app, pitch recognition training, The 6th Tool: Training Baseball Pitch Recognition book by Dr. Peter Fadde.
At the 9:30 minute mark, Major League hitters track better than amateurs (but ALL hitters can improve), below average, average, and above average "learn-ability", Aaron Miles High School story about coach, in mid-90's, putting particle board in way of hitter during pitcher bullpens (similar to Dr. Peter Fadde's Game Sense Sports app), Jaime Cevallos pitch recognition hitting aid interview post.
At the 13:00 minute mark, Bill asks what parents should know about vision training, Perry Husband foremost expert on timing, vision, and training research, simulating pitch plane, don't throw to 7yo from standing position 20-30 feet away – like hitting up a mountain, throw seated on a bucket, size of ball short distance makes a difference – baseball players hitting golf sized whiffle balls from 30-40 feet, perceived ball size from 60-feet, 6-inches, or 45-feet.
At the 16:45 minute mark, pitch recognition cues, "fat" wrist versus "skinny" wrist, shape of the arm coming through, curve-balls sometimes look like a "bicep" curl, gets challenging when pitchers slot their arm in the same arm slot, Effective Velocity (EV) Tunnels, more strikeouts than hits in the MLB now, Perry Husband coined this concept, perceived velocity to the hitter, easier for corner-back to cover wide receivers running similar routes (deep & post), versus more difficult for one corner-back to cover two wide receivers when one runs deep and another does a 5-yard 90-degree cut, a pitch farther away from the hitter (low-away), perceived velocity is slower, a pitch closer to the eyes (up-in), perceived velocity is faster.
At the 22:00 minute mark, I asked Perry Husband how do you counter pitchers exploiting EV tunnels in hitters?  Learning to "hunt" pitches, hunting specific pitches in specific locations, "belly button", back foot, and real catcher's glove barrel entering the zone positions (CLICK HERE for more on this), random pitch rounds, my son "hunting" Ford Mustang cars when driving on the road, hunting pitches is less relevant with younger pitchers, and college and professional ball – hunting pitches becomes more relevant, data collection.
At the 30:00 minute mark, find Perry Husband's vision, tracking, and timing products: https://www.hittingisaguess.com/product-category/online-academy/, my courses relating to vision, tracking, timing, and foot work are: On-Time Hitter 2.0: Engineering The Alpha (the essentials), and Reaction Time Mastery (full course which includes On-Time Hitter 2.0 videos).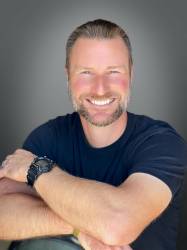 Latest posts by Joey Myers
(see all)
https://hittingperformancelab.com/wp-content/uploads/2018/07/fortnite-facebook-interview-part2-e1530560023744.png
453
500
Joey Myers
https://hittingperformancelab.com/wp-content/uploads/2021/10/hitting-performance-labs_c90c0362088ef1d3d528f3078f4f8ac1-300x75.png
Joey Myers
2018-07-02 21:17:23
2023-08-18 21:47:53
How To Fast-Track Your Hitter's Pitch Recognition Skills