Youth Baseball Softball Batting Weight Donut (NOT Doughnut!) Benefit To Little League Swing? | Amazon, Easton, Power Wrap, & Varo Reviews
Discover whether the baseball or softball batting weight donut (not to be confused with a doughnut!) is or IS NOT a benefit to the Little League swing?  Weighted donut Amazon reviews: Easton, Power Wrap, and Varo.
Using Batting Weight On-Deck May Dangerous To Bat & Ball Exit Speed?
This post may blow the minds of those that didn't get the memo…
Chris Dozer, who's father to one of my 10yo online lesson students, sent the following Wall Street Journal article titled: "Watching Your Weight Before Hitting Plate".
You can read the article in full by clicking the previous link, but I wanted to include important bullet points from the article and Sports Science video above:
SCIENCE-BASED TRAINING:
Improve your hitting strategy dramatically by applying human movement principles.
Learn not only how and what to train but also the science behind the methods.
"Studies conducted over several decades have concluded that the ritual popular among professionals and emulated by amateurs doesn't increase bat speed.  It may actually slow it down…'the best is your own bat'"
 According to the Zepp app, average professional bat speeds range from 75 to 90-mph, average High School and College bat speeds range from 65 to 80-mph, and average youth bat speeds range from 40 to 70-mph.
PLEASE NOTE: there are other batting weight studies with small sample sizes (ranging from 7 to 60 players) comparing High School, College, and recreational hitters in laboratory settings (not LIVE batting practice).  Adrenaline or others batter's routines could have influenced performance in these. Basically the variable wasn't properly isolated…that being said, a study with 20 college baseball players found "their performance was statistically unchanged."
Dr. DeRenne, found using a 28-ounce batting weight changed the balance point of the bat and slowed down bat speed.
In Sports Science video above, a college hitter in 2008 hit 10 machine pitched balls WITHOUT using a batting weight before, and had an average bat speed of 69-mph, and routinely connected with the sweet spot.  After using the batting weight, then taking another 10 swings off the same pitching machine, his average bat speed dropped to 68.3-mph, and on each swing he missed the bat's sweet spot by several inches.
The above video talked about how because the hitter swings the bat at a slower pace using a batting weight, more red slow twitch endurance muscle fibers get recruited, thereby decreasing the amount of white fast twitch muscle fibers which fire two to three times faster.  Warming up with batting weight in on-deck circle is actually priming the wrong muscles before stepping in the box. 
The experience of a single batter can't be generalized to others, but the results resembled other studies.
"People are always looking for an edge," Dr. Szymanski said, "but just because a professional athlete does something doesn't mean it's good or helpful or right."
The Bottom Line?
Now, a 0.7-mph drop in average bat speed doesn't seem like a lot, but as you saw, it makes a BIG difference in barreling the ball.  As retired Physicist Dr. Alan Nathan says:
If ball hits bat 1-inch off sweet spot = then 1 to 2-mph DECREASE in Ball Exit Speed (that's 4 to 8-feet less distance!)
If ball hits bat 2-inch off sweet spot = then 2 to 3-mph DECREASE in Ball Exit Speed (that's 8 to 12-feet less distance!)
If ball hits bat 3-inch off sweet spot = then 3 to 4-mph DECREASE in Ball Exit Speed (that's 12 to 16-feet less distance!)
So, not only are hitters losing bat speed using a batting weight on the on-deck circle, but by barreling up the ball LESS OFTEN, they're losing batted ball distance as well.  Aside from swinging the hitter's own bat, I'd say swinging a lighter bat – faster – would help the body recruit more of those white fast twitch muscle fibers before stepping in the box.
Your thoughts?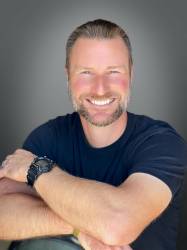 Latest posts by Joey Myers
(see all)
https://hittingperformancelab.com/wp-content/uploads/2017/06/Youth-Baseball-Softball-Batting-Weight-Donut-NOT-Doughnut-Benefit-To-Little.png
423
800
Joey Myers
https://hittingperformancelab.com/wp-content/uploads/2021/10/hitting-performance-labs_c90c0362088ef1d3d528f3078f4f8ac1-300x75.png
Joey Myers
2022-08-16 09:30:08
2022-08-16 17:47:33
Youth Baseball Softball Batting Weight Donut (NOT Doughnut!) Benefit To Little League Swing? | Amazon, Easton, Power Wrap, & Varo Reviews