Josh Hamilton Part-1 VIDEO: How-To Optimize A Hitter's Timing
Thank you for "Liking" and Subscribing to my Facebook fan-page!
Coaches Just Don't Teach Timing (or don't know how)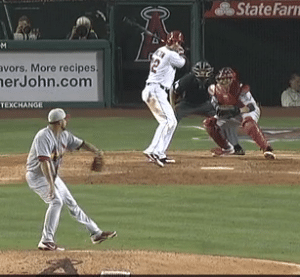 …In this Josh Hamilton video we're focusing on what most coaches don't tell you (or simply don't know) about calibrating the timing of a hitter. You can have the best hitting mechanics, but if timing is off, results can be frustrating. In this video, we'll analyze:
When does a swing start?
Leg kick or slide step? and
How to practice timing?
When Does a Swing Start?
Short answer? About when the hitter picks the front foot up. When walking, you can't take a step forward without picking up your foot and putting it back down. This is why I hate "no-stride" coaching cues. Here's how walking bio-mechanics work:
Front heel hits the ground signals pelvis to open.
Same timing signal travels up the spine to the shoulders, telling them to counter-rotate the pelvis.
This is why your opposite arm and leg come forward at the same time.
This simple timing mechanism is important to hitting. Hitting experts call this torque, but really, it's how humans are designed to move against gravity using the spine for locomotion. CLICK HERE for a more in-depth study on walking bio-mechanics according to Dr. Serge Gracovetsky.
Leg Kick or Slide Step?
It ALL depends on a batter's moving parts…
Leg Kick a-la Josh Hamilton forces the hitter to start the swing sooner. Hamilton starts his when the pitcher breaks the hands.
Slide Step a-la Mike Trout can start their swing later. You'll see these types of hitters picking their front foot up when the pitcher lands and/or begins forward movement with the arm.
How-To Practice Timing?
SEVEN ways a hitter can practice "collecting data":
LIVE arm: whether seated – on a bucket, kneeling, or standing.
Soft toss or LIVE: throw baseballs, whiffle, dimple, tennis, golf, or dried pinto beans.
Broad focus: have hitter pick out a point in the pitcher's delivery to start the swing.
On-Deck circle: work on when to pick front foot up.
Sit in on Bullpens: hitter passively (no swings) sits in on pitcher bullpens (with a helmet on of course).
Pitcher's BP: have pitchers trade off throwing batting practice (advanced).
Intra/Inter-squat games.
Above-all, be safe. The truth about timing? It takes reps, reps, and more reps. In a couple days, we'll explore Part-2: Can Stride Length Kill Your Bat Speed? (Experiment analyzing Troy Tulowitzki).
https://hittingperformancelab.com/wp-content/uploads/2021/10/hitting-performance-labs_c90c0362088ef1d3d528f3078f4f8ac1-300x75.png
0
0
Joey Myers
https://hittingperformancelab.com/wp-content/uploads/2021/10/hitting-performance-labs_c90c0362088ef1d3d528f3078f4f8ac1-300x75.png
Joey Myers
2014-06-03 17:01:34
2018-05-17 19:56:20
Josh Hamilton Part-1 VIDEO: How-To Optimize A Hitter's Timing