Faster Bat Speed Hitting Training Drills For Youth Baseball & Softball Power | Ted Williams & Matt Kemp Swing Analysis Breakdown
Learn how to get faster bat speed with these hitting training drills for more youth baseball and softball power. Discover the increase bat speed secret in this Ted Williams and Matt Kemp swing analysis breakdown.
Matt Kemp: Unique Ted Williams Power Secret
Imagine if I asked you to take a ride in my 2-year-old son's favorite sports car and ultimate luxury vehicle, the Lamborghini Aventador…cherry red.
Costs about $400K, has 720 horse-power, and goes zero to sixty-mph in 2.8 seconds. I'm drooling just thinking about it. What if I also told you it had no brakes. The manufacturer just "forgot" to install them. If you know I have a lead foot, then would you still want a ride?
I tell my hitters that someone like Matt Kemp or Ted Williams are using both rotational and anti-rotational systems during the swing.
Think of them as acceleration and braking systems, and both are important to a friction-free swing. Our focus today will be optimizing these systems during the stroke. We're going to highlight:
The science of accelerating & braking systems,
Matt Kemp & Ted Williams (who has the more efficient braking system?)
How to tune-up your acceleration & braking system.
SCIENCE-BASED TRAINING:
Improve your hitting strategy dramatically by applying human movement principles.
Learn not only how and what to train but also the science behind the methods.
The Science of Accelerating & Braking Systems
Thomas Myers in his book Anatomy Trains
talks about 9 different fascial lines found throughout the body that inter-weave and inter-relate during human movement. We'll be highlighting one in particular called the Functional Lines (pictured right). CLICK HERE for a brief background on springy fascia.
Thomas Myers says that Functional Lines mainly come into play in the following athletic events:
Shot Put, Javelin, Discus, and Hammer Throws,
Tennis,
Golf, and of course
For hitters like Matt Kemp & Ted Williams
Thomas Myers says,
"These lines enable us to give extra power and precision to the movements of the limbs by lengthening their lever arm through linking them across the body to the opposite limb in the other girdle."
Imagine a big "X" painted on your chest and back, connecting the right shoulder to the left hip, and vice versa. Thomas Myers refers to them as Front Functional Lines (FFL) & Back Functional Lines (BFL). He uses a couple different examples to illustrate the braking system in action:
"Pitching a baseball or bowling a cricket are perfect ways to engage these lines: the wind-up involves a shortening of the BFL and a stretching of the FFL, while the pitch itself reverses that process, shortening the FFL and stretching the BFL. In the final act, the BFL acts as a brake to keep the strong contraction along the FFL and the momentum of the arm from going too far and damaging joints involved in the movement."
You still following me? It's okay if not. We'll simplify in the next section…
Matt Kemp & Ted Williams (who has the more effective braking system?)
I want to compare Matt Kemp to Ted Williams because they have similar body types, according to Baseball-Reference.com:
Simplifying the acceleration/braking systems, we can just follow the front shoulder to see who is being more efficient with their Functional Lines. Consider Ted Williams:
Now, check out the difference with Matt Kemp:
That's right, Matt Kemp finishes with his left shoulder up! Not convinced? Check out the photo of his finish at the beginning of this post. He's not being very efficient with his braking system. Matt Kemp is leaving repeatable power on the table (which is scary!)…to polish, he'd have to:
Get more downhill shoulder angle before landing,
Show more of his numbers to the pitcher, and
Focus on finishing "barrel down" with his top hand release.
How-to Tune-Up Your Acceleration & Braking Systems
There are a couple quick exercises and stretches that Thomas Myers recommends to tune-up both Functional Lines:
Do the above four 1-2 times daily for 3-weeks.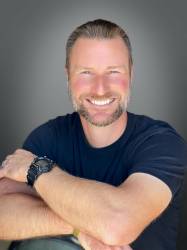 Latest posts by Joey Myers
(see all)
https://hittingperformancelab.com/wp-content/uploads/2014/12/How-to-Increase-Bat-Speed-Hitting-Power-Like-Ted-Williams-and-Matt-Kemp.png
423
800
Joey Myers
https://hittingperformancelab.com/wp-content/uploads/2021/10/hitting-performance-labs_c90c0362088ef1d3d528f3078f4f8ac1-300x75.png
Joey Myers
2022-11-14 09:45:48
2022-11-14 22:11:56
Faster Bat Speed Hitting Training Drills For Youth Baseball & Softball Power | Ted Williams & Matt Kemp Swing Analysis Breakdown