Baseball Batting Drills: STOP Dipping Back Shoulder Video
"What Baseball Batting Drills Work For Stopping Dipping Of The Back Shoulder?"
PLEASE NOTE: this baseball batting drills post presupposes the hitter is getting an extreme barrel vertical angle at impact. In other words, they're dissecting the pitch plane from down to up. There are natural elements to dipping the back shoulder…this article goes into fixing the extreme.
In this baseball batting drills video, we answer the reader question above. We go over:
Springy fascia & tracking the front shoulder,
Mechanical dominos that cause upper cutting, and
A couple fixes…
Springy Fascia & Tracking the Front Shoulder
Here are past HPL baseball batting drills posts on springy fascia – and the tracking of the front shoulder – in relation to the swing:
Mechanical Dominos that Cause Upper Cutting
Here is a baseball batting drills list of faults I find that CAN contribute to upper cutting:
Poor barrel launch angle,
Early arm barring,
Hand drop,
Upward shoulder angle at landing,
Racing back elbow,
Steep front upper arm at landing, and
Too much downhill shoulder angle…
SCIENCE-BASED TRAINING:
Improve your hitting strategy dramatically by applying human movement principles.
Learn not only how and what to train but also the science behind the methods.
#1 would be a hitter having a flat bat, or close to flat, at stride landing. This shifts the bat's center of mass behind the hitter (instead of above), which typically brings in #2, to lever the bat into the impact zone.
#3 can be caused by both #1 & #2, but if the hands don't come back up before landing (a la Josh Donaldson above), to a "knockout punch" position, then this hitter will most likely have to uppercut anything in the zone above the hands.
An upward shoulder angle at landing, #4, will most likely result in uppercutting and/or a collapsing of the backside.
#4 can be observed along with numbers 1 and 2, but not always. Racing back elbow causes the barrel to get really steep early in the hitting zone, which leads to a lot of weak fly balls to the opposite field. AND, because of the steep vertical angle of the barrel, a roll over correction will happen later in the barrel's path resulting in grounders to the hitter's pull side.
About #5, if the front elbow gets caught 'tucked in' at landing (elbow pointing down at the ground), then an uppercut will most likely happen. And this 'tucking' will happen most likely because of #6, too steep of a shoulder angle.
Baseball Batting Drills Fix…
Setting the tee higher in the zone,
Fixing the barrel launch angle from 45 to 55-degrees, shoulder angle about 8-degrees down, and/or front arm angle to about 90-degrees to the spine at landing,
Finger pressure (bottom three fingers of the top hand only),
Have hitter explode into impact with the 'back arm pit' (see Josh Donaldson last frame above),
Keeping slight bend in front elbow at start of the turn, or
Using the RopeBat.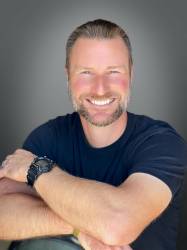 Latest posts by Joey Myers
(see all)
https://hittingperformancelab.com/wp-content/uploads/2016/04/baseball-hitting-drills-for-power-josh-donaldson.jpg
375
500
Joey Myers
https://hittingperformancelab.com/wp-content/uploads/2021/10/hitting-performance-labs_c90c0362088ef1d3d528f3078f4f8ac1-300x75.png
Joey Myers
2016-03-25 03:40:47
2020-12-01 07:43:49
Baseball Batting Drills: STOP Dipping Back Shoulder Video