STOP 'Squishing Bugs'! Zepp Swing Study Reveals Average 8-MPH Bat Speed INCREASE Doing Complete Opposite Of 'Squishing The Bug'
In This Baseball/Softball Hitting Video, You'll Learn…
The Zepp swing experiment revealing whether "Squish the Bug" swing mechanics depress bat speed,
The answer to the reader question: "How do you get guys off their Back foot?" And, we'll cover the following points…
Teach squishing bug to 10U only?
Shifting foot pressure,
Committing percentage of weight to front side,
Front foot variance (how to do this is not included in this video), and
Back foot variance (how to do this is not included in this video).
Question: Do "Squish the Bug" Baseball Swing Mechanics Depress Bat Speed?
Using the Zepp (Labs) Baseball app
, I wanted to use the Scientific Method to analyze if the baseball swing mechanics "squishing/squashing the bug", during the turn, increases or decreases bat speed. The term "squishing the bug" means rotating the back foot, on the ground, during the turn. Like you're squishing a bug.
This can be a very sore subject, and hotly debated with a passion, in the Church of Baseball. Surprisingly, it's still widely taught throughout the lower levels. Although a few images off the internet of effective swingers like Cano, Bautista, McCutchen, etc. will reveal "squishing the bug" isn't what the best are doing.
So we wanted to test it…
My intern for the summer, redshirt college freshman Tyler Doerner did this experiment. This post is for you Joe (you know who you are ;-)…
Background Research
One of the main objectives of whether to skip the foot, or keep it on the ground, has to do with transferring linear momentum, better known as un-weighting or forward momentum. Check out these four HPL posts for a baseball swing mechanics background on this:
Now, for you academics, CLICK HERE to watch a short 2-minute PBS video on Circus Physics and the Conservation of Linear Momentum.
So, after reading/watching the above videos and posts, we should be at a common understanding of Forward Momentum.
The next objective of "squishing the bug" versus "skipping the back foot" during the turn, boils down to allowing the body to transfer energy effectively. This has to do with springy fascia in the body…
In Thomas Myers's book Anatomy Trains
, he talks about a cotton candy like springy material that the bones and muscles float it, and what gives muscles their shape called fascia.
Specifically in the book, he talks about the Front & Back Functional Lines. CLICK HERE for a post I did on this, featuring Ted Williams and Matt Kemp.
In the following video, Thomas Myers explains this idea of Tensegrity, or Tension-Integrity. There are compression and tension forces acting on the body at all times. Within the body these two opposing forces are always searching for balance…
For a hitter, if the body moves forward, but the back foot and leg stays behind, then these forces don't get optimally transferred from body to barrel to ball. In other words, the backside gets "left behind".
Hypothesis
Based on the above research, I think "squishing the bug" baseball swing mechanics will have a depressing effect on bat and hand speed because it doesn't allow for full transfer of momentum and release of elastic energy in the springy fascia.
"Squish the Bug" Baseball Swing Mechanics Experiment
Equipment Used:
Setup:
Forward momentum was taken out of this baseball swing mechanics experiment by hitting from a 1-2 second pause at landing
Back two "baseball markers" were set at about 3 baseballs apart
The two tests in the experiment were counter-balanced. Which consisted of eight blocks of 25-swings done in the following order ABBA BAAB. Say "squish the bug" was letter 'A', and "skipping back foot' was letter 'B'. 200 total swings were completed in the experiment, 100 per test. Counter-balancing helps remove the "getting tired" and "not being warmed" up factors.
Data Collected (Zepp Baseball App):
Data Analysis & Conclusion
+8-mph difference in average Impact Bat Speed, siding on "Skipping Back Foot",
+3-mph difference in average Hand Speed Max, siding on "Skipping Back Foot",,
-0.019 difference in average Time To Impact, siding on "Skipping Back Foot", and
+4-degree difference in average Attack Angle, siding on "Skipping Back Foot".
Notes
I think the "Squish the Bug" baseball swing mechanics experiment results were overwhelmingly clear.
Tyler did not technically keep his back foot posted to the ground during the "squish the bug" tests, so there still was an element of un-weighting going on with his backside.
In which case, measuring Ball Exit Speed (or how fast the ball came off the bat) may have netted interesting data to consider, compared to Impact Bat Speed. However, with the results with the other readings of Avg. Hand Speed, Time To Impact, and Attack Angle, I think we can put the "Squish the Bug" baseball swing mechanics myth to bed 😀
The data and results suggests that when a hitter "leaves behind their backside", there's a slowing down of forward momentum, and the body naturally decelerates because the springy fascia is forced to stretch, but not release.
Keep in mind what I call the Goldilocks Syndrome. The back foot can skip too far (porridge too hot), and it can also not skip at all (porridge too cold). We want the back foot to skip just right.
The Bottom Line?
In this "Squish the Bug" baseball swing mechanics experiment, "Skipping the Back Foot" showed a notable difference in average Bat & Hand Speed, Time To Impact, and the hitters Attack Angle. I want to encourage you to tinker and test this for yourself. The objective of these swing experiments is to put modern hitting theory to the test, literally. We NEED to test based on data, not feelings. Share these results with friends.
CLICK HERE for the main drill I use with my hitters to help them "Skip the Back Foot".
Introducing the Reaction Time Mastery Online Video Course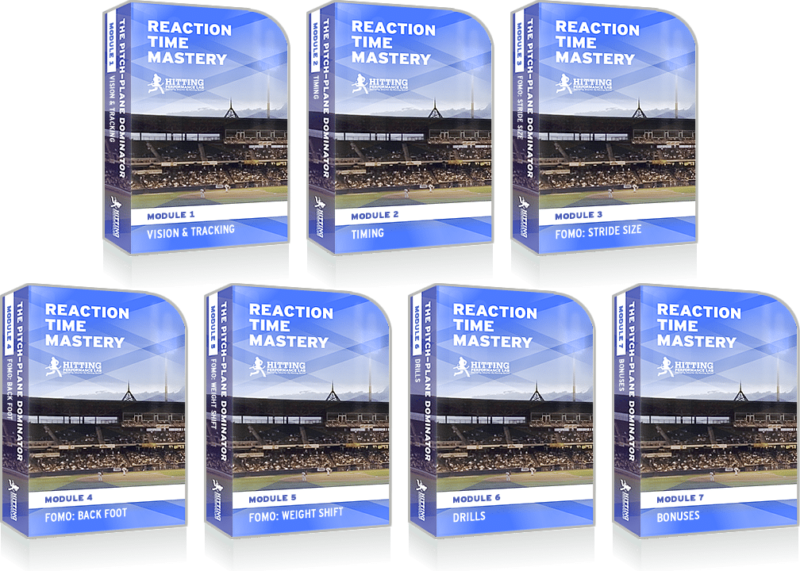 Sick of struggling to get your hitters on-time, balanced, and keeping high Ball Exit Speeds, especially while hitting off-speed and breaking pitches? This online video course (7-modules total) reveals cutting edge science on the topics of: Vision, Tracking, Timing, and Forward Momentum. Finally, you'll be able to track pitches crystal clear, accelerate reaction time decision-making, & get ON-TIME without losing swing effectiveness with this "secret" online video course you can't live without.
If you haven't already, then CLICK the Link below to…

https://hittingperformancelab.com/wp-content/uploads/2021/10/hitting-performance-labs_c90c0362088ef1d3d528f3078f4f8ac1-300x75.png
0
0
Joey Myers
https://hittingperformancelab.com/wp-content/uploads/2021/10/hitting-performance-labs_c90c0362088ef1d3d528f3078f4f8ac1-300x75.png
Joey Myers
2016-02-02 18:31:08
2018-05-17 19:53:50
STOP 'Squishing Bugs'! Zepp Swing Study Reveals Average 8-MPH Bat Speed INCREASE Doing Complete Opposite Of 'Squishing The Bug'