Ryan Braun: Common Mistakes Hitters Make #1
Does Ryan Braun Hit Backwards? Common Mistake #1 (of 4)…
In the first installment of the Hitting Backwards: 4 Common Mistakes Hitters Make video series, featuring Ryan Braun, we're analyzing why "Sitting Back" is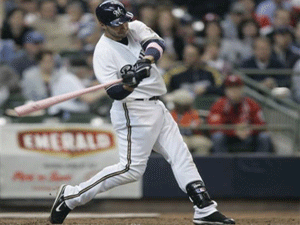 so destructive to friction-free mechanics. The WHY boils down to a strange word…
According to IdeaFit.com,
"Proprioception is the body's ability to transmit a sense of position, analyze that information and react (consciously or unconsciously) to the stimulation with the proper movement (Houglum 2001)."
The brain does whatever it needs to balance physical movement. Let's discuss the following compensations caused by "Sitting Back":
Eyes and head shift forward during Final Turn,
Lunging, and
Front shoulder flies open.
Eyes and Head to Shift Forward During Final Turn
Ryan Braun's friction-free swing is like snapping a towel. Throw the towel end towards the intended target, then quickly snap it back. We're getting eye-head movement out of the way early, then shifting our spine up and back towards the catcher – snapping the barrel into the impact zone. Ryan Braun does this!
Sitting back makes the hitter do the opposite…
Keep the hitter back till the last possible second, then
The hitter has to shift their weight forward to counter-balance because of proprioception, and
As a result, shifts the head and eyes forward.
Lunging
What's your definition of lunging? When Ryan Braun lands his front foot, his knee virtually floats above his ankle. My definition of lunging is when the front knee continues to float over or passed the ankle during the Final Turn. It's a very ineffective position to hit in because the head will continue moving forward.
Here's how sitting back causes lunging:
Hitter shifts weight to back leg,
Reaches out softly with the stride foot, like a cat (and oftentimes too early)
Waits till ball is on the way, then
Because the body isn't balanced, the brain shifts the hitter's weight forward with no hope of getting back,
So the hitter continues forward until he or she hits (or misses) something.
Front Shoulder Flies Open
Unlike Ryan Braun, most 'Sit Back' hitters:
Have hand dominant swings. Since the shoulders are closest to the hands, they have to start earlier to get the hands working.
Don't set up the natural rotation counter-rotation relationship of the pelvis and shoulders* before the front foot hits the ground. This causes the shoulders to compensate and open prematurely.
Open their hips and shoulders at the same time. If this happens, a hitter will max out at 60-70% of their ability to transfer energy efficiently from body –> to barrel –> to ball. This put smaller hitters at a disadvantage by dramatically decreasing power output.
Have a difficult time keeping the front shoulder in with off speed and breaking balls. It's easy for pitchers to disrupt a Sit Back hitter's timing. Their brain is focused on too many things at once: timing, proprioception, and pitch speed/location (because of late head-eye movement).
*CLICK HERE for an in-depth look at spine engine mechanics according to Dr. Erik Dalton. Read below the subtitle, "The Spring-Loaded Spiraling Spine".
CLICK HERE for Part-2 to the Hitting Backwards video saga, where we'll analyze Adrian Gonzalez and Common Mistake #2: loading the swing incorrectly…
https://hittingperformancelab.com/wp-content/uploads/2014/05/ryan-braun-part-4-video-why-sitting-back-is-devastating-hitting-performance-lab.jpg
360
480
Joey Myers
https://hittingperformancelab.com/wp-content/uploads/2021/10/hitting-performance-labs_c90c0362088ef1d3d528f3078f4f8ac1-300x75.png
Joey Myers
2014-04-12 04:35:30
2021-05-25 06:24:57
Ryan Braun: Common Mistakes Hitters Make #1