STOP Chopping Hitting Ground Balls For Baseball Or Fastpitch Softball? Too Many Pop Flies? Want To Hit More Line Drives Instead? Try These Drills!
Do you want to STOP chopping and hitting ground balls for baseball or fastpitch softball? Or you may be hitting too many pop flies? Do you want to hit more line drives instead? Try some of the drills mentioned in this interview with Perry Husband (EffectiveVelocity.com) and I…
"Put Hitters In Charge…Our Job Is To Eliminate Our Job" Perry Husband & HPL Hitting Jam Session #4
Here's the Hitting Jam Session Interview Collection with Perry Husband:
[YOU ARE HERE] Teach: How To STOP Hitting Excess Of Ground-balls & Fly-balls
Here's what we discuss in this episode:
"How do I get my son to stop hitting an excess of ground-balls (or fly-balls)?"
How swing intention is great, but its benefits can be suppressed by physical limitations,
The key 'tinker & test' learning principle helping hitters learn faster,
Why a hitting coach's job is to eliminate their job,
And much more!
Hitting Jam Session 4 above jumps right into the conversation already started…
SCIENCE-BASED TRAINING:
Improve your hitting strategy dramatically by applying human movement principles.
Learn not only how and what to train but also the science behind the methods.
Show Notes
At about the 1-minute mark, question: how do I get my son to stop hitting ground-balls OR how do I get my son to stop uppercutting? What drills and mechanics? What's most essential get barrel on plane of the pitch. If hitting too many ground-balls, then tell hitter to swing up. If hitting too many popups, then tell hitter to swing down. Perry talks about ground-balls most likely indicate being too early, and fly balls swinging too late. Take BP round, up solid, down solid, then find the middle solid. Matching feel and real, set up targets at distances on the field, like at a driving range in golf, and have hitter hit different target distance…hit a one-hopper v. 3-hopper v. 5-hopper v. NO hopper. Now coach can cue that to correct extreme barrel angles. Hitter can feel it but not see it, while coach can see it but not feel it. Match real and feel.
At about the 7-minute, 30-secs mark, Carlos Pena really struggled on the up and in part of the strike zone (in 2009), what did Perry do to fix that…part was physical: he was really bent over at the waist (was at a 50-degree hip hinge – straightened him up a bit), the other part was approach: INTENTION…hunting up and in, trust ball flight to get what the reality is, using Bernstein's Law of intent to change ball flight
At about the 12-minute mark, Joey Votto trying to cut down on strikeouts and wanting to match the pitch plane to give up some homers, Votto talked about how Mike Trout could put the ball anywhere on the field you asked him, don't be obsessed with Launch Angles – gotta take care of the horizontals too, Ben Hogan willing changes to happen, Perry talked about demonstration of holding paper clip tied to a string, and paper clip starts spinning in a circle if you think it, control knobs in fingertips, intent is great but may be limited to physical ability, on Votto's 2-strike approach changes – missing more balls he should've driven because he puts more emphasis on weighting the backside
At about 17-minute mark, if hitter swings up and is late, they'll hit a lot of grounders, how to develop feel for things, swinging different sized and weighted bats (end loaded, balanced, and knob weighted), hitting different sized and weighted of balls, swinging at different points in the zone, hitting targets on the field at different depths, Make It Stick by Peter C. Brown on the power of variance, the Bean Bag study and the 2 bucket challenge, building multiple reference points, Perry played game with hitters in the cage, based on his 10-degree Launch Angle target in the cage 1-5 point scale, only get 10 balls (minimize 1's and 2's) – once they think about getting a 5, hitting the 3's and 4's are easier…intention: focus on ball flight
At about the 25-minute mark, Aaron Miles and our phone conversation about quality v. quantity swings, screwed up a bunt in game and next day cranked machine up to 95-mph on the field before game and bunted, Miles went on a tear after that, quantity reps are great but they better be quality reps, Aaron Miles coaches indy team in NorCal and says he'll take a hitter who can hit 40 line drives out of 50 versus only 20, CLICK HERE for Perry's launch angle tee test chart, I do similar test to get a ballpark of where the hitter is at – before lesson I have tee setup middle-middle and let them take 5 or so swings and make note of where they're hitting the ball vertically and horizontally, if it's measureable, then it's manageable – even if you're measuring distance (or eyeballing it)
At about the 33-minute, 30-secs mark, I asked Perry's advice on the following comment from a 13yo hitter I received on one of my YouTube videos…
"I have been doing your catapult loading system
method for hitting for about a month and a half now. I am the hitting ball harder than ever and it feels great. A coach yesterday, (while I was was hitting front toss at the beginning of practice) said that he thought I was rotating my shoulders too much and should keep a better posture in my swing. I got the hunch from your book. So I explained to him the catapult loading system
method and he didn't like it. He said it will cause me to pull off the ball and that no big leaguers do it. Then I named josh Donaldson, Aaron judge, and Andre mccutchen and said they all do it. He didn't give me a really definitive answer after that. This coach uses the method of making a "positive move" towards the ball and "walking away from your hands" which I remember in your book you said is not what you teach. I am 13 and I was wondering how should I tell coaches about the catatpult loading system
and why you don't you like the "waking away from hands" method. I have had 3 coaches now comment on me showing the numbers and hiding the hands and they all said I won't be able to hit faster pitching with it, but I have been smashing the faster pitchers (70-75 mph) and have done fine with it. Thx"
…Perry asks hitters whose swing do you have, put hitters in charge, our job is to eliminate our job, hitter tells coach "Thank you, I'm going to give it a shot", takes time to make changes in swing, not going to happen overnight, this player is on the right track, listen, soak it in, let some things leak back out
At about 38-minute mark, comment on my blog from alphabet soup acronym expert bashing tee use (CLICK HERE for link to comment)…you can hit a curveball farther because it arrives with backspin (from hitter's perspective) and bat-ball collision wouldn't have to reverse spin like a fastball arriving with topspin, Perry talked about how much farther hitters hit a ball off the "hover-ball" tee when backspin is put on ball before hitting it, 211 players averaged over .400 hitting 100-mph+ ground-balls, type of spin hitter puts on batted ball ball IS NOT predetermined by starting spin from pitched ball.
At about 49-min mark, how batting tees (like the Backspin Tee) can be beneficial to hitters, doing "circle drill" pitch recognition using tee in ideal situation, the only bad thing about hitting off tees is turning the head to see ball hit bat, in reality the brain doesn't every see this happen, anti-tee people would be a difficult thing to promote,
At about 53-minute, 30-secs mark, Perry shows swing analysis swing-and-miss example of Spring Training game, being late on the pitch and where the barrel is at certain point in time, line of ball is at 4-degrees – barrel path is at about 13-degrees, clearly not in line with line of ball, pitcher ended up throwing right into this guy's barrel middle away after throwing 3-pitches by him – dinger! Target rich environment out there, most hitting approaches will work until pitchers go EV,
You can find Perry Husband at EffectiveVelocity.com, use EV25 coupon code for any of the online courses. @EVPerryHusband on Twitter, and @PerryHusband on Facebook
My offer…FREE Catapult Loading System 2nd edition print book – just pay $8.95 shipping and handling (retails on Amazon for $19.97) – in addition you'll get our essential consistent power online video mini-course Power Hitter 2.0: Engineering The Alpha: https://www.truthaboutexplosiverotationalpower.com/pl/60039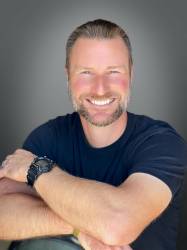 Latest posts by Joey Myers
(see all)
https://hittingperformancelab.com/wp-content/uploads/2019/03/Joey_Perry_Hitting_Jam_Session_4-e1552593244194.png
282
500
Joey Myers
https://hittingperformancelab.com/wp-content/uploads/2021/10/hitting-performance-labs_c90c0362088ef1d3d528f3078f4f8ac1-300x75.png
Joey Myers
2022-06-06 09:00:17
2022-06-07 20:45:16
STOP Chopping Hitting Ground Balls For Baseball Or Fastpitch Softball? Too Many Pop Flies? Want To Hit More Line Drives Instead? Try These Drills!