Andrew McCutchen Baseball Hitting Video Secret
In This Andrew McCutchen Baseball Hitting Video (2 of 4),

…of the Do This For Longer Drives series, we're going to: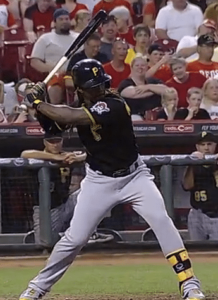 Discuss when barring the front arm is okay,
Explore the science of spinning fast,
See how effective The Cutch is at turning, and
Look at how to work on this at home.
CLICK HERE to watch the – 2 min, 5 second – PBS Circus Physics video about the Conservation of Angular Momentum, or turning faster.
Straightening the Front Arm Out…Good or Bad?
Also referred to as bat drag, arm barring, or casting. Let me clarify:
Arm barring GOOD: to make an impact adjustment to outside or lower pitches, and through extension
Arm Barring BAD: before and during the front heel touching down, and before barrel whips back towards catcher's glove
The Science of Spinning Fast
IF straightening the front arm out before the front heel touches down proves for a faster turn, then why doesn't controversial 2014 Gold Medal winning ice skater Adelina Sotnikova do this during one of her big turning jumps?
Because it's ineffective for humans to quickly turn this way. When Adelina wants to slow down, she extends her arms and legs away from her body. In hitting, it's important to turn fast, stay compact, and do it early. Before the barrel gets onto the plane of the pitch. In which case, the front arm needs to stay slightly bent.
WHY?
Because if the hitter bars the front arm out early, they will spin slower, which will force the hitter to make a decision to swing the bat sooner. Translation, the hitter has LESS reaction time! AND will be vulnerable to inside and higher pitches in the zone because of their higher perceived velocity to the hitter, according to Perry Husband's EV system.
If we keep a slight bend in the front elbow, then we have the option to keep it bent and spin faster (if we need to on the inside or high pitch), or we can let the front arm extend on pitches down or outside because these pitches are perceived slower (via Perry's EV system), and the hitter has more time to get to those pitches.
Did Cutch Pass the Turning Speed Test?
In the above Andrew McCutchen baseball hitting video, science clearly says that 'Cutch' can in fact turn faster during his Final Turn.
However in this Andrew McCutchen baseball hitting video, he can get away with it because of his shorter arm span in comparison to a hitter with a longer one, like Miguel Cabrera. Cabrera would have to stand farther off the plate to make an early arm bar work. Similar to what Ken Griffey Jr. did.
And as we'll discover what force bleeding compensation he makes – possibly – because of his early arm barring in Part-3 of the Andrew Mccutchen baseball hitting video: Do This For Longer Drives video series.
How Do We Practice a Faster Turn at Home?
Break the swing into two-steps: 1) To the Fight Position (Landing), and 2) the Final Turn
Use a mirror or batting tee
Video analysis feedback – either Coach's Eye app (free for android) or Ubersense app (free for iphone)
Hitter "hides their hands from the pitcher", while keeping a slight bend in the front arm
Going into the Final Turn, the hitter will try and "crush the catcher's glove" without extending the front arm
CLICK HERE for Part-3: Do This For Longer Drives: Andrew McCutchen baseball hitting video series, where we look to see if Cutch breaks the One-Joint Rule…If you missed Part-1, then CLICK HERE.
https://hittingperformancelab.com/wp-content/uploads/2014/05/andrew-mccutchen-part-3-video-the-science-of-turning-faster-hitting-performance-lab.jpg
360
480
Joey Myers
https://hittingperformancelab.com/wp-content/uploads/2021/10/hitting-performance-labs_c90c0362088ef1d3d528f3078f4f8ac1-300x75.png
Joey Myers
2014-02-26 23:45:42
2018-12-10 05:30:54
Andrew McCutchen Baseball Hitting Video Secret