Andrew McCutchen Video: Do This For Longer Drives
In This Andrew McCutchen Video (1 of 4),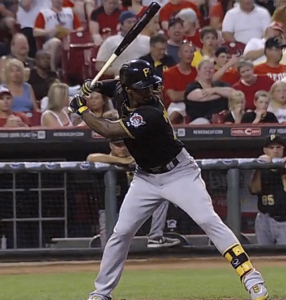 …We're going to look at how 'Cutch' (5'10" 190 lbs*) used Science to beat Paul Goldschmidt (6'3″, 245 lbs*) for the 2013 NL MVP.  McCutchen has to stay close to human movement science in order to compete with big guys like Goldschmidt.
(*according to Baseball-Reference.com)
In this Part-1 video, we'll:
Demo the Un-Weighting Principal,
See how Cutch either DOES or DOESN'T use this in his swing, and
Look at how to work on this at home.
For a different angle on this, CLICK HERE to watch the – 1 min, 58 second – PBS Circus Physics video about the Conservation of Linear Momentum (aka, the Un-Weighting Principal).
A few notable explosive rotational athletes who also use this human movement rule:
Olympic throwers (javelin, hammer, and discus)
Olympic shot putters
Olympic jumpers (high, long, and triple)
WHY the Wide Stance?
I get tired of hearing about instructors pushing the wider [non-athletic] stance.  This makes it difficult to create any forward movement in the swing, and see it's benefits (read below).
I ask my students…what position – with your feet – would you want to cover a fast wide receiver?  How about guarding an agile soccer striker?  Or jumping to slam dunk a basketball?  Hitters need to start from an athletic stance – feet slightly wider than shoulder width.
"Sitting back" isn't very effective when it comes to dynamic human movements.
As a famous Samurai swordsman Miyamoto Musashi once said:
"In all forms of strategy, it is necessary to maintain the combat stance in everyday life and to make your everyday stance your combat stance." – Musashi, The Water Book
Un-Weighting Principal Benefits:
Feel lighter in Final Turn
Easier to move heavy objects
Get a 'head start'
How Does Andrew McCutchen Do This?
Front hip moves forward
Head movement is okay to heel strike
NO push, natural fall forward
How-To Practice at Home (feedback marker setup)
Back marker (dimple ball or duct tape) inside back foot
Front marker is hitter's bat length, plus one or two baseballs in front
Get "front hip" to front marker
Set tee slightly behind front marker
CLICK HERE to watch Part-2, Andrew McCutchen: Do This For Longer Drives.  We'll look at how effective Cutch's Final Turn is…or isn't.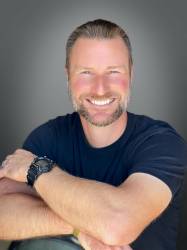 Latest posts by Joey Myers
(see all)
https://hittingperformancelab.com/wp-content/uploads/2014/09/andrew-mccutchen-un-weighting-principal2.png
530
506
Joey Myers
https://hittingperformancelab.com/wp-content/uploads/2021/10/hitting-performance-labs_c90c0362088ef1d3d528f3078f4f8ac1-300x75.png
Joey Myers
2014-02-20 23:40:15
2018-11-17 05:58:43
Andrew McCutchen Video: Do This For Longer Drives