See How Easily You Can Fix a "Bleeding Barrel"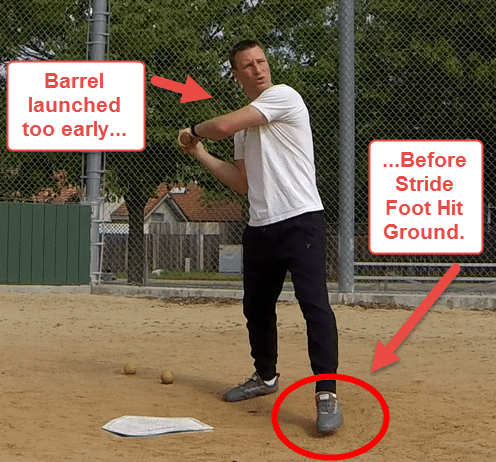 This time of the season, I'm getting a lot of younger hitters starting their turn before the stride foot hits the ground.
I ask them if they throw a baseball or softball before their stride foot hits the ground?
Try it…
Feels awkward doesn't it?!
Why are these younger hitters starting their turn before landing their stride foot?
Because of a flat barrel at or close to landing.
I also called it a "bleeding barrel" in this post that analyzed Paul Goldschmidt's swing.
A flat barrel can cause:
Early arm barring,
Launching the turn too early, and
Inconsistently barreling the ball.
The biggest reason is because when the hitter flattens out the bat at or slightly before landing, it shifts the center mass of the bat behind the center mass of the hitter.
The video above is my favorite prescribed drill for fixing a "Bleeding Barrel" and a flat launched bat.  Here are the video notes:
What was once Pre-Launch Barrel Angle,
Fixing throwing before front foot lands v. Final Turn before front foot land,s
Center mass of the bat,
Variance using feedback markers, and
As close to landing as possible.
Please keep me updated on your hitters using the Flashlight Barrel Angle Drill…
I'm a member of the American Baseball Coaches Association (ABCA), the International Youth and Conditioning Association (IYCA), and the Society for American Baseball Research (SABR).I'm also a HUGE supporter of the Positive Coaching Alliance (PCA).

I've spent 11+ years in the corrective fitness industry, and have too many alphabet-soup certifications to bore you with.I also played four years of Division One baseball at Fresno State from 2000-2003.

It's NOT how you study, but what you study that counts.I apply human movement principles (or rules), validated by science, to hitting a baseball and softball.
Latest posts by Joey Myers (see all)
https://hittingperformancelab.com/wp-content/uploads/2017/03/flashlight-barrel-angle-drill-blog-post2.png
462
496
Joey Myers
https://hittingperformancelab.com/wp-content/uploads/2018/05/hitting-performance-labs_c90c0362088ef1d3d528f3078f4f8ac1.png
Joey Myers
2017-03-25 02:38:01
2018-06-25 04:41:18
How To Use The Flashlight Barrel Angle Drill To Boost Barreling The Ball