How To Get Hitters On-Time Using The 'Standard Artillery Round Adjustment Method'
Hitting Lessons From A Primary Firearms and Tactical Instructor?
In this post, I want to share a testimonial from one of the dads who drove up from San Diego (about 7-hour drive to me) with his two sons, Alex and Nick, to hit with me for a weekend, about 9 months ago.
Both young men are playing at the highest level in the Open Division in the CIF San Diego Section, Rancho Bernardo High School.  Alex is a Sophomore playing J.V., and Nick is a Senior playing Varsity this year.  Nick's Varsity Coach Sam Black, is the same one General Manager of the Oakland A's played for.
The reason I'm sharing this is because dad, Mark Coast, has a VERY credible background in human movement science.  THIS is what caused him to reach out to me after rummaging through HPL.  The following testimonial is VERY validating to the things we teach at HPL.
Here's the bio of Col. Mark Coast:
"I graduated from Cal State Northridge with a BS in Physics and Minor in Engineering in 1990. The same day I graduated college I was commissioned a second lieutenant in the Marine Corps Reserve. Nearly 30 years later I am now a colonel in USMCR. Since the time I graduated college I have served a combination of 8 years on active duty and nearly 22 in the reserve. During that period I deployed to Iraq four times (2003-2006), retired from DEA after 20 years (1996-2016) as a Special Agent, worked a few years as an optical mechanical design engineer, Adjunct Faculty at San Diego State University (2009 to present) and now a founder of a new company Ceveal Solutions, LLC. I have been a professional trainer for over 25 years experience. First, as an artillery officer with USMC, Non-lethal Weapons Instructor #1 for the Department of Defense, and as the Primary Firearms and Tactical Instructor for DEA. I completely understand the scientific process and apply proven training techniques of integrating gross and fine motor skills with hand-eye coordination in shooting, very similar to hitting and golf."
Now, here's the email he recently sent, updating me on the boys' progress this season.
It's a little long, but don't worry – if you stick through it – you'll get a few golden training nuggets…
Without further adieu, ENTER Col. Mark Coast…
"Joey,

I hope things are going well. I know you may not get much detailed feedback so I wanted to pass along something we learned the last couple weeks. We have been hitting like crazy and the results were good. One of the things we stressed was your recommendation of the

two plate drill

and it helped timing tremendously. Additionally, we worked hard on balance. We also increased reps off the pitching machine to adjust to velocity. They worked very hard to make balanced swings whether they hit or missed. This really improved their contact and consistently hitting with the same swing. However,

I wanted to determine why the boys were popping up occasionally in clutch situations

, which was unusual (pop ups). Thus, I set up a video camera and recorded their ABs. Here's what I learned…

Upon review of video after games I was seeing the boys take a damn hard cut at a ball for the first couple strikes. I would notice they would take a subtle step towards the plate on the follow through. I asked them why they were taking a step in the game and not in the cage? Their response,

"I want to crush the ball so I'm swinging harder during the game because we are pumped up."

I told them, this comes down to discipline and training. You play like you practice and practice like you play. You either swing like that in the cage or don't do it in the game. They said they wanted to swing hard like that in the cage, but they couldn't swing that hard for 10 pitches. I said that is exactly why Joey wants you to limit your swings to 3-5 reps.

They were very resistant to that because they "get in a rhythm" and like hitting for 10-12 reps. I told them it was reinforcing bad habits for game situations. The light bulb went on for them!

Nick has taken physics already and we drew a static diagram of a harder swing and asked him to show me and Alex where his barrel head will be when he swings with a larger angular velocity. He figured out the bat created a larger moment arm from his center of gravity [COG]. He realized his COG moved toward the plate (causing the slight step) and causing his barrel head to drop slightly causing the pop ups or foul tips.

They realized game time ABs creates adrenaline pumps and they swing harder in games and don't train with the same intensity in the cages, thus missing balls low. They NEVER drive a ball into the ground with less than two strikes! Always swinging harder than the cage during the game. However, they are damn good two strike hitters when they purposely dial back their swings with 2 strikes.

BTW, Nick has only 6 K's on the season and Alex has 2 K's. They rarely miss a pitch. Again, these boys are playing at the highest level in the Open Division in the CIF San Diego Section. BTW, not too bad on defense too. Nick has a 1.000 fielding percentage as a catcher and .800 caught stealing rate. Alex only has one E playing the corners.

Experiment: Go into the cage and take full momentum swings for no more than 3 reps and rotate for three rounds.

Hypothesis

: Their barrel heads would be under the ball in the first round. Second round they would apply bold adjustment method (standard artillery round adjustment method); swing below, above and then split the difference. Third round they will have taught themselves how much they need to raise their barrels heads to square up balls when swinging as hard as they can.

Results:

It went exactly as predicted. They rebalanced with the harder swing by moving their hips out (away from the plate).  

CLICK HERE

for the results during the games (Max Preps screen shots through today). They are absolutely crushing the ball. Nick is tied for leading doubles on his team, moved to hitting in the 5 hole. Alex similar results.

The last couple weeks they are coming through in clutch situations. Just this week, Nick walk off single in one game and lead off double to score winning run. Alex on Wed (btm of 12th) lead off double and was the winning run. Varsity coach (Billy Beane's HS coach Sam Black) said, damn the Coast boys are killing it and starting game ending rallies.

Last year when we came to you in Fresno, Nick was hitting .111 (popping most everything up). Alex was similar. Now they realize how to replicate their game swings. They are disciplined with their training of limiting reps to 3-5 per round. Their friends are now adapting this training method. I think it's ironic "The Factory" has kids coming over to hit in the cage at our house and adapting to your scientific approach to hitting. It is so cool to watch them adapt to technology and the collected scientific evidence and apply it effectively to the most difficult task in sports. I know when they coach later in life they will be better coaches. Thanks again for all your support and continued success.

Thanks,  Mark"
In addition, Col. Mark Coast added this to one of my replies…
"When their teammates see the results on the field they do not argue with success they just want to duplicate it. It's funny how many boys are now asking them and me what are they doing other than hitting. I keep telling them it's not the quantity, but the quality of the reps. It's the same stuff I teach my students with shooting pistols, rifles or cannons. Spray and pray is not a method. Putting a single calculated round downrange is all the matters. The same in hitting. One well placed ball is all that matters. They are old enough to be believers now. If you want to see two snippets of video of Nick you can go to his web site on MaxPreps and see his walk off hit and a double he hit Wed. I'm in the process of getting Alex's video from Wed uploaded too.

Keep up the great work! I don't know how often you get feedback as scientific as mine, but I hope it helps. It is a testament to your approach. Additionally, the confidence it gives them is amazing. Nick says, I have hit off and sometimes crush all these D1 commits. I know there isn't a kid in the country I can't hit. That's a bold statement!"
I can't thank Col. Coast enough for sharing this.
I always tell my hitters that I'm just a flashlight in the dark, illuminating the most effective path to being an outstanding hitter.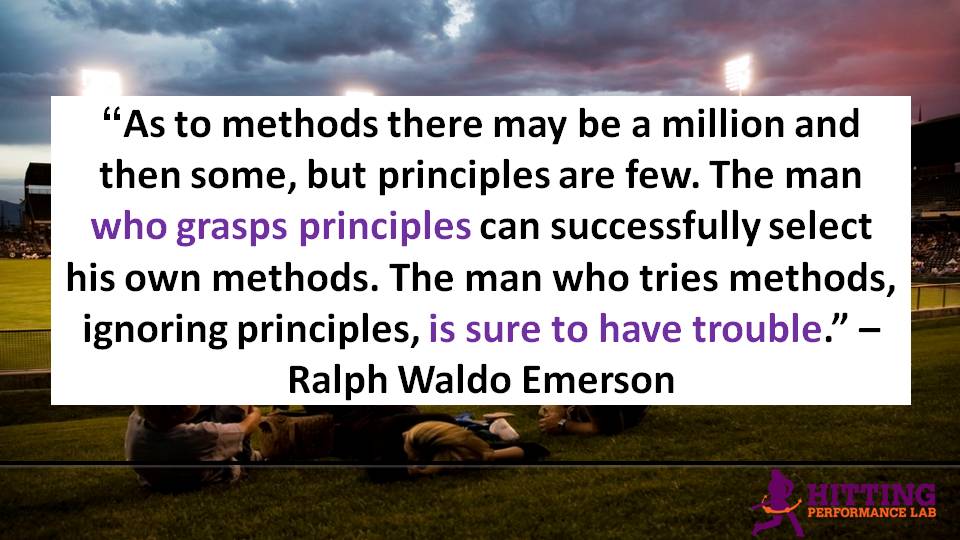 The biggest part – I feel – is for them to do the reps.  The Coast brothers are definitely doing that, and combined with dad's background, knowledge, and guidance…40 years from now, both boys can look back and say they did all they could to maximize their abilities.
Listen, the moral of the story is that we're applying human movement rules, that are validated by science, to hitting a ball.  Whether we're talking about using variance in the cage or the standard artillery round adjustment method…these are the PRINCIPLES (See RWE quote above).
Keep up the good work Coast Bros!
UPDATE #1:
About two weeks after our initial conversation, Nick Coast (Senior in H.S.) was hitting .333, and his younger brother Alex was hitting over .400 in J.V. ball.
UPDATE #2
The Monday before I published this testimonial from Col. Mark Coast, I had a dad by the name of Jeff Pope reach out to me on my
Facebook fan page
, asking me where I could point him to improve his son's game swing, which in the cage were fantastic.
I told him to be patient for this post (which I published on Thursday).
And here's Jeff's response, the Monday following this post's publication (he gave me the go-ahead to share with you):
"I spoke with you last week about my son bringing his bp swing to the game and he did just that, hard work in the cage and in our garage has paid off. He hit ridiculous this weekend. He hit 2 monster home runs in 4 games. Kid just turned 11 last week, can't wait to see what he is now capable of. I believe the home run flood gates may have just opened! Thanks for the insight and knowledge."
His reply to my attaboy comment back…
"Something clicked, like I said he's always been a great hitter but as big and strong as he is hitting clean up i wanted more for him. Game changing more. He took on the top ranked team with a kid throwing absolute gas and he took the second pitch he saw and hit it about 270 ft over the left field wall, he caught it out front and it looked effortless. His other shot he hit was an 0-2 fastball and he hit it over the centerfield wall with his contact swing. So much fun to be apart of."
I asked him what exact changes they made, and here's how he responded:
"What we changed in his practice habits before the tournament he played in was the shortening of the reps going all out if you will for 3-5 reps. I have noticed before the longer we went on a bucket the better his focus and adjustments got… But the swing obviously got weaker. I did notice the short reps really made him focus on making the most of the pitches he got but also keeping his strength and bat speed up the entire time. I really tried to get him to focus on being fast and powerful on those limited swings. You normally don't see more than 3-5 pitches per at bat which really got in his head, make the most of what you have a priority. I really stressed that he needed to play how he practiced keeping the mind set of focus and making the most of what u got. We also focused more on increasing his reps off the pitching machine using that as a great tool to incorporate that powerful swing with speed. Well he played like he practiced going yard twice, one being a 270 footer on a kid throwing gas, then another on an 0-2 count with a 2 strike swing that was still powerful enough to hit it over the wall in centerfield. Both kids threw really fast which made him faster and he took advantage. He just turned 11 last week, look forward to many more of these sessions and hopeful success to keep him playing in games how he practices…which is all out!!"
This IS NOT rocket science people!  Practice like you play, so you play like you practice.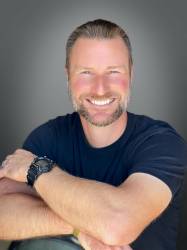 Latest posts by Joey Myers
(see all)
https://hittingperformancelab.com/wp-content/uploads/2016/05/nick-coast-stats.png
251
667
Joey Myers
https://hittingperformancelab.com/wp-content/uploads/2021/10/hitting-performance-labs_c90c0362088ef1d3d528f3078f4f8ac1-300x75.png
Joey Myers
2016-05-11 22:35:04
2018-12-17 05:36:29
How To Get Hitters On-Time Using The 'Standard Artillery Round Adjustment Method'