How To STOP Over Rotating Back Foot & Squishing Bug For Baseball And Softball In 2022 | Hitting Drills To Properly Use Legs, Keep Back Foot Down OR Lift Back Foot
Keep 'Back Foot Sideways' Like Robinson Cano?
This post will go over how to STOP over rotating the back foot (is that possible?) and explain why squishing the bug is bad for baseball and softball 2022.  Discover hitting drills to properly use legs, keep back foot down OR back foot when swinging?
I wanted to do a follow up on the Matt Nokes post from a few weeks ago.
I received quite a few emails, like the following, from coaches who were a little confused as to what Nokes's referred to as 'back foot sideways'…
So I decided to do a short video (I know, a rarity these days :-P), seeing if I could bring some clarity to the issue.
Brian Clahane from Canada had emailed a comment about the Nokes post:
"Hey Joey, It's Brian again…So you really have me thinking about this back foot sideways thing. I have been watching video and looking at still flip screens I have of hitters and I have to tell you I only see evidence of it on outside pitches or pitches hitters were late on.(Mccutchen and Miggie quite often when going other way)
I sent you this video of Cano to look at 1-because I know you use him as an example a lot and 2-because I found it under your name even though Chas Pippitt doing breakdown. Video shows what I keep seeing in that back foot rotated forward and normally as in this case off ground completely (not sideways).  If I am misinterpreting what keeping back foot sideways at contact means, please explain because it's driving me crazy thinking I'm missing something! I just keep seeing back foot forward at contact.  Thanks, Brian"
The following video Brian had linked in the email from Chas:
The bottom line…
When looking at video, the chest view IS NOT helpful.  Look for pitcher's, catcher's side, or over head views.
The principle is to get the pelvis (or hips) perpendicular to impact, NOT to the pitcher.
The back foot skips in some cases, and not so much in others. I've seen it skip away from home plate, toward the front foot, and toward the plate (not as often). In other words, you don't have to have one without the other.
What may also help are these two shifting foot pressure videos (Mickey Mantle AND RopeBat).
One of the cues I liked came from Mark Meger from the Matt Nokes post, "With our 13U kids we do emphasize the rear hip drive but we shun turning that back foot. That should happen after contact as shown here."
The sideways back foot will deviate slightly depending on an inside v. outside pitch.
This falls in line with this post on the 90-degree to the spine rule.
In YouTube, search "[favorite player's name] 2016 highlights", and watch the behavior of the back foot at impact, and make note of batted ball direction.
Also, it doesn't seem ONLY .300 hitters do this because Roberto Perez, in the images above, is a career .220 hitter.
My observation is the back foot acts like a "governor" to the rotation of the hips.  It's like it helps anchor down the back hip from over rotating the impact zone.
Doing this helps to align the body on the plane of the pitch better, and may cut down on rolling over versus a full rotation of the hips, on every pitch.
Zepp experiment coming soon from HPL on this 😉
Please post any concerns, counter-arguments, and/or observations below…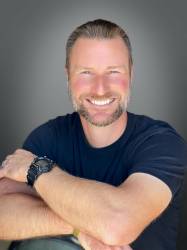 Latest posts by Joey Myers
(see all)
https://hittingperformancelab.com/wp-content/uploads/2016/10/roberto-perez-1st-homer-wsgm1-lf.png
401
542
Joey Myers
https://hittingperformancelab.com/wp-content/uploads/2021/10/hitting-performance-labs_c90c0362088ef1d3d528f3078f4f8ac1-300x75.png
Joey Myers
2022-05-09 09:00:03
2022-05-10 04:53:36
How To STOP Over Rotating Back Foot & Squishing Bug For Baseball And Softball In 2022 | Hitting Drills To Properly Use Legs, Keep Back Foot Down OR Lift Back Foot