Stop Hitting Pop-ups, Why Swinging Under And Missing, & Fix Uppercut Swing By Staying On Top Of Baseball Or Softball Drills
Learn how to STOP hitting pop-ups, why are you swinging under and missing, and drills on how to fix an uppercut swing by staying on top of the baseball or softball.
Paul Goldschmidt: Can a Bleeding Barrel Kill Hitting Potential?
In this video, we'll look at 2013 National League MVP runner up Paul Goldschmidt's swing and relate it to one of my younger hitters.  We'll talk about:
What is a bleeding barrel (1-week before & after case study),
The "Goldy" standard, and
How-to fix a bleeding barrel at home.
What is a "Bleeding Barrel" (1-week before & after case study)
I've been working on this with one of my young hitters, Collin.  Bleeding the barrel is when the barrel starts to launch (turn into the hitting zone) before the hitter's front foot touches down.
It's caused by a premature turning of the shoulders, and is very inefficient when it comes to transferring energy.  In order to load powerful springy fascia and connective tissue in the torso, the front shoulder must stay in and down towards the back hip, at front foot touch down.  CLICK HERE for similar analysis comparing Josh Donaldson (Oakland A's) to Jose Bautista (Toronto Blue Jays).
The week following my young hitter Collin's AFTER video, he was bleeding his barrel again.  The cause?  His dad said a coach was doing rapid-fire soft toss before games.  Needless to say, Collin's dad had a talk with the coach.
SCIENCE-BASED TRAINING:
Improve your hitting strategy dramatically by applying human movement principles.
Learn not only how and what to train but also the science behind the methods.
The "Goldy" Standard
Notice Paul Goldschmidt (pictured to the right) at front foot touch down:
His barrel angle is up (70-degree angle), and
He's showing his numbers to the pitcher  (see video above).
Most importantly, taking care of point #2 above will stop the bleeding barrel.
Can Paul Goldschmidt do better?  According to Baseball-Reference.com, he stands at 6'3″, and weighs 245 lbs.  With this line, he can get away with inefficient mechanics and still hit for decent power.  His average home-run total per 162-game season is only 29.  For how big he is, he can average over 40 homers per season.
Here are a couple things I'd love to see change in Goldy's swing:
More forward momentum,
Better down shoulder angle (side bending in the spine),
Hide his hands a little more from the pitcher, and
Extend up and back over the catcher more (he was a little out front on this pitch).
How-To Fix a Bleeding Barrel at Home
Remember to use Variance in the following scenario.  Three steps to stop the bleeding barrel:
Break Swing into 2-Steps (1-2 second pause between): 1) Fight Position (landing), and 2) Final Turn – focus on showing the hitter's numbers to the pitcher at the Fight Position, and keep a barrel angle around 45-55 degrees.
Check-Swing Drill – get hitter to show they can keep from bleeding the barrel to impact.
Put Swing Together – once they get here, then progress them from tee, to soft toss, to LIVE batting practice.  If they can hold together their mechanics, then the brain has ingrained the movement.
CLICK HERE to get more information on my online hitting lessons program The Feedback Lab.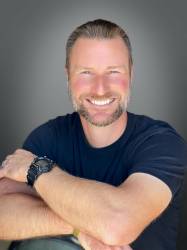 Latest posts by Joey Myers
(see all)
https://hittingperformancelab.com/wp-content/uploads/2023/01/STOP-Hitting-Pop-ups-Swinging-And-Missing-Uppercutting-Swing-Stay-On-Top-Baseball-Drills.png
280
800
Joey Myers
https://hittingperformancelab.com/wp-content/uploads/2021/10/hitting-performance-labs_c90c0362088ef1d3d528f3078f4f8ac1-300x75.png
Joey Myers
2023-01-17 09:00:16
2023-02-18 06:33:31
Stop Hitting Pop-ups, Why Swinging Under And Missing, & Fix Uppercut Swing By Staying On Top Of Baseball Or Softball Drills