Online Hitting Lessons Mechanics Analysis Program For Baseball Or Softball Swing | Increase Bat Speed & Hit For More Power With Remote Instruction
Discover our online hitting lesson mechanics analysis program for the baseball or softball swing. Learn how to increase bat speed and hit for more power with our remote instruction. Check out 9 year old Ethan's case study…
Hit Training: What Your Hitting Instructor Won't Tell You & How It Can Save You Time And Money
Before we dig into 9yo Ethan's hit training case study 3-part series, I wanted to RANT on something that transpired this past week. Where does the MAJORITY of power come from? I recently posted this on Facebook:
The comments under this post were a little confirmation bias because my readers – who know my hit training teachings – not shockingly responded with "C". Please note: the keyword is "majority" in that question. Unlike my readers – who know better, in the social media reality I can tell you the majority teach the legs and/or hips (pelvis) to be the main driver of power.
This is what your hitting instructor won't tell you and can save you time and money: Legs and/or hips aren't the main drivers of power.
The hips (or better yet – the pelvis) are a start, making up 1/3 of the spinal engine. And I can prove it with REAL science! If you haven't already, then please check out the following two posts, and you'll see my reasoning:
The following video is the first link in "video" form, in case you want to "watch" the gist in 4-mins and 30-secs…
SCIENCE-BASED TRAINING:
Improve your hitting strategy dramatically by applying human movement principles.
Learn not only how and what to train but also the science behind the methods.
The week prior, I debated with a few "leg/hip drives majority of power" hit training gurus on Twitter, and I posed this question,
"Do legs drive the spinal engine, or does the spinal engine drive the legs?"
And I followed that question up with the following statement:
"The answer to that question will determine credibility in hitting mechanic circles" (something to that effect)
That caught some off guard. Bold statement another well known said. "Yes. It is," I responded. Tis' the facts. Some ask me, aren't you afraid others will take this information, claim it without attribution, and take all the glory? I say no, because Hitting Guru #57 is too stubborn to listen and learn. They clutch to their hitting dogmas like a rich woman and her Prada walking through the "ghetto". And last time I checked, opinions ARE NOT facts.
Do you know how many Physical Therapists, Doctor MD's, Physicists, Chiropractors, Engineers, and other Body Workers follow me? A LOT! If I was full of it – as my wife says – do you think THEY would be following me and offering kudos to what I'm doing?
Okay, RANT over. Let's move onto a young 9-year-old hitter, Ethan, that I'm VERY proud of. He's put in so much hard work, bought into the process (which is key), and has made fantastic strides with his swing in less than 6 short months…pun intended 😛
In this 3-part series we'll be covering:
Ethan case study The Feedback Lab online hit training video [YOU ARE HERE],
In Part-1 (tippy-top video above), Hit Training: Catapult Loading System Like Andrew McCutchen [9yo 6-Month Case Study], we'll be discussing: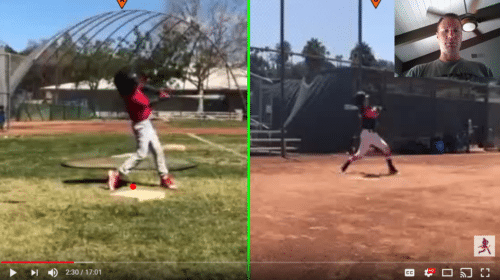 How far Ethan's swing has come,
What he's working on next, and
Follow up notes about Ethan's progress…
PLEASE NOTE: Ethan is still on the journey, his swing isn't perfectly clean yet. This is only a 6-month snapshot of how far his swing has come. Don't be that "guy" and judge his swing at this point in time, celebrate it!
How far Ethan's Swing has Come
I keep notes on all my online hit training hitters at The Feedback Lab. Here are a few things Ethan had working well for him before we started (Thanks Peter! – he's dad btw):
Forward Momentum,
Good space between feet before the turn, and
Decent barrel path, not extreme down or up.
In Ethan's first online hit training with me, I wanted to start working with him on:
Being more athletic with bend at waist (hip hinge), and bend in knees – being more athletic, and
Developing more of a "float" type (experiment with either leg kick, toe tap, or slide step).
Fast forwarding over the past six months together (six total online hit training sessions), our working strategy methodically moved to other human movement principles such as:
By the way, I don't typically cover this much in such a short period of time with a 9-year-old, but Ethan was ON IT!! Diligent with getting in his 4-5 days per week, for at least 5-mins per day. He worked the process like a ROCK STAR, and is one of the many reasons I'm so proud of him 😀 Ethan is a coaches dream client!
What's that famous quote…? "Hard work beats talent when talent doesn't show up." Yah, that's Ethan.
Now, let's move on to…
What Ethan's Working on Next…
As many of you coaches or instructors who do hit training for a living, every hitter has one or two things their brain/body doesn't want to give up easily. These stubborn challenges don't go away without a fight. Here are Ethan's:
Showing numbers to the pitcher at landing, and
Taking Slack Out of the System to landing.
You'll see in Part-2 of this series when we look at high level MLB hitters, the key to these two human movement principles is to get that "shape" at stride landing.
Okay, so let's move on to…
Follow up Notes about Ethan's Progress…
Here's some of the hit training dialog over the past few months between Peter (dad) and I via email…
"Joey, hope all is well and you're enjoying the summer. Attached is Ethan latest video from this weekend. We took a week off while on vacation at the end of June, but Ethan's been great the last three weeks getting in 5-6 sessions a week. He really likes these round of drills and tells me he's feeling more power. You'll see he's changed up his stance a bit. He made that change naturally while working through the drills. Thanks Joey looking forward to your feedback!" – Peter (Mon, Jul 16, 2018)
After sharing these particular hit training "marching orders", Peter said this…
"Thanks Joey, great feedback and analysis as always. The great part is that I'm also learning from you as we continue along. As I was getting ready to send you the last video I was seeing a lot of what you discussed in your analysis; keeping the shoulder angle and showing numbers to landing, and the top hand coming off way too soon. But I was struck by the consistency with his swing, every one had good barrel angle at landing, head movement after landing is way down and as you mentioned you can really see a much more confident swing! Thanks again Joey, we couldn't be happier! Looking forward to getting back at it! Talk again in a few weeks!" – Peter (Thursday, Jul 19, 2018)
And finally, after sending the most recent "tippy top" hit training video analysis above to Ethan and Peter, and after asking permission to share that video with you all, Peter said this…
"Joey, absolutely, we'd be honored and he'll be so excited. It's funny because I was also going to send you a note today. We did the taking the slack out drill for the first time yesterday, ran through it doing break it apart and then we always finish up our sessions with about 30 soft toss balls. The first soft toss ball he did it beautifully and he just says "oh wow", I asked him if he felt the difference and his eyes light up and he says "oh yeah, I crushed it but didn't even feel the ball it just jumped off the bat." Thanks for everything Joey! Looking forward to seeing the blog post!" – Peter (Wednesday, September 5, 2018)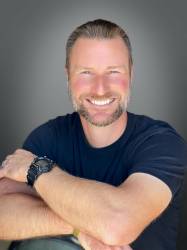 Latest posts by Joey Myers
(see all)
https://hittingperformancelab.com/wp-content/uploads/2018/09/Get-Maximum-Efficiency-From-Your-Online-Hitting-Lessons-This-Mechanics-Analysis-Program.png
450
800
Joey Myers
https://hittingperformancelab.com/wp-content/uploads/2021/10/hitting-performance-labs_c90c0362088ef1d3d528f3078f4f8ac1-300x75.png
Joey Myers
2022-10-26 09:30:55
2022-11-08 05:37:54
Online Hitting Lessons Mechanics Analysis Program For Baseball Or Softball Swing | Increase Bat Speed & Hit For More Power With Remote Instruction