Improve Launch Angle Hitting Path For Baseball & Softball By Swinging Down? | 2022 Swing Plane Drills, Optimal Distance, & Ideal Home Run Formula
Perfect Baseball Swing By Swinging Down?

1) Can we improve launch angle hitting path (angle batted ball takes off the bat) for baseball and softball by swinging "down"?  2) What kind of swing plane drills or cues can we use to optimize batted ball distance?  And 3) What is the ideal home run formula?
ANSWER – listen closely to Barry Bonds' answers to Alex Rodriguez's questions… (I've included my video stamped notes below)
ANSWER – CLICK HERE for Paradoxical Intention and CLICK HERE for how to properly teach 'launch angle' swing (not what you think)…
ANSWER – CLICK HERE for the ideal home run formula…
This baseball swing video where Alex Rodriguez interviews Barry Bonds was a two parter to this video post. Here are four of the interview's finer points: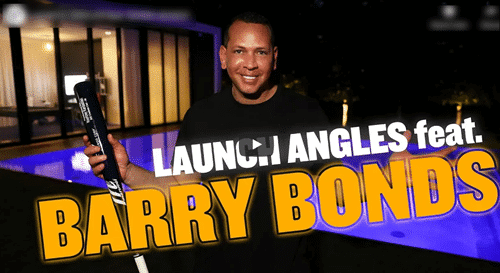 "X" factor. Why top hand and back shoulder have to communicate with front leg,
Per-fect swinging down because it's easy to go up,
200+ Stikeouts as long as you hit 40-homers? And,
How bunting can 'line up' your hitting.
SCIENCE-BASED TRAINING:
Improve your hitting strategy dramatically by applying human movement principles.
Learn not only how and what to train but also the science behind the methods.
Here are my interview time stamped notes…
At about the 1-min, 40-sec mark, Alex Rodriguez asks Barry Bonds about the "Ferris wheel" v. "merry-go-round" swings.  Bonds says he's more of a down-angle swinger. "Down" means to flatten out the barrel path.  Not talking about swinging straight down.
At about the 3-min mark, Barry Bonds goes into what he calls the "X" factor and the "center-line".  Back shoulder going to communicate with front leg.  And front shoulder with back leg.
At about the 4-min, 15-sec mark, Alex Rodriguez asks Barry Bonds if he hits off his back leg.  Causes head to fly open, front shoulder, and uppercut.  Bonds talks about using top hand as "guide" hand, bottom is power.  Top hand (back shoulder) and front leg have to communicate.  If they don't, then head can pull open.
At about 6-min, 30-sec mark, Alex Rodriguez asks Barry Bonds about the advice Barry give him about not dipping his back shoulder too much.  Bonds expects hitters to work chopping ball off ground during tee work.  It's easy to go up.  Over exaggerate down on a consistent basis. "Per-fect" the down level swing.
At about 9-min mark, Alex Rodriguez asks Barry Bonds about in today's game it's okay to strikeout over 200 times per season, just as long as you hit 40-homers.  A-Rod asked Bonds how he developed the discipline and balance at the plate.  Game has changed.  Don't blame the players, they adapt to the environment.  In Barry's day, had to hit .300, strikeout less than 100 times per season or you were sent down.  Bonds was told growing up to be a great hitter.  Home-runs don't matter.  Tony Gwynn was a big influence to Barry. Use line to line, that will open the gaps.
At about 11-min, 30-min mark, Barry and A-Rod talk about bunting against the shift.  Bonds adds that bunting can always get you lined up for hitting.  Playing "catch" with the baseball.  Bunting slows things down.  My buddy Aaron Miles tells a story about this.
At about 13-min mark, Alex Rodriguez asks Bonds that if he was graduating from Arizona in 2020, gets drafted by the Giants in a Sabermetrics heavy environment, would he have listened to his dad?  Baseball is a eye hand coordination sports.  Computers are limited on what they can predict.
At the 15-minute mark are Alex Rodriguez's "takeaways".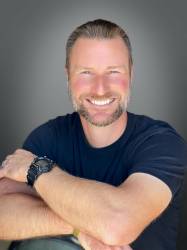 Latest posts by Joey Myers
(see all)
https://hittingperformancelab.com/wp-content/uploads/2020/11/baseball-swing.png
273
500
Joey Myers
https://hittingperformancelab.com/wp-content/uploads/2021/10/hitting-performance-labs_c90c0362088ef1d3d528f3078f4f8ac1-300x75.png
Joey Myers
2022-03-30 09:00:15
2022-03-31 05:33:40
Improve Launch Angle Hitting Path For Baseball & Softball By Swinging Down? | 2022 Swing Plane Drills, Optimal Distance, & Ideal Home Run Formula