The Shocking Mistake Killing Run Production (MUST Read For Ground-ball Hitting Coaches)…
Ground-ball Hitting Approaches May Be Causing You To Lose Out On Producing MASSIVE Runs
Now, before getting your panties in a bunch, let me start off by saying, the ONLY time ground-balls are okay, is for situational hitting scenarios. Other than that, ground-balls should be banned.
My friend and retired Major Leaguer Homer Bush, in his book Hitting Low In The Zone: A New Baseball Paradigm,
uses Sabermetrics to show how hitters can hit .300 with consistent power, IF they can do two things consistently well:
Elevate the low pitch, and
Hit to ALL fields.
CLICK HERE for an interview I did with him here.
If you're a Ground-ball Hitting Coach, then I address A LOT of your objections in this Ground-ball Rant post, which amassed over 5,400 LIKES on Facebook.
However, the biggest head scratcher for me is the fact that a large majority of pitching coaches around the nation teach their pitchers to keep the ball down in the zone.  WHY?  Because they want hitters striking the top half of the ball, which drives the ball into the ground.  Pitchers want hitters hitting ground-balls!  Then why are hitting coaches teaching hitters to hit the ball into the ground and/or swinging down on the ball?  By the way, the latter produces MORE "worm-burners", NOT less.
I know, I know, these coaches point to terrible defenses at the lower levels or that there are no "bad hops" in the air, but where those arguments lose traction is:
What happens when you face a team with a better defense?  FACT: teams – at any level – that tend to end up in Championship games can play catch better than others.  And,
If you're a coach pinning your "hopes" and "dreams" on the other team making an error or booting a ground-ball, then you're teaching your players to control the uncontrollable.  No elite athlete or coach in their right mind – in any sport – focuses on uncontrollables.  This means you're teaching an inferior model.
In this post, I wanted to share the growing MOUNTAIN of evidence being produced by Sabermetric sites, such as Beyond The Box Score, that are churning out, with increased frequency, Major League case study after case study showing that ground-ball hitting approaches are non-conducive to scoring MASSIVE amounts of runs, and non-productive for hitters at ALL levels and genders.
Onward and "upward"…
Addison Russell made a change to his swing during the 2015 season, which could alter his offensive impact significantly in 2016.
By: Randy Holt, 
"The declining ground-ball rate will likely be a bit more significant in the long-term, as those changes continue to go into effect, given that Russell's changed stance means he isn't swinging down at the ball so much. So it's only natural, and perhaps beneficial, that that number comes down. His line-drive rate didn't change significantly, but the uptick in his fly-ball percentage was nice. Especially if you're of the belief that as Russell continues to grow and develop, his strength will increase, leading to a nice uptick from his 11.4% homer to fly-ball ratio."
Swinging down DOES NOT get the ball consistently AND productively in the air, getting the barrel on an upward plane with the downward traveling pitch does.  Ted Williams said this in his book The Science of Hitting
.
Scooter Gennett's offense has declined every year since he broke into Major League Baseball, are ground balls the reason?
By: Shawn Brody, 
"It's obvious that an increased amount of grounders is diminishing Gennett's ability to tap in to his power, and is behind the drop in his offense over the last couple seasons. It's easier said than done to put the ball in the air than on the ground, but without overwhelming speed it is tough for hitters to last by putting the ball on the ground. It is one of the main reasons we have seen his BABIP deflate from the .380 total he posted in his rookie season. To think that he could return to that total and sustain it is ridiculous, but the he also has gone from well above average to essentially average."
I included this BTBS post in my book on Amazon titled, "The UGLY Truth About Hitting Ground-Balls"
.  Piggy-backing on this, here's a more recent follow up about Gennett's dramatic turnaround…
Home runs are up all around the league, and Scooter Gennett has joined the power party.
By: rschultzy20, 
"In the interest of keeping up with the fads, the first thing I checked was his launch angle difference between 2016 and 2017. He went from 11.7 degrees to 15.0 degrees, which is certainly a change worth noting. It is not, however, in the range of launch angle darlings Yonder Alonso and Ryan Schimpf, who jumpted to 22.1 degrees and 30.2 degrees respectively. Despite not reaching the astronomical levels we've seen from some players this season, Gennett appears to have settled in a reasonable range that yields line drives, doubles, and a fair share of home runs as well.

His move towards better contact based on the change in launch angle can be seen through a 5.8 percentage point decrease in ground balls in tandem with a 1.3 percentage point increased in line drives and 4.4 percentage point increase in fly balls. Even with a 21.6 percent HR/FB that's bound to regress, the underlying improvement of putting balls in the air should allow his increased level of power to continue. That may manifest itself in more doubles than home runs, but that's still a productive profile.

The Reds got Gennett for nothing. He was in the midst of a multi-year slump in which he provided nearly zero additional value to the Brewers. Then Gennett, like so many others this season, added some lift on the ball and power to his game. The addition of power has helped him become a well above average hitter that should be able to provide 2-3 fWAR by the end of the season. That's a huge win for the Reds, who simply claimed Gennett off waivers."
This is pretty damning evidence for those coaches promoting a primarily ground-ball offensive approach.  COACHES QUIT SABOTAGING YOUR HITTERS!!!
Hanley Ramirez is having the worst offensive season of his career. Can he rediscover his power stroke, or are the underlying signs of decline too strong to counteract?
By: Tom O'Donnell, 
"Since it is usually advantageous to pull for power, it is no surprise that Hanley's decreasing pull rate has coincided with his rapidly falling ISO and home run totals. Over the past three seasons, Ramirez has seen a simultaneous increase in ground ball rate and decrease in pull rate. These factors, along with increasing age, are probably the main causes of his diminishing power.

So will the power come back? Probably a little bit. As his HR/FB ratio returns to normal levels, some of Hanley's fly balls will likely turn into home runs. And since his hard hit rate has remained consistent, it is reasonable to expect a higher ISO going forward. However, if Ramirez's launch angle remains as low as it has been thus far, a steady stream of ground balls can be expected, which will put major limitations on his power."
Please re-read that last sentence.  On second thought, memorize and burn it into your brain.
He's gotta figure out how to elevate more despite pitchers giving him few pitches to elevate.
By: Kevin Ruprecht, Jul 28, 2016
"The batted ball distribution clearly reflects the launch angle, though perhaps the trend up in ground-ball rate started earlier than 75 games into the season.

Harper is walking a ton and striking out less than last year, but his overall production has gone the way of his launch angles – down. His 116 wRC+ this year is a far cry from his 197 wRC+ last year. Pitchers are throwing more outside and lower than last year out of fear of his power, so Harper just isn't getting many good pitches to hit. Harper will have to adjust to reverse this slump."
There are beautiful radar charts illuminating the differences in his launch angles in this post (just click the article "title" link above to see them).
With a move back to catcher and a more patient approach Evan Gattis seems to have cured what ailed him early in 2016.
By: Chris Anders, Sep 26, 2016
"Early in the season it looked like Evan Gattis might have been finished as a productive hitter. A player who is limited to DH and doesn't hit the ball in the air enough to maximize his power is simply not an appealing roster option for most teams. Thankfully for both Gattis and the Astros the early season struggles seem to be merely a blip on the radar. As it turns out, a move back behind the plate and an increase in launch angle was all that was needed to re-energize his career."
Here's a more recent Beyond The Box Score piece on Gattis about the difference in the two halves of his 2016 season…
The Astros DH/catcher smacked a lot of extra-base hits in the second half of the year. Is this the new normal, or did he run into a few?
By: Evan J. Davis, Jan 8, 2017
"Where the swing might come into play is his batted ball types. Grounders fell nearly 13 percentage points between halves (47.1 percent in the first, 34.4 percent in the second), while fly balls jumped accordingly. Statcast confirms this: Gattis's average launch angle jumped from 10.8 degrees in the first half to 13.1 degrees in the second. The sizable decrease in his pop-ups (from 5.3 percent to 3.9 percent), in tandem with the softly-hit and ground ball percentage drops, also suggests that Statcast wasn't missing too many of his batted balls.

Gattis was finding more optimal launch angles to hit the ball. He was getting more loft, and keeping the barrel through the zone."
There's a formula coaches, on how to consistently barrel the ball more often.  Sabermetrics have given hitting coaches the answers to the test!!!
It helps a player's cause to hit the ball hard, but that alone won't make him great. Just ask Mariners outfielder Franklin Gutierrez.
By: Ryan Romano, Sep 30, 2016
"In 2015, Gutierrez put 46 balls in play in the lower part of the strike zone, according to Baseball Savant. 25 of those, or 54.4 percent, went on the ground, which ranked him in the 42nd percentile. In 2016, his ground ball rate on low pitches has leapt to 74.2 percent, moving him up to the 98th percentile. When given a higher offering, Gutierrez will still put it in the air, but that can't compensate for the spike in grounders down below.

If Gutierrez remains at this level of offense, he'll be a solid player. Most teams will find a spot for a capable (in theory) defender who can hold his own at the plate. He won't go back to being elite, however, unless he cuts down on the ground balls. Making hard contact is half the battle; the other part is making sure that contact goes where you want it to go."
The next piece for those of you Ground-ball hitting coaches addressing the objection that hitting for higher Ball Exit Speeds and Launch Angles contribute to more strikeouts (HINT: causation DOES NOT necessarily equal correlation here)…
The Royals' breakout infielder is the latest to embrace the launch angle revolution and is making sure he gets a chance to put the ball in play.
By: Anthony Rescan, Aug 5, 2017
"Arguably the most impactful change is what happens when Merrifield makes contact. Currently, his average, observed launch angle is up from 16.89° to 20.51° and he's seeing a spike in exit velocity from around 84 mph to north of 87 mph.

This has caused a massive shift in how his batted balls enter the field of play. Both line drives and ground balls have been siphoned off to fuel his fly ball spike.

In addition to that, Merrifield has been much more successful at turning those fly balls into long balls. The effect of this change is seen across the board with Merrifield — a near-80-point spike in ISO [Raw Power – Slug% w/out singles factored into the equation] certainly isn't anything to scoff at.

Merrifield has also become more efficient at the plate. Though he's experienced a slight dip in walk rate, he's drastically cut his strikeouts. His previous mark of 21.7 percent has been struck all the way down to 13.1 percent. When looking at his plate discipline statistics from Pitch Info, we can spot the changes. His O-Swing rate has dropped two percentage points, but resulted in a 6.7 percentage point increase in O-Contact rate. He also is swinging at more pitches in the zone by a 3.8 percentage point margin, but his contact rate there dropped from 92.1 percent to 90.9 percent. Overall, his contact rate has jumped to 84.4 percent from 82.6 percent. So, he's offering at less pitches out of the zone, but doing more with them and also swinging at better pitches."
Look coaches, the longer the hitter can match the plane of the pitch with the barrel, the more opportunity to drive the ball.  Increasing power doesn't have to sacrifice swing quality.  Plate discipline and pitch recognition MUST also play a MAJOR role in the hitter's development.
It's almost as if hitting the ball in the air is better than hitting it on the ground!
By: Luis Torres, May 15, 2017
"What really jumps out at you is the change in his ground-ball and fly-ball rates. He went from hitting way more ground-balls than fly-balls, to being a fly-ball hitter. His fly-ball rate went from 28 percent to 45 percent. That is a huge change.

It used to be that coaches at all levels would encourage their hitters to swing down and keep the ball on the ground. In recent years, hitters are learning how ineffective that really is. Ground-balls will go for base hits more often than fly-balls will, but will go for extra bases less often. It is really hard to score by stringing together a bunch of singles."
At this point in the post, if you still find yourself a Ground-ball hitting coach, you may be thinking, "So should I teach my hitters to hit fly-balls?!"  Check out this FanGraphs.com article…
"Let's take a look at a little bit of data to get started. Here are the results on each type of ball in play from 2014:
| Type | AVG | ISO | wOBA |
| --- | --- | --- | --- |
| GB | .239 | .020 | .220 |
| LD | .685 | .190 | .684 |
| FB | .207 | .378 | .335 |
You can see that line drives are bad news for pitchers any way you slice them. They lead to more hits and huge run values compared to the other types of balls in play. But there's a trade off in the ground ball-fly ball department. Ground balls go for hits more often than fly balls but fly balls go for extra bases much more often when they do drop in for hits.

In other words, if you're a fly ball pitcher, you can usually sustain a below average BABIP, but you might get tagged for a few extra doubles, triples, and homers as a result. Ground ball artists, on the other hand, don't often allow homers and extra base hits, but they allow singles to squeak through more often."
Let me clarify the above graph…ISO refers to Isolated Slugging% (aka Raw Power), which is like Slugging% but with singles factored OUT of the equation.  Weighted On-Base Average (or wOBA) measures a player's overall offensive contributions per plate appearance.
I think every hitting coach can agree on Line Drives being the ultimate hitting objective, but picking between the two "evils" of either a GB or FB is where hitting camps diverge.
And according to the graph above, even though Fly-balls lose 32-points in Batting Average compared to ground-balls, I'll take a boost of 358-points in Raw Power (ISO), and a jump of 115-points in a player's offensive contribution per plate appearance (wOBA) ANY DAY OF THE WEEK.
I want to end with this beast of an article by The Hardball Times, authored one of my favorite authors Dan Farnsworth…
"Alan Nathan [retired Physicist] has a great research article posted on his website detailing the math behind hitting a home run based on experimental measured ball flight. In it, he summarizes the results pertinent to this common teaching axiom:

'For a typical fastball, the batter should undercut the ball by 2.65 cm and swing upward at an angle 0.1594 rad.'

That value in radians converts to a 9.13° uppercut swing, representing the maximized swing path for energy transfer and backspin using a typical major league hitter's bat speed.

I do not believe this is common practice or knowledge in major league baseball, which is unfortunate. I have heard a lot of second-hand horror stories about the philosophies of many organizations in the game. Especially at the big league level, there is little evidence that a true ground-ball swing will lead to success. Line drives are the key to hitting, regardless of hitter attributes. Speed appears to have less of an impact on a hitter than what popular belief says. While speed may help boost a player's batting average on balls in play, fast hitters do not have an automatic incentive to hit the ball on the ground, based on these results. They can turn doubles into triples rather than just outs into singles.

The bottom line: leave swinging down to bad hitters at the amateur level, who have no chance at playing at the highest levels of the game. Otherwise, hit the damn ball in the air."
There is A LOT of great stuff in this Farnsworth article, so I advise you read the whole thing.
And if you think teaching speedy hitters to hit the ball on the ground is a good thing, then let me share this fact from Rob Arthur from FiveThirtyEight: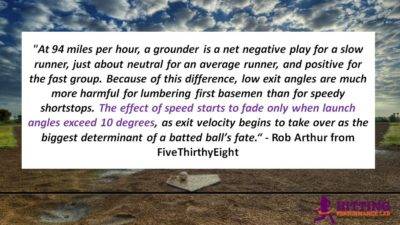 Let me repeat,
"The effect of speed starts to fade only when launch angles exceed 10-degrees, as exit velocity begins to take over as the biggest determinant of a batted ball's fate."
My friend and retired Big Leaguer Aaron Miles once told me that even the Dee Gordon's of the hitting world have to learn how to drive the ball at the Big League level because the infielders' arms are well above average.
Ground-ball hitting coaches, are you starting to run out of excuses yet?
Let me leave you with some quotes from some "pretty good" hitters, talking about the importance of Launch Angles and Ball Exit Speeds…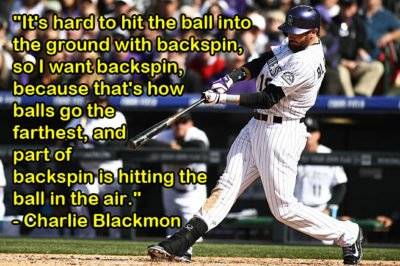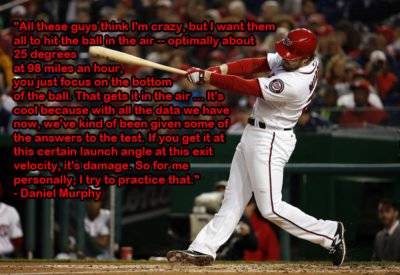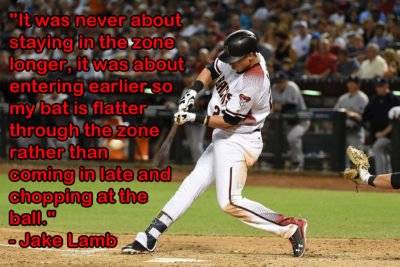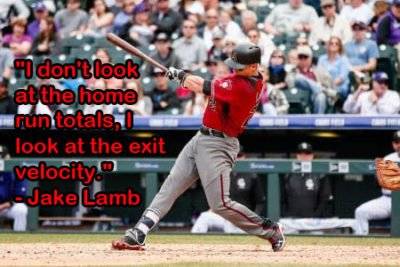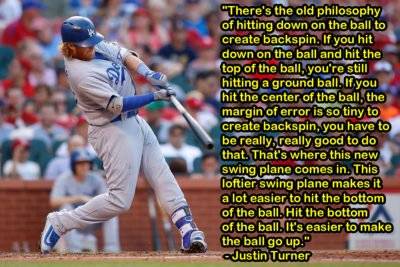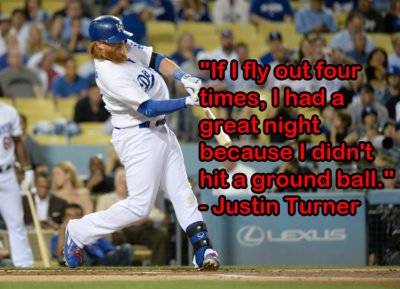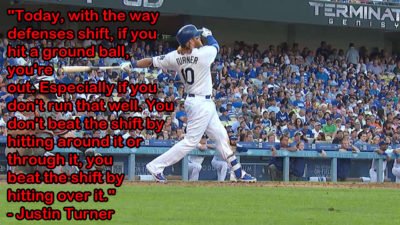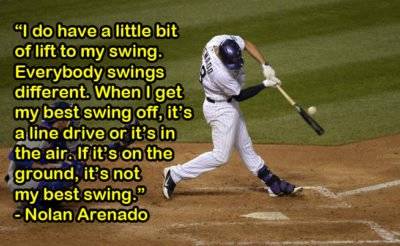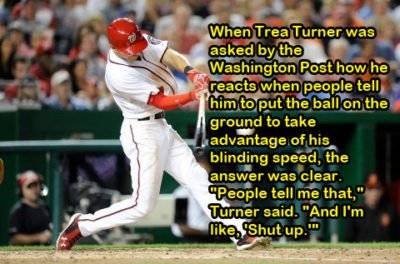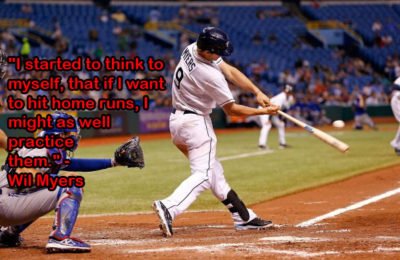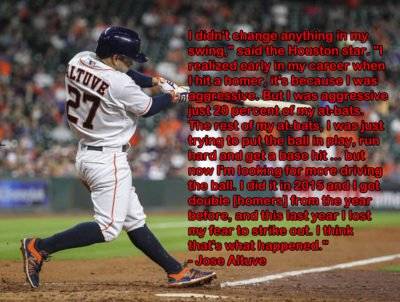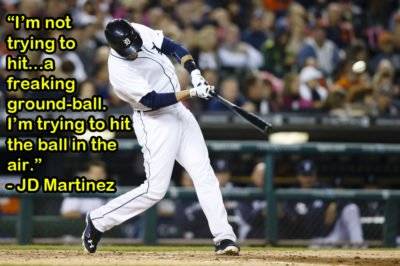 Now look,
If you still aren't convinced that higher Ball Exit Speeds and Launch Angles are the way to go, then I chalk it up to willful ignorance.  You don't know what you don't know, right?  Hopefully this post moved you to more of a conscious incompetence.  In other words, you now know what you don't know.
Don't worry, I understand, you may not be familiar with how to teach your hitters how to elevate the ball with authority.  The good news is, there are resources.  Get educated because your hitters are DEPENDING ON YOU.
There are quite a few individuals on Twitter teaching this approach (this is by no means an exhaustive list, if you know of others, then please post in the comments section):
Of course, I'd be remiss if I didn't share my online video course titled Pitch-Plane Domination.  Sorry, shameless plug 😛
Mark my words, this hitting approach will be the norm in the next few years.  Just remember that I told you so 😉
Also, if you're on the Twitters, then use the hashtags #GBsSuck, #GroundballsSuck, or #PitchPlaneDomination to spread the "elevate to celebrate" gospel.
https://hittingperformancelab.com/wp-content/uploads/2017/08/joey-votto-plane-of-pitch-groundballs-suck-e1502992652251.jpg
281
500
Joey Myers
https://hittingperformancelab.com/wp-content/uploads/2021/10/hitting-performance-labs_c90c0362088ef1d3d528f3078f4f8ac1-300x75.png
Joey Myers
2017-08-18 03:08:09
2018-12-12 19:42:37
The Shocking Mistake Killing Run Production (MUST Read For Ground-ball Hitting Coaches)…