In PART-2 Speed Training: How-To Run Faster Video,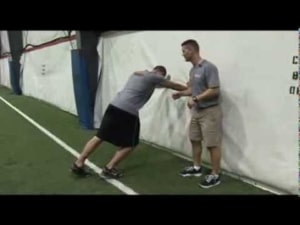 …We'll go over The Wall Drill, which is actual content INSIDE the course, particularly the:
Setup, AND
How-to do the drill.
I get emails from my HPL readers asking about what I use for speed training, and…
With how much time I spend researching hitting and video analysis I don't have time to scour the net for proper speed training or agility training principals…Jim Kielbaso's Ultimate Speed Mechanics Course is what I turn to when training my baseball athletes on acceleration and agility on the base paths and 60-yard-dash.  The information he provides is turn-key for any coach or player.
Here's how to do the wall drill:
STEP 1: Setup
1. Put hands on the wall
2. Feet back behind you
3. Forty-five degree body lean
4. Straight line from shoulders (ears) to ankles
5. Hips forward
6. Chest up
STEP 2: How-To Do The Wall Drill:
1. Lift one knee at a time
2. Bottom of lifted foot faces backwards
3. Lifted toe up (dorsiflexed)
4. Switch your feet, driving the next foot down and back
5. Feel like you're trying to push the wall in
The Ultimate Speed Mechanics Course contains the exact same techniques Jim Kielbaso was brought in to teach the University of Kentucky Basketball team before their National Championship season in 2012.
CLICK HERE to get more information on the Ultimate Speed Mechanics Course.
CLICK HERE for PART 3 of how-to run faster: speed training & agility training as we take a tour of what's actually inside the course…
https://hittingperformancelab.com/wp-content/uploads/2013/11/speed-training-video-how-to-run-faster-hitting-performance-lab.jpg
360
480
Joey Myers
https://hittingperformancelab.com/wp-content/uploads/2018/05/hitting-performance-labs_c90c0362088ef1d3d528f3078f4f8ac1.png
Joey Myers
2013-11-29 23:55:29
2019-02-11 05:15:14
Speed Training Video: How To Run Faster