Discover coaching relationship psychology about how to motivate young baseball and softball athletes.  Learn how to talk to players before a game or that are on the losing team.
How To Coach Lowly Motivated Players…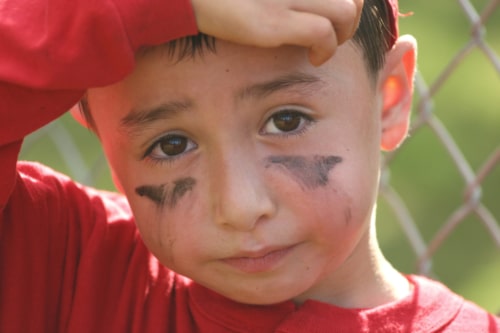 In this post, we'll answer the following popular reader question…
"How to coach lowly motivated players?"
What follows is an excerpt from my highly rated book on Amazon with 54 book reviews – average 4.5 star rating, The Science Of Sticky Coaching: How To Turn Ordinary Athletes Into Extraordinary
…
Section 1, Chapter 12: KNOWLEDGE: Motivating The Elephant
FOUR Fool-Proof Ways to Unlock an Athlete's Communication Style
From the International Youth Conditioning Association (IYCA), I wanted to share with you four categories of player ability and temperament.  These are keys to igniting player motivation:
Low motivation-low skill,
Low motivation-high skill,
High motivation-low skill, and
High motivation-high skill.
Learning these guidelines will allow you to understand and communicate more effectively with each of your players, or setting them up in similar learning groups.
SCIENCE-BASED TRAINING:
Improve your hitting strategy dramatically by applying human movement principles.
Learn not only how and what to train but also the science behind the methods.
Low motivation-low skill – DIRECT
This type of player probably never played the sport before, or not very long.  How do you appeal to this type of player?  By being direct with your instruction, and having a purposeful direction for them.  If you come across this type of athlete on your team at about the 10-12+ year old mark, then a good solution would be to refer them out to a trusted private instructor to "catch them up to speed".
Or, communicating to the parent the need to work with them at least 5-minutes per day, 4 days per week.  Make the commitment small so they don't get overwhelmed.  These kinds of kids NEED repetition.  Like with throwing and catching, just having them throw a ball against a wall at the park can be enough.  Within 60 days of starting this, the kiddo WILL make tremendous progress.
Low motivation-high skill – INSPIRE
These players may find themselves at the top of your lineup, but may be a part of the hyper-parenting trap.  They may be out there to please mom or dad.  These players need to be put on a pure praise-for-effort diet ("you put a lot of hard work into that", "great work").
Whereas before they may have been getting praise-for-effort's evil twin: praise-for-intellect ("you're so smart" or "you're so talented").
Praise for effort will make all the difference.  John Medina said one study showed how a scientist once got a chicken to turn the pages of a book – like he was reading it – by using continuous praise-for-effort.  True story!
Actively inspire and encourage them.
High motivation-low skill – GUIDE
This is the "Rudy" of the team.  You remember the movie Rudy right?  If not, then rent and watch it on Netflix.  There usually aren't too many of these, but when you have one, consider yourself lucky because they can inspire YOU and a whole team.
Another movie you can watch to further drill the idea is Radio with Cuba Gooding Jr.
One year when we played Stanford they had an honorary-player resembling the character Warren from the movie Something About Mary.  He wore headphones everywhere he went during batting practice.  At times, we had to protect him from batted balls when he was on our side.  I thought this "player's" inclusion said A LOT about Stanford's program.
I'm not saying seek out kids with Developmentally Delayed Syndrome for your team, the preceding were just examples.  You know what I mean.
Use guidance and goal setting with your Rudy's.  Get them to improve their skills through baby steps and tracking.
High motivation-high skill – DELEGATE
These are fun players to watch.  And you won't have many of them, they're kind of an anomaly.  They're ones you don't have to worry about on the field.  With these players you want to make them a part of the decision making process.  Practice drills, lineup creations, etc.  Assign them to be the bridge between players and coaches.  Seriously listen and consider their feedback.
They may be the Team Captains, the highest honor of any team.  Think of Derek Jeter from the Yankees and Dustin Pedroia of the Red Sox.  These players are held to a higher standard, and represent the team on and off the field.  But make sure they make good decisions both on and off the field.  They MUST be a role model.
Some are leaders-by-example, and some are more 'rah-rah' in nature.  I was a leader by example.  I didn't like being a cheerleader in front of the whole team all the time, and there's nothing wrong with that.  Every player will be wired differently.
I hope these four fool-proof ways help unlock your Athletes' communication styles:
Low motivation-low skill,
Low motivation-high skill,
High motivation-low skill, and
High motivation-high skill.
https://hittingperformancelab.com/wp-content/uploads/2018/08/boy-frustrated-e1533271574197.jpg
333
500
Joey Myers
https://hittingperformancelab.com/wp-content/uploads/2021/10/hitting-performance-labs_c90c0362088ef1d3d528f3078f4f8ac1-300x75.png
Joey Myers
2023-01-04 09:00:12
2023-01-04 19:36:09
Coaching Relationship Psychology: How To Motivate Young Baseball & Softball Athletes | Talking To Players Before Game Or On Losing Team Examples